From pick one, the NFL Draft got crazy. I can't even pretend I saw that coming and I won't even bothe making predictions. Here's some tales rom the new NFl players on the West Coast as well as some insights on what to exit today
San Francisco 49ers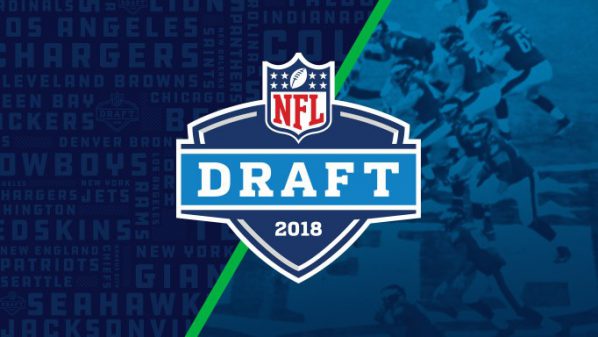 Day One: San Francisco 49ers select tackle Mike McGlinchey at No. 9.Why not get the player who brings good production and athleticism to your offensive line? He immediately stabilizes the RT position and he can develop into a LT down the line. Plus, the Raiders wanted him so that makes added sense.
Day Two: There are a lot of talented players left. The 49ers may want to fill their void at reciever. Christian Kirk and Courtland Sutton were two of the most productive players at the position in college. Kirk is a smaller, shiftier guy while Sutton is a physical possession guy. San Francisco could use either. The 49ers could also continue building up their offensive line. James Daniels and Will Hernandez are interior linemen with a first round grade that could be steals. Josh Jackson is another potential steal for San Francisco. He's big enough to play safety, fast enough to play corner and has good ball skills. Derrius Guice also makes sense since the former LSU running back is a blend of power and speed that could replace Carlos Hyde. Guice in round two would be my pick since he would mesh well with Jerrick McKinnon. Then you take the best receiver available in the third.
Oakland Raiders
Day One: Raiders trade back from No. 10 overall to No. 15. They select tackle Kolton Miller and use additional third round pick to trade for Martavis Bryant. Miller was a bit of a reach but this tackle class isn't great and Miler was the consensus No. 2 in the draft. He was productive at UCLA and he is a great athlete but Oakland passed on some defensive players like Derwin James and Tremaine Edmunds. Plus, they only got a third and fifth round pick to move back five spots? The Packers essentially got the player they want and came away with an added pick too. Oakland couldn't do that? Not to mention, they gave away the added third round pick to get a WR that no one wanted. Bryant has great hands, size and speed but he's one suspension away from being Josh Gordon so it is a risk move by Oakland.
Day Two: Rumors are the Raiders could take another offensive tackle. They really want to protect Carr and boost that offensive line. Connor Williams makes sense as he would be the right tackle and Miller can focus on the left side. If that happens, expect Donald Penn to get his walking papers. Otherwise, the Raiders should hope that Harold Landry falls to them. He's a dominant, speed rusher that the Raiders need. Jackson and Guice also make sense for Oakland like they do SF. Malik Jefferson, and Uchenna Nwosu also make sense in Oakland. The Raiders need linebacker help and both of those players can start on the weakside for the Raiders. Justin Reid and Harrison Phillips make sense if the Raiders want to get a versatile safety as well. My money is on a pass rusher like Landry in Round Two since he is a similar player to Bruce Irvin and fits the scheme. After that, you can get another offensive weapon that falls in the third for Derek Carr. However, I'm not ruling out more trade backs for the Raiders either.
Arizona Cardinals
Day One: Cardinals move up to get quarterback Josh Rosen by only giving up an additional third and fifth round pick to the Raiders. Kudos to the Cardinals because they landed a player who might end up being the best in his class.
Day Two: Arizona needs to get Rosen or whoever plays quarterback some help. They can taget some of the same offensive line players mentioned for the other teams. Williams, Hernandez, and Daniels make sense to keep Rosen and Sam Bradford protected. Otherwise, Tyrell Crosby, Brian O'Neil, Orlando Brown and Geron Christian are all in the next tier. Each of them need some development. Arizona might also consider some receiving targets like Kirk or Sutton if they're available. James Washington and D.J. Chalk are the next guys after them. Washington was really productive and Chalk is a super athlete. Both can help the Cardinals and Rosen stretch the field. Don't rule out a top tight end like Mike Gesicki, Dallas Goedert or Mark Andrews. Still, my money is on OT because you gotta protect your investment. They got to get one in Round Two or Three. Some combination of offensive line and pass catcher has to be Arizona's strategy unless they love a corner like Oliver, Jackson or Donte Jackson in either round. Michael Gallup is a sleeper in the third round too.
Los Angeles Chargers
Day One: Derwin James somehow lands with the Los Angeles Chargers. James was slated in the top 10 by many experts. Now, James fills the Chargers need at safety with Tre Boston not under contract. He gives them a playmaker that they were lacking in the secondary.
Day Two: Again, the Chargers are another team that could use some offensive line help. Unfortunately, the tackle position is not that strong. O'Neil, Brown, Christian, and Crosby are all in consideration here. On the other hand, this might be a good place for the Chargers to take a quarterback. What if they selected a quarterback in this spot? Mason Rudolph and Luke Falk are available in the second round but will they be in the third? Los Angeles may reach here or they might not depending on what experts you trust. A linebacker like Jefferson makes sense for the Chargers too. They might even go defensive line with a true three-technique Maurice Hurst. Hurst might be the steal of the draft especially if he goes to a great situation like Los Angeles. Hurst would be my pick in second especially if he is cleared of all his heart issues. The Chargers are in a great situation where they can take whoever is the best player available in rounds two and three.
Seattle Seahawks
Day One: Seahawks draft the back of their future in Rashaad Penny. Penny was largely considered a Round Two or Three pick. However, he's not that far behind other top backs due to his unique size, production and speed. Penny brings an ability to run inside and outside as well as make catches out of the backfield. The only surprise was that Seattle took Penny over Derrius Guice and Ronald Jones who many ranked above Penny.
Day Two: Seahawks don't have a Day Two pick unless they trade Earl Thomas. Seattle needs offensive line help as well. Could they trade up to try and get some? Again, O'Neil, Brown, Christian and Crosby make sense. Chalk, Washington and Deion Cain make sense for the Seahawks if they want to get a receiver. Gesicki, Goedert and Andrews make sense too. I still wouldn't trade up for that pick.
Los Angeles Rams
Day One: No Pick
Day Two: The Rams first pick is 23 overall in the third round. They desperately need pass rushers. Shaquem Griffin, Arden Key Nwosu and Carter make sense. Jefferson would help in the middle. All those are great values. I wouldn't rule out any of the top offensive line prospects mentioned before either.