OK. Saturday night was a bummer. But a one-point loss to one of the top four teams in the nation won't knock Penn State out of a possibility of returning to one of the New Years Six bowl games at the end of the season.
It may not do much to console any Penn State fan still trying to recover from Saturday night's loss to Ohio State, in which the Nittany Lions for a second straight year blew a double-digit lead in the fourth quarter only to lose by one stinking point to the Buckeyes. And considering a win would have put Penn State in the driver's seat for a trip to the Big Ten championship game at the end of the year, it was quite a bitter result for the record-setting Beaver Stadium crowd and those watching from home. It certainly won't help James Franklin feel better after he addressed the current state of the program and made it clear he was tired of Penn State feeling comfortable being a great program. Franklin wants Penn State to be an elite program, just as the Ohio State team his program failed to put away once again.
But the bottom line is this. There is still an incredible amount of football to be played with plenty to play for. If Penn State can take care of their own business, the Nittany Lions will be on an excellent path to a third-straight New Years Six bowl game, with a trip to Pasadena for a second Rose Bowl trip in three years a realistic likelihood. And with a little help, a shot at a Big Ten title is not at all out of the question. Neither is an elusive spot in the College Football Playoff.
Let's take a look at all of these ideas one at a time, starting from the ground up.
11-1 is still a very good season
Now that there is a blemish in the loss column, the goal here is now simple. Win the rest of the games after this week's bye and go 11-1. Though that will be tough to accomplish with a road trip to Michigan coming in between home games against Iowa and Wisconsin, not to mention Michigan State coming to Beaver Stadium after the bye week, but Penn State is capable of winning every game remaining on the schedule.
If Penn State does go 11-1, that will put them in a New Years Six bowl game at the end of the season, assuring they will be ahead of Michigan, Wisconsin, Michigan State, and Iowa for sure (all of these teams currently have one loss). Which bowl game would be the destination is unclear, as it could be determined by whether or not Ohio State is in the College Football Playoff. If the Buckeyes do end up being one of the four teams in the playoff, that leaves a spot in the Rose Bowl awaiting the next best Big Ten team.
A rematch with Washington after last year's Fiesta Bowl seems to be a possibility.
Regardless of what bowl game Penn State goes to and who they play, Franklin's vision of transforming Penn State into an elite program would be given a terrific opportunity to capitalize on the moment. Winning back-to-back New Years Six bowl games and attending three straight is the kind of streak that elite programs build a foundation on. Playing in those bowl games is what gets players excited to be a part of that program, and playing the best teams in the biggest bowl games can make everybody better.
If going 11-1 and playing in the Rose Bowl is Plan B for Penn State, that's not the end of the world by any stretch of the imagination. Even going 10-2 could keep a New Years Six bowl game in reach with a few things falling into place in the right spots, but 11-1 would essentially guarantee Penn State will be in a big bowl game at the end of the season.
Can Penn State still win the Big Ten?
Yes, but the Nittany Lions need some help now.
Because Penn State has now lost a head-to-head matchup with Ohio State, the Buckeyes now own the head-to-head tiebreaker with Penn State. Simply put, if Penn State goes 11-1, then Ohio State has to go 10-2 so Penn State can finish ahead of the Buckeyes (for now we'll stay away from the three-way tiebreaking scenarios just to keep things simple). How many games do you think Ohio State could lose?
As things currently stand right now, Ohio State's biggest challenges the rest of the year will come in November with a road game at Michigan State on November 10 and a home game against Michigan on November 24. Neither game looks to be one Ohio State will lose, but those are the biggest challenges the rest of the way for Ohio State. On paper.
Ohio State hosts Indiana (4-1) this week and Minnesota (3-1) next week. The Buckeyes do have to play at Purdue (2-3) on Oct. 20, which could potentially be mildly intriguing, maybe? Ohio State also has a home game against Nebraska and a road game at Maryland, which the Buckeyes could easily roll up 56 points in each.
Can Ohio State slip up twice and Penn State run the table? Sure, although that may not be very likely. There is also the possibility Penn State drops a road game at Michigan or at home against Wisconsin. Many things could happen, but Penn State slipping ahead of Ohio State now appears unlikely.
The College Football Playoff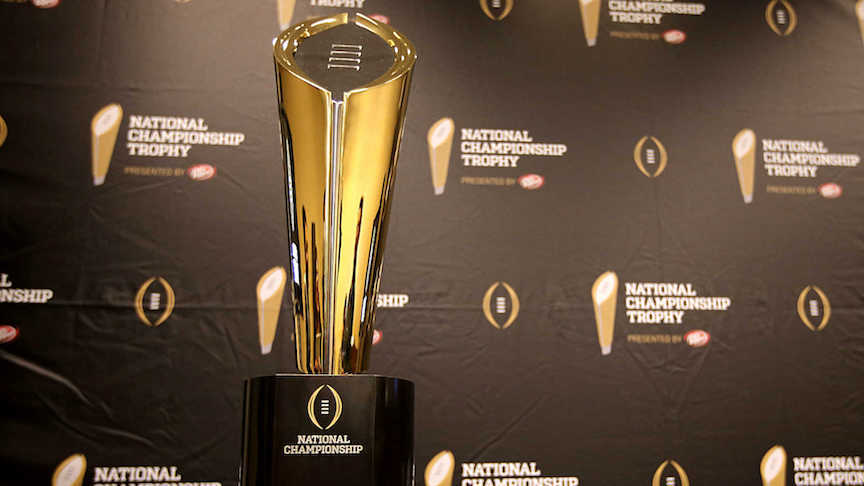 Even though Penn State won't stand much of a chance to play for and win the Big Ten title, the College Football Playoff could eventually be on the table regardless.
Each of the previous two seasons, an 11-1 team without a division title was selected for the College Football Playoff. The first, of course, was Ohio State two years ago when Penn State won a head-to-head matchup and won the Big Ten but had two losses. The second happened last year when Alabama was chosen for the playoff and went on to win the national championship.
If Penn State is going to join that list of non-division winners to play in the playoff, then a good number of things need to happen. First, going 11-1 in an absolute must. Having Ohio State slip up and sending PSU to the Big Ten championship game would certainly be a major boost, but let's pretend that doesn't happen. Second, a few other teams will need to lose.
As outlined on College Football Talk, as many as seven teams could end the year without a loss, and it is likely fewer will. It would benefit a one-loss Penn State if Notre Dame would take a loss (or two), and having Alabama or Georgia reach the SEC Championship game with a loss, if not both, would help tremendously. The same is true in the Big 12, where Oklahoma and West Virginia are currently without a loss and not scheduled to meet head-to-head until the end of the regular season.
The Pac-12 has just one undefeated team left standing, Colorado, and the conference is guaranteed that either Washington or Stanford is going to lose a second game. The Huskies and Cardinal play a regular season division game later this season. It would benefit Penn State if both could drop another game just to help the odds a little more, even though the Pac-12 may be in a tough spot even with a one-loss champion. Basically, Penn State doesn't want this to come down to a debate between a one-loss Penn State or a one-loss Pac-12 champion. It's too risky.
The assumption is the SEC and ACC will each get one spot in the playoff. Ohio State is on track for a spot as well. That leaves one final spot up for grabs. Therefore, the biggest contenders are the Big 12 champion, Pac-12 champion, Notre Dame and whichever team doesn't win the SEC championship if it is a matchup between an undefeated Alabama and undefeated Georgia.
It's not likely this all goes Penn State's way in the end, but the point is there is so much to still play for. If Penn State handles their schedule and doesn't slip up, they'll remain on the playoff radar and there is a possibility the chips could fall in their favor. You just never know.
Obviously, Penn State will continue to focus on each game one at a time. Worrying about everything else is unwise, especially with as much that needs to go in their favor. For now, we'll see if Penn State can rebound to go 11-1 and even allow for this type of conversation to continue in the weeks to come.