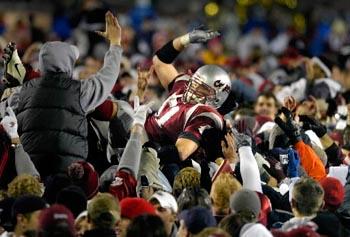 FYI, I spoke to Talarico during and after the game on Saturday, and again on Sunday. He told me after the game, as they were milling around where all the RV's are stationed, they walked by the Derting family RV. Of course the whole family was there, but also there, in the flesh, was big Will himself. Brandon looked right at him, and he said his eyes were beat red, definitely from crying his eyes out. He also was throwing down the beer, and was visibly shaken. He was surrounded by family, etc, but Talarico still decided to approach him. However he didn't get far. Some huge wall of a man was standing between them, so he backed off without talking to him. He then told the guy to tell Will to keep his chin up, get healthy and get after it the rest of his final season!
Hmm, maybe the D misses his leadership more than we could have imagined? Again, obviously we aren't around the team at all, but to hear a story like that sure makes you realize how much a kid like that really cares about winning! It must be killing him not being out there, because who the hell knows, IF he's healthy and making plays in the middle, MAYBE we're bowl-eligible RIGHT NOW!?! MAYBE they hold on vs. the Beavs if he makes that sack. MAYBE he doesn't vacate the middle of the field and shadows Trent Edwards? MAYBE he covers better vs. Marcedes Lewis and makes just one more play, just one more stop??? MAYBE we'd be 6-0 today!?!?
Just something to think about in this almost-lost season.