In another shocking development for the New York Mets, they lost last night to the Washington Nationals running out a lineup that featured Matt den Dekker and Jose Reyes instead of young players like Dominic Smith and Amed Rosario. While the Mets insisted that the decision to sit Rosario was to protect him from facing Max Scherzer (which is a mistake in its own right, but that's a discussion for another day), Smith was simply benched because he hasn't been hitting. Smith is in a 4 for 41 slump and didn't help his cause by striking out in his only plate appearance last night. Things have gone so badly for Smith that the Mets are considering demoting him to AAA Las Vegas, Matt Ehalt of NorthJersey.com reports.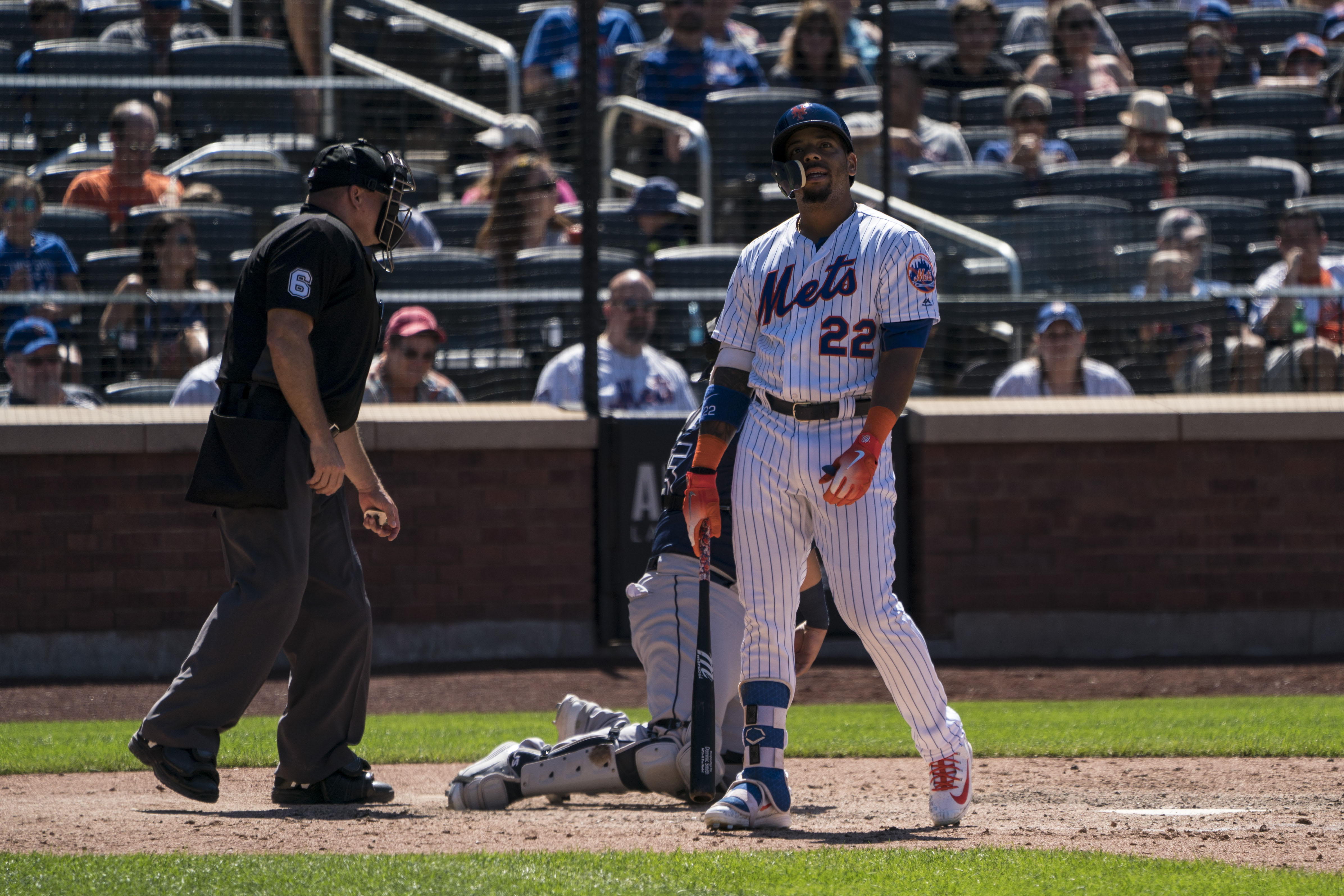 Mets' manager Mickey Callaway told reporters prior to the game that sending Smith to the minor leagues was a possibility in order to get him on track. Callaway described Smith as looking indecisive at times as he tries to fight through his slump, which has dropped his batting average to .183 on the year. Smith has also offered the Mets little in terms of production, driving in just one run (on a solo home run) over his first 71 at bats while striking out 26 times. If you just look at Smith's numbers and counting statistics, it would certainly appear that a demotion to the minor leagues is warranted. Taking a deeper dive into how those numbers were accumulated shows how the Mets aren't doing right by Smith once again.
When the Mets released Adrian Gonzalez on June 10th and brought up Smith, the idea was for him to be the everyday first baseman. Smith has started just 15 of the Mets' 29 games since then, only two more games than Reyes over that time frame. with six of those games coming in left field. The Mets have Smith against virtually every left hander they have faced since his promotion to the minor leagues, and he started to sit against right handers once Wilmer Flores came off the disabled list and got hot. Even with Todd Frazier going on the disabled list, which opened third base for the Mets to use Flores and get Smith back at his natural position of first, the Mets have stubbornly refused to do that. Reyes (along with his .164 batting average and four RBI's in 121 at bats) has started every day since Frazier got hurt, blocking Smith from valuable plate appearances.
The major leagues is definitely a production business, but the Mets are doing everything in their power to keep Smith from succeeding. Smith played out of position for a few weeks without complaint, but now he can barely get off the bench when the Mets are 17 games under .500 while Reyes, Ty Kelly, and Matt den Dekker have drawn starts ahead of him. This is a complete waste of time and detrimental to what the Mets should be doing, which is evaluating their younger players to determine how they fit with the team next season. Sending Smith back to AAA also will take playing time away from Peter Alonso, who was promoted to Las Vegas once Smith reached the majors, unless Smith is the full time left fielder for the 51's. The Mets are willing to go through all of these hoops in order to keep feeding at bats to Reyes, who it certainly appears would be long gone if not for an unseen mandate from ownership to keep him around and happy.
For all we know, Smith could be a bust, but it's hard to determine that after just 71 at bats. The Mets need to actually let Smith play every day, unless he needs a breather now and then, against both righties and lefties to give him a chance to get going. The win-loss record is irrelevant, handing them a golden opportunity of the rare win-win scenario in baseball. If the young guys like Smith, Rosario, Corey Oswalt, and eventually Alonso (or Jeff McNeil) produce the Mets will know they have keepers for next season. If they don't, the Mets will know specifically where they have to improve and will lose more games to the point that their draft pick improves, giving them a chance to add another elite talent to their farm system in June. The Mets are somehow doing neither, opting instead to run out lineups with retreads that don't give them a better chance to win games than they would if they started Smith everyday. With the way this year has gone, if the Mets don't know by the end of 2018 if Smith is a big league player the season is a failure.