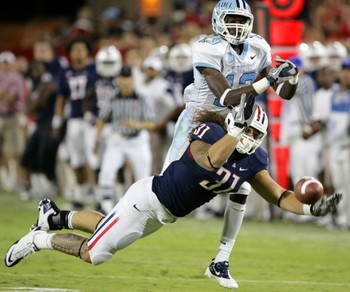 It is becoming a pattern during this draft, but a handful of players I really liked for the Steelers came off the board just before the Steelers fourth round selection: Standford FB Owen Marecic, Nebraska K Alex Henery and Eastern Washington RB Taiwan Jones. The Steelers may not have liked any of those guys and I would not draft a kicker in round four, but both players would have filled needs for Pittsburgh.
Nevertheless, the Steelers did the best they could and went after another cornerback, the team's biggest position of need, and selected Cortez Allen from The Citadel.
Allen has great size for a cornerback — 6'1″, 197 pounds and ran 4.50 in the 40-yard dash.
As is the case with a lot of Division I-AA players, Allen's background is interesting. He only played one year of varsity football before heading to school.
Here's a great interview with Allen, who sounds like a kid with a really good head on his shoulders.
You have to think this selection spells the end for Keenan Lewis or one of the other young cornerbacks currently on the Steelers roster.
Some good stuff from YouTube:
http://youtube.com/watch?v=
yBlQOl–DLc[/youtube]