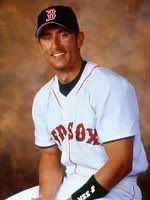 Well for those who don't read the sports page, one of the teams interested in Nomar's services next year are the NY Yankees or as I commonly refer to them, the Spankees.
Why Nomar, why would you even consider this? It's not like you need the money. Are you bitter still about the trade from the Red Sox last year? You would be the third best shortstop on the team and yet not playing shortstop.
I can say only one more thing. If Nomar signs with the Yankees, then everyone is invited to watch me burn my Nomar Garciaparra #5 Boston Red Sox jersey which sits next to my Dan Orlosvky UCONN football jersey on my wall.
Just an update to this post………Nomar's decision on where he will play next season is coming…It's down to the Yankees, Astros, Indians, and the Dodgers.