Last week, I laid out some of the directions that the Cardinals could go in addressing their left-handed relief issues. At that time, I limited the scope to looking only at their current internal options and available free agents.
Today, I'm looking around the league for potential trade targets.
First, the Cardinals have stated that they need to address LH relief. Next, the Cardinals have a crunch on the 40-man roster (which I discuss extensively in this post from last month) and would do well to turn a few good, but excess, players into one useful piece. So, from that stand-point alone, addressing it with a trade makes sense.
The Cardinals should also be players for at least one high-priced bat on the free agent market. With the budget in mind, acquiring a left-handed reliever that doesn't involve much financial commitment would be a wise play.
In this trade scenario, years of team control are a plus, but effectiveness vs. LH hitters is a must.
EPIC FAIL (quick review)
Although I covered this in Part 1, I will show these numbers again here. For your reading convenience.
This is what the Cardinals LH relievers did vs. LH hitters in 2018 (courtesy of Fangraphs).
| | | | | | | | | | | | | |
| --- | --- | --- | --- | --- | --- | --- | --- | --- | --- | --- | --- | --- |
| | | Batters | || | AVG | || | OPS | || | wOBA | || | K% | || | BB% |
| Brett Cecil | || | 66 | || | .305 | || | .862 | || | .370 | || | 13.60% | || | 10.60% |
| Austin Gomber | || | 38 | || | .303 | || | .926 | || | .393 | || | 13.20% | || | 7.90% |
| Tyler Lyons | || | 49 | || | .333 | || | .905 | || | .391 | || | 26.50% | || | 10.20% |
| Tyler Webb | || | 35 | || | .188 | || | .523 | || | .224 | || | 14.30% | || | 8.60% |
| Chasen Shreve | || | 37 | || | .303 | || | .926 | || | .384 | || | 18.90% | || | 8.10% |
| Ryan Sherriff | || | 10 | || | .200 | || | .500 | || | .213 | || | 10.00% | || | 0.00% |
Those numbers are terrible.
Collectively, the Cardinals LH relievers ranked DEAD LAST in baseball for opponent batting average (.287), OBP (.368), SLG (.456), and wOBA (.353) vs. LH hitters. They were 2nd to last in K% (17%).
For perspective, I did a 10-15 point range around all of those numbers, and Fangraphs, conveniently, gave me one result.
Essentially, the Cardinals' left-handed relievers turned every left-handed hitter into the Red Sox stand-out.
I guess it's better than turning every hitter into Mike Trout, but it is not a good look, at all.
They simply did not get lefties out. That has to change, and that's why the splits vs. LHH drove my search.
parameters
I set out to identify my candidates by filtering the Fangraphs Splits Tool for LHP who had the following numbers vs. LHH over the last two seasons:
IP > 20, Opp. OBP < .300, Opp. SLG < .350, K% > 20%, BB% < 9%
All of these parameters would be improvements over the performance of the Cardinals LHP's in 2018.
I did two seasons to 1) expand the sample size, and 2) give some semblance of year-to-year consistency for a volatile position.
The search returned 30 results. 14 of those are secure in their role as a starting pitcher. 5 of them (Zach Duke, De la Rosa, Blevins, Oliver Perez, and Liriano) are free agents. That leaves 11 that can be considered as trade candidates. I will be making a 1-out exception (later) to bring that total to 12.
From there, I give you 6.
trade candidates
Setup Veterans w/ Short-Term Control
Will Smith – San Francisco Giants
2018 Overall: 54 Games, 2.55 ERA, 2.07 FIP, 33.8 K%, 7.1 BB%
2018 vs. LHH: 72 Batters, .169/.183/.257, .190 wOBA, 41.7 K%, 1.4 BB%
I had to make a small exception on my filters for Smith. As he missed all of 2017 and only accumulated 19.2 IP vs. LHH in 2018, he fell 1-out short of being in my results. I think that's close enough.
He is probably the most dominant LH reliever that the Cardinals can reasonably trade for (Brad Hand and Chapman aren't available). The bonus with Smith is that he is also very good vs. RHH — holding them to a .202/.285/.298 slash line in 2018 — which makes him more of a primary late inning reliever that can also be deployed as your lefty neutralizer when needed, as opposed to being strictly a specialist like some of my other candidates. He can also serve as half of a closer tandem with Jordan Hicks.
The hang-ups with Smith are that 1) his talent will allow the Giants to demand a high-level return and 2) after spending said return, you only have him for 2019 before he becomes a sought-after free agent.
Still, he may be worth it.
Tony Watson – San Francisco Giants
2018 Overall: 72 Games, 2.59 ERA, 2.45 FIP, 27.6% K%, 5.4% BB%
2018 vs. LHH: 110 Batters, .224/.252/.317, .248 wOBA, 31.8 K%, 2.7 BB%
The former Pirate had a very good first season with the Giants, after signing a 2-year deal prior to 2018. I don't have to convince you that Watson is good, as his numbers really lay it out pretty well. He will be 34 early in the 2019 season, so age is a consideration. However, he comes at a modest $3.5M price tag for 2019 with a $2.5M option for 2020.
The extra year of control probably makes him as hard to pry away from the Giants as Smith would be. However, if the Giants finally take a step back to rebuild the roster, trading a LH reliever in his mid-30's would probably be wise. He significantly helps the Cardinals.
Setup Potential w/ Long-Term Control
Taylor Rogers – Minnesota Twins
2018 Overall: 72 Games, 2.63 ERA, 2.33 FIP, 28.9 K%, 6.2 BB%
2018 vs. LHH: 110 Batters, .178/.248/.180, .202 wOBA, 36.4 K%, 7.3 BB%
I really don't think the Twins would trade Rogers, but if I'm the Cardinals, this might be the first call I make. Their willingness to move him is likely tied to their plans for the next 2-3 years. If the Cardinals have plans to shop Jose Martinez, this is the type of team to offer him to and trade to move him in. They would likely have to include a pretty decent pitcher to get it done, but it would be worth it. Trade from the RH depth to address a LH need.
Rogers has gotten better every year with the Twins and is still under team control through the 2022 season. He will be 28 by the time teams report to spring training. According to Brooks Baseball, he throws a hard (94 mph) Sinker along with a Curve and Slider. The slider was new in 2018.
He is not just a specialist. He was very tough on RHH in 2018, holding them to a .220 average, so he can slot in as a setup man/specialist, in the same way that Smith and Watson would.
Tim Mayza – Toronto Blue Jays
2018 Overall: 37 Games, 3.28 ERA, 3.36 FIP, 26.5 K%, 9.3 BB%
2018 vs. LHH: 62 Batters, .233/.258/.317, .252 wOBA, 29 K%, 1.6 BB%
This is another target that allows the Cardinals to shop Jose Martinez to an American League team in an effort to bolster the bullpen. Mayza got his first real taste of the big leagues this season and was very good. He showed the ability to retire RHH as well — making him more than just a LOOGY — but he was extremely effective against LHH.
According to Brooks Baseball, he throws just two pitches: A fastball that averages at 94 mph, touching 97 mph at times, and a Slider that sits around 86 mph.
There is a belief that this was a pitcher the Cardinals desired when they traded Randal Grichuk to Toronto last season. So, it is certainly not inconceivable that they would approach the Blue Jays about him, again. However, his successful 37-game stint in 2018 probably makes him tougher to pry away.
He is certainly a pitcher to target, bringing effectiveness and several years of low-cost team control.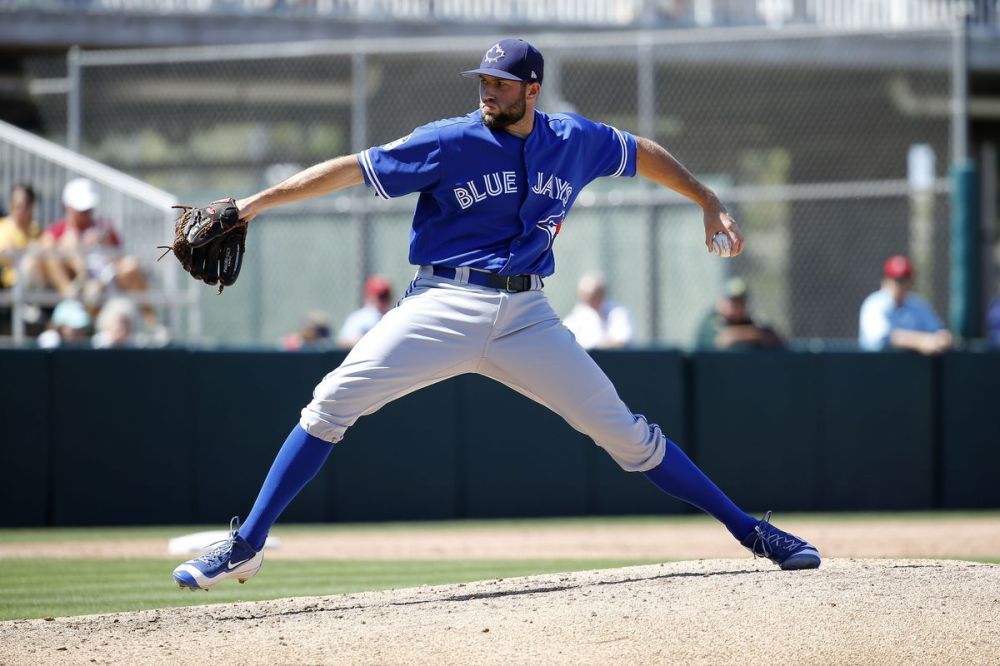 Specialist / Usage Change Candidates
Aaron Bummer – Chicago White Sox
2018 Overall: 37 Games, 4.26 ERA, 2.40 FIP, 24.3 K%, 6.9 BB%
2018 vs. LHH: 57 Batters, .245/.298/.302, .269 wOBA, 26.3 K%, 5.3 BB%
You probably haven't heard of this guy. If you have heard of a White Sox LH reliever, it's probably been Jace Fry. Fry would be a good one to have as well. Bummer is a little more under-the-radar.
He just turned 25 and was ranked as the White Sox #23 prospect by Fangraphs in 2018. According to Brooks Baseball, his repertoire features mostly a fastball/slider combo, though he occasionally shows a change-up. His fastball is plenty hard enough to hang, averaging around 93.5 mph and topping out at 95 mph.
He has pitched 53.1 innings of the last 2 years, with the surface numbers being so-so. However, his FIP was very good in 2018 and his career splits vs. LHH point to a pitcher that could take a dramatic turn with smarter usage. Consider that 55% of the batters he's faced in his career were RH. Then consider that RHH have a .805 OPS against him, compared to just .607 for LHH. Deploy him primarily against LHH, while limiting his exposure to RHH, and you have the makings of a very good reliever.
However, he is still very young — with 5 more years of control — and the White Sox likely know what they have. Still, he is someone the Cardinals should call on — or pivot to after asking about Fry — and look for a match. This would be similar to the situation with Rogers and Mayza, as it's an opportunity to shop Jose Martinez to an AL club, using him as a starting point in the conversation.
Chris Rusin – Colorado Rockies
2018 Stats: 49 Games, 6.09 ERA, 4.64 FIP, 19.5% K%, 10.8% BB%
2018 vs. LHH: 101 Batters, .220/.300/.348, .287 wOBA, 27.7 K%, 7.9 BB%
His 2018 looks really rough on the surface, but the root of his issues lay solely with his struggles against Right-handed hitters. RHH crushed him with a .886 OPS and he struggled to miss bats with just a 13.6 K% against them.
Bud Black, a very good pitching coach in his own right, failed to catch on to this and allowed him to face 140 RHH on the season, accounting for 58% of the batters he faced. Part of that is likely because Rusin did not have major issues with RHH in 2016 or 2017.
Because he is coming off a bad year and is now 32 years old, the Rockies may move him for a relatively modest package. Despite being 32, he has two arbitration years remaining. He is the most uncertain and my least favorite option on this list, but he meets the criteria and a change in usage could unlock a very effective pitcher.
Final Thoughts
Every pitcher in this group would help the Cardinals to address a significant need for 2019. Trading for one of them also helps you to achieve some much-needed roster cleanup, as you likely move 2 players from the 40-man. None of these options will cost as much money as a free agent, leaving room in the budget for other things. Even the least attractive of these targets presents an upgrade.
3-4 incremental upgrades in the bullpen and at least one big splash in the lineup would make for a much improved club.
Thanks for reading!
Follow me on Twitter for more Cards talk: Follow @hes_verygood
Or Follow the Bird Law Podcast / Blog: Follow @birdlawpod