Watching a big-league hitter slug 20-plus dingers in a season used to be a big deal. It still is, but reaching that particular benchmark has become a lot more common in recent years.
After 117 players hit 20-plus homers in 2017, another 100 accomplished the same feat in 2018. With this in mind, it's important to find ways to differentiate these players in some way. That's why we're going to use Isolated Power (ISO) as a barometer.
ISO shows a hitter's extra bases per at-bat, giving us a glimpse at their raw power. If we specifically look at hitters who qualified for the batting title with at least 20 homers who also failed to hit 30-plus homers, who depended the least on homers to prop up their ISO? It's worth noting that this list shouldn't necessarily be taken in absolutes since ISO isn't a park-adjusted stat, but it's still something interesting to keep in mind as we slice and dice player performances with an eye towards 2019.
The ISO information for players below will also help you make better decisions when placing a wager. The following 24 players posted an ISO of at least .200 without the luxury of collecting 30 dingers. OLBG will always update this page showing the current best betting offers, so you can know that you're getting a great offer any time you wager when these players step up to the plate.
Hitters Ranked 24th Through 13th

Déjà Vu for Salvy (Kinda)
Although his overall numbers went down compared to the year before, Salvador Perez produced identical numbers in various categories.
In 2017, the Kansas City Royals' catcher slugged 27 home runs with 80 RBI and 57 runs scored in 129 games played (499 plate appearances). As you can see from above, he managed to hit 27 homers with 80 RBI and 52 runs scored in 2018, which also happened in 129 games (but 544 plate appearances). Perez's 45.9% hard-hit rate is a new single-season career high, and it's also the third consecutive year it's increased.
He snuck his way onto this list because of what he did following the All-Star break. The 28-year-old did have 13 first-half homers, but it was accompanied by a .173 ISO and 73 wRC+. His second-half output brought more homers (14) in fewer plate appearances (235), along with a significant rise in ISO (.244) and wRC+ (111).
Scooter's Big Second Half
Salvy wasn't the only one who finished the year with a strong second half, though. Viewed as a significant piece of the New York Mets' offense, Michael Conforto sputtered out of the gate in 2018 in his immediate return from a rough-looking shoulder injury.
His resurgence was even more drastic than Perez, too. After collecting 11 homers on 35 RBI with a .150 ISO and 101 wRC+ in 345 plate appearances, those numbers improved to 17, 43, .266, and 143, respectively, in 292 trips to the plate in the second half.
Part of this was due to a lift in hard-hit rate (33.5% to 38.4%), but that happened because of Conforto's improved performance on balls in the strike zone. While his swing rate on strikes didn't increase much (64.4% to 65.9%), his contact rate in that situation did (81.5% to 87.1%).
A Solid Sophomore Campaign
Following such a dominant rookie season from Cody Bellinger, one had to assume he'd experience some kind of regression. That certainly happened when comparing his numbers from 2017 and 2018 to each other, but he still put together an impressive season.
The distribution of his homer output i what's most interesting, though. Of Bellinger's 25 dingers, 14 came on the road. In fact, he was a completely different hitter as a visiting player (.915 OPS, 143 wRC+) than he was at Dodger Stadium (.707 OPS, 96 wRC+). The 23-year-old also peaked in the middle of the year. After hitting eight homers through April and May, he hit eight in June alone before hitting just nine more over the next three months.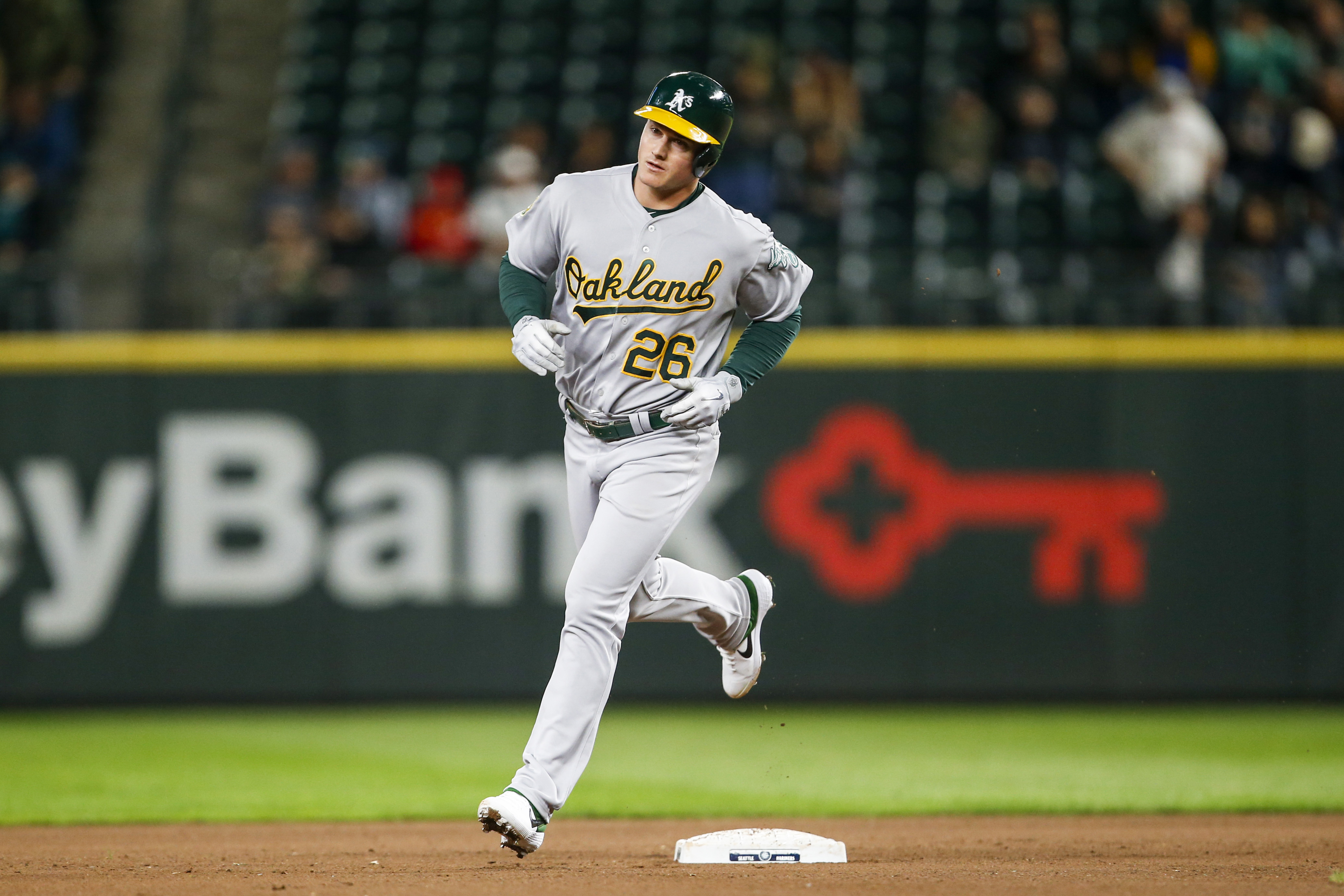 Hitters Ranked 12th Through 1st

The Upward Trend Continues
Aaron Hicks joined the New York Yankees in 2016, and his overall production has improved with each season. His ability to post a high ISO without a ton of homers was evident in 2017, as he owned a .209 ISO in 361 plate appearances with just 15 homers.
This past season was his first real chance to be an every-day player, and it went quite well — he set new single-season career highs in homers, runs scored, RBI, ISO, wRC+, and fWAR.
Hicks' improved performance against sliders really sticks out from his campaign, too. After managing just a 40 wRC+ and .105 ISO against the offering in 2017, those numbers jumped up to 158 and .236, respectively, in 2018. Having his line-drive rate go from 4.5% to 25.8% in this situation also didn't hurt.
Not Just About the Glove
While the honors for his defense keep piling up — including a Platinum Glove Award — Oakland Athletics third baseman Matt Chapman has proved that he can also hit. Even though he missed two weeks in June because of injury, he did the majority of his damage at the plate in 2018 during a three-month span from June to August.
In 275 plate appearances during this time, Chapman slashed .328/.404/.618 with 13 home runs, 30 RBI, and 51 runs scored. Those numbers yielded a .290 ISO and 178 wRC+.
It also shouldn't be shocking that he wasn't too fond of hitting in front of the home fans, with 16 of his 24 dingers coming on the road. That's not unusual, of course, as O.co Coliseum ranked as the third-worst stadium for home runs in 2018, according to ESPN's Park Factors.
The Power Has Returned
After taking a significant step back in the power department during 2017 (10 homers and 62 RBI in 635 plate appearances), Xander Bogaerts is back. He set a new career high in homers, wRC+, ISO, and fWAR while enjoying his first 100-plus RBI season.
Oh yea, and he won another World Series. It was a good year for Xander.
The influence of J.D. Martinez helped, as Bogaerts' 35.6% fly-ball rate was the highest it had been since 2014 (41.3%). He paired that increased frequency with increased performance, too. Following a year in which his soft-hit rate (26.6%) was higher than his hard-hit rate (23.0%) on fly balls, the young shortstop generated hard contact at a 35.8% clip in 2018.