Well, the doldrums of the NBA offseason did not last too long. The NBA world was rocked as Kawhi Leonard got shipped to Toronto. Conversely, DeMar DeRozan is now headed to San Antonio. Still, we must strive forward and continue on with the untouchables list.
If you missed the Eastern Conference list, then click here.
1. Dallas Mavericks – Luka Doncic
This is a no brainer. The Mavs just surrendered a future pick for the Slovenian point-forward. Doncic has the potential to be a transcendent NBA player. This pick and roll maestro will enter the league as one of its premier passers. If you need a reminder on just how good Doncic is, I dug up his ProCity Hoops profile for you.
2. Denver Nuggets – Nikola Jokic
What gave this one away? Jokic just signed a 5 yr/$147 million deal. The center finished last season with a better field goal percentage that Joel Embiid and DeMarcus Cousins. Plus, he is one of the best passers in the game, regardless of position. Jokic finished 15th in assists per game last year, and 12th for total assists. Wow. This kid isn't going anywhere.
3. Golden State Warriors – Steph Curry
Let's get this out of the way. No one on this roster is getting traded anytime soon. This team has a few more finals appearances on the horizon, despite any players that LeBron guy lands in LA. While I do not expect a trade, I still chose Steph here. Trading him would be detrimental to the team's fan base. You simply cannot throw away a home grown kid like Steph and expect everything to be okay.
4. Houston Rockets – James Harden
Did you expect anyone else? Here is a clip of every stepback J Harden hit last season.
5. Los Angeles Clippers – Shai Gilgeous-Alexander
Although it is merely summer league, this rookie has looked awesome. His octopus tentacles doubles as arms nowadays, and he used them for stealing basketballs. Offensively, he has the potential to play both guard positions. Jerry West has a steal on his hands.
Jerome Robinson was considered but, he does not have SGA's ceiling. Tobias Harris was also in competition here, but his trade value is high enough to warrant being available. Check out SGA's scouting report.
6. Los Angeles Lakers – LeBron James
Moving on.
7. Memphis Grizzlies – Jaren Jackson Jr.
This was an easy selection. Triple J has looked like he will immediately be an elite rim protector in this league. On the other side of the ball he has shown promise by draining 8 thress during his first summer league game. His full report is here.
More importantly, however, it seems as though Memphis is looking to make the playoffs. They added Kyle Anderson and Garrett Temple this offseason and drafted NBA ready Jevon Carter. In a loaded Western Conference, is this feasible? Memphis should be looking to unload Conley and Gasol instead of making the postseason.
8. Minnesota Timberwolves – Karl-Anthony Towns
Kat is my most underrated player in this league. He put up statistics last year that have never been done before. Not one player in league history has put up a stat line of 54 percent FG%, 42 percent 3P% on at least 14 field goal attempts and 3.5 three-point attempts.
Offensively, he is the best scoring center in the league and it is not even as close as we think. Check out how his numbers from last season rank against the premier offensive centers in the league last year.
Per Game Table

| Rk | Player | Season | G | FG | FGA | FG% | 3P | 3PA | 3P% | 2P | 2PA | 2P% | eFG% | FTA | FT% | TRB | AST | PF | PTS |
| --- | --- | --- | --- | --- | --- | --- | --- | --- | --- | --- | --- | --- | --- | --- | --- | --- | --- | --- | --- |
| 1 | DeMarcus Cousins | 2017-18 | 48 | 8.5 | 18.0 | .470 | 2.2 | 6.1 | .354 | 6.3 | 11.9 | .530 | .530 | 8.2 | .746 | 12.9 | 5.4 | 3.8 | 25.2 |
| 2 | Joel Embiid | 2017-18 | 63 | 8.1 | 16.8 | .483 | 1.0 | 3.4 | .308 | 7.0 | 13.4 | .527 | .514 | 7.4 | .769 | 11.0 | 3.2 | 3.3 | 22.9 |
| 3 | Al Horford | 2017-18 | 72 | 5.1 | 10.5 | .489 | 1.3 | 3.1 | .429 | 3.8 | 7.3 | .514 | .553 | 1.7 | .783 | 7.4 | 4.7 | 1.9 | 12.9 |
| 4 | Nikola Jokic | 2017-18 | 75 | 6.7 | 13.5 | .499 | 1.5 | 3.7 | .396 | 5.2 | 9.7 | .538 | .554 | 4.2 | .850 | 10.7 | 6.1 | 2.8 | 18.5 |
| 5 | Karl-Anthony Towns | 2017-18 | 82 | 7.8 | 14.3 | .545 | 1.5 | 3.5 | .421 | 6.3 | 10.8 | .585 | .596 | 4.9 | .858 | 12.3 | 2.4 | 3.5 | 21.3 |
If you considered Andrew Wiggins for this list, seek help. Take a "me" day. With Jimmy Butler a free agent flight risk, KAT is the selection to go with.
9. New Orleans Pelicans – Anthony Davis
The Brow is the future of the NBA. A 6'11" power forward (who should be playing center) who can shoot from all three levels and has DPOY potential? Sign me up. Davis was only 22-years-old when he led the NBA in both blocks and PER. He has an MVP season in him somewhere, hopefully the Pelicans can unlock it for him.
10. Oklahoma City Thunder – Russell Westbrook
I debated Paul George here for a second. Why? A big name free agent signing like that in OKC will be rare going forward. What message would it send to the league if OKC just shipped him off? Despite this, Westbrook gets the nod. Not only is he an MVP player, but he is the heart and soul of Oklahoma basketball.
11. Phoenix Suns – Devin Booker
Because, duh. Devin Only two players have put up 24 point per game, 4 assists per game on 38 percent 3P shooting during their first 5 seasons in the league. One of them is Devin Booker. The other…Steph Curry.
DeAndre Ayton was never seriously considered here. He is a heck of a talent but, it is easier to find a rim protecting, three point shooting big than it is someone with Booker's talent and ceiling. Josh Jackson was never truly in consideration.
12. Portland Trail Blazers – Damian Lillard
I struggled with this pick. Half of me thinks that Portland should just blow it up. The West has gotten even harder and they look to be a team with a second round ceiling. Why pursue the same result every year, if that result is not winning a title?
The other half of me thinks that Portland may have just enough assets to acquire a third star. Zach Collins still has a ton of potential and Portland is very high on him. Anfernee Simons balled out during summer league and turned the heads of many executives. Gm Neil Oshey should certainly consider bringing Kevin Love back to his home state. Send a package of prospects and picks over to Cleveland. Buddy up Love with McCollum and Dame, go all in.
13. Sacramento Kings – De'Aaron Fox
This selection was harder than it looked. Marvin Bagley is the Kings new toy. The 2nd overall pick in last year's draft was not ranked as the #2 overall prospect by many scouts. Yet, the Kings loved Bagley and his desire to actually want to play in NoCal. I had Bagley ranked behind duke teammate Wendell Carter, and through summer league is appeared that I was right to do so.
Fox is a different story. He will help rebuild a culture in Sac'Town. Fox may possibly be the quickest end to end player in the league, and he has a developing jumper. Having already shown leadership and clutchness, I would be willing to trade Bagley before Fox.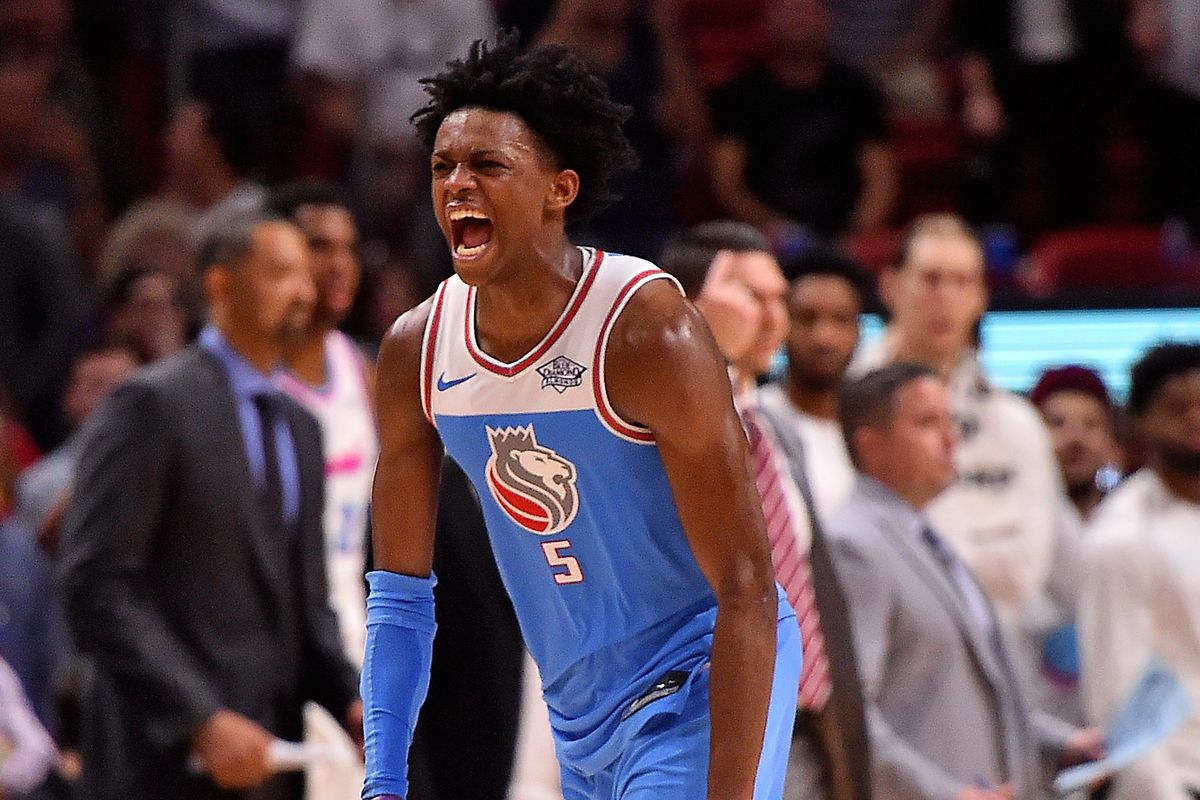 14. San Antonio Spurs – DeMar DeRozan
Aw. So sad, DeMar.
Yesterday I wrote that no one on the Raptors should be untouchable, and apparently GM Masai Ujiri agreed with me. San Antonio clearly wants to take advantage of the remaining years that they have with Pop (bad decision.) So, they went out and traded Kawhi for DeMar. Shipping him off now would only would blow my mind, literally. GM R.C Buford had made brilliant moves for the Spurs for almost two decades now, but this move was horrendous.
15. Utah Jazz – Donovan Mitchell
Spida Mitchell made a bunch of GMs look dumb last year. He looks like a modern day D Wade. Mitchell has an All-NBA ceiling and I cannot wait to watch him develop. Gobert was never truly in contention here. In fact, I would consider trading the big man at his peak value.
During last year's playoffs, we saw how stretch bigs can draw rim protectors away from, well, the rim. Ask Joel Embiid to explain what Al Horford did to him. Gobert will be less and less effective in the playoffs as teams play smaller. For now though, rejoice in having one of the most exciting players in the game back in Utah.
Recent Articles:
The most untouchable player for every Eastern Conference team
Can Zach LaVine live up to his price tag?
Busts of the NBA: Michael Carter-Williams