Friday night, I was watching the non-conference matchup between Arizona State University and Nebraska-Omaha. The Mavericks were beaten badly by the Sun Devils. When it was all said and done, the Mavericks were on the wrong end of a 6-3 drubbing. It wasn't a good night for Mavericks. They looked a step slow and a bit rattled. Yes it's early, but losses like this will come back to haunt a team later in the year.
With the loss, the Mavericks drop to 0-4-1.
First impressions. The free Pac-12 webcast was pretty good. Obviously, the limited camera angles in the Oceanside arena hampered the broadcast. ASU's broadcast was on par with other NCHC schools.
Broadcast aside, it appears that the NCHC made the right decision during the summer of 2016 to deny the Sun Devils admission into the conference. Back in August of 2016, Commissioner Josh Fenton said this:
"After careful consideration and a thorough vetting process, the National Collegiate Hockey Conference's Board of Directors announced the Conference will not move forward with membership expansion at this time. We will continue to be attentive to the college hockey landscape and any future changes that may come. However, our focus right now is guided by what we can do to strengthen our current membership into the future."
ASU's current arena situation in Tempe is unacceptable. The Sun Devils are a big Power Five school, ESPN ranks the Pac-12 ninth for FBS Football, yet they have an arena that's not suitable for most high school teams. Comparing Sun Devil Stadium to Oceanside Arena, hockey appears to be an afterthought.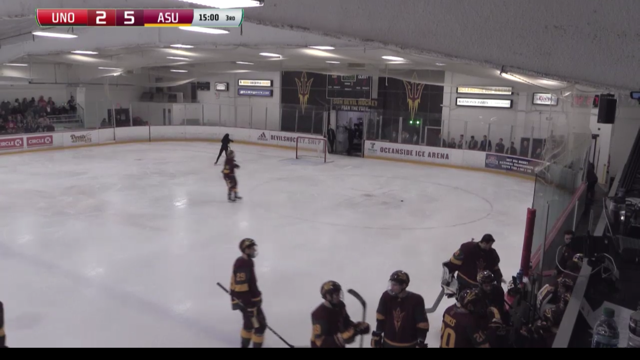 I know it comes off as elitist, but seriously? ASU couldn't find a better arena than Oceanside Arena? The population of the Phoenix metro area is 1.626 million people. This isn't some backwater town.
If you travel around Minnesota, North Dakota and Wisconsin, most high schools teams would be appalled to play in an arena like that. Back in 2016, I think that UMD hockey beat writer Matt Wellens said it best.
The Sun Devils are nowhere close to the level of the new kids on the block before them: Penn State. The Nittany Lions stormed onto the scene in 2013 with an established, veteran NCAA Division I coach in Guy Gadowsky and a brand spankin' new arena thanks to a donation of more than $100 million.

The Sun Devils, on the other hand, are still led by club program coach Greg Powers and playing in the club team's 800-seat home of Oceanside Arena and living off a donation of just $32 million.

The truth is, Arizona State is closer in stature to college hockey's last independent wanderer, Alabama-Huntsville, that its most recent addition. Though even the Chargers have a legit facility to play in.
Two years later, those comments still apply. Yes, I know there's a plan for ASU to solve their arena problem. Graphs and plans are one thing, show us you're serious. Build the arena. Just because there's a plan to build a new arena, the NCHC shouldn't be in a hurry to add ASU. As we've seen in the past, plans can change. So far, so good.
From page 54 of the ASU 2019-21 Capital Improvement Plan — Multi-Sports Arena The proposed multi-sports arena will serve as a venue capable of hosting athletic activities for programs with concurrent schedules, including Sun Devil ice hockey, gymnastics, volleyball, women's basketball and wrestling. The arena is planned to include an estimated seating capacity of 4,000-5,000, concession areas, locker rooms, ancillary support areas and a second ice sheet to accommodate community engagement activities.
Finally, I keep hearing that a hockey trip to Tempe, AZ during the winter would be awesome. Nothing is stopping you from taking that trip. However, that's also not a reason to add the Sun Devils. The NCHC has a good thing going. Adding a couple of team changes that dynamic. More teams means less non-conference games. Bottom line, playing 10 non-conference games helps a team's Pairwise Rankings. If your favorite team has a good non-conference record.
Lastly, here's another angle, think back to the old WCHA before re-alignment, big schools like Minnesota and Wisconsin wanted to control the terms.  During the formation period, the NCHC walked away from Notre Dame because of this. ASU is a big school and is going to want to have the same influence. The league needs to think long and hard.