Center field has long been one of the Indians strongest minor league positions, but with Greg Allen and Bradley Zimmer (#2 and #1 respectively in 2017) graduating off the list, the ceiling has been lowered. Instead of two guaranteed Major Leaguers with a few more promising youngsters, we have a lot of unknowns who could work out, but probably won't. In addition to Allen and Zimmer, Todd Isaacs and Connor Marabell have also been removed and will instead be included among the corner outfielders this year. Rounding out those no longer included is Junior Soto, who was released at the end of last season and signed with the Yankees.
10. Jhon Torres – Age: 18 – Unranked in 2017
2016 International Free Agent
Extended Spring Training
By Conner Burnett
As an 18 year old in the DSL last season, Torres had an impressive season, batting .255/.363/.408 in 54 games, with 5 HRs, and 35 RBI. Defensively he only had 3 errors for a .963 fielding percet. Torres was in the top three on the DSL Indians' roster in several offensive categories including average, runs, home runs, RBI and stolen bases. Born in Sincelejo, Colombia, Torres stands at 6'4″ and 199 pounds, giving him quite the athletic build. Torres has shown so far that he is able to both swing the bat and play the field at a productive level, and that he has the potential to develop into a future five tool player.
9. Ronny Dominguez – Age: 20 – 2017 CF Rank: #7
2015 International Free Agent
Extended Spring Training
By Joseph Coblitz
I'm aware that Dominguez is already 20, hasn't hit single A yet and batted .215 in the high offense AZL last year. However, it was just his second season and he's a very interesting player simply due to his aggressiveness. He's an all or nothing player in every aspect, committing 15 errors while throwing out 14 in 101 games while playing all three outfield positions and has stolen 16 bases, but been caught 12 times.
While there obviously aren't numbers to show for his promise, I've had the opportunity to watch Dominguez for over a year now in various leagues and there's definitely potential. File him under low expectation players who might surprise you in a few years.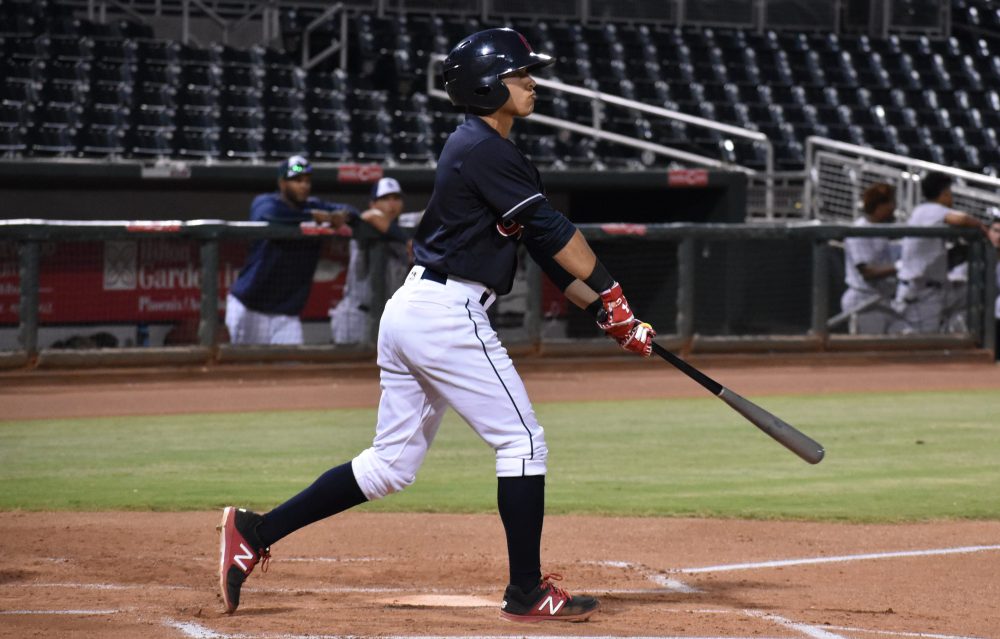 8. Tre Gantt – Age: 21 – Unranked in 2017
Drafted 2017, 29th Round
Extended Spring Training
By Joseph Coblitz
One of the older picks from the 2017 draft, Gantt is a home town hero of sorts coming out of Ohio State. He had a rough rookie year at the plate (who among the 2017 AZL Indians didn't though?), but really stood out as the fastest player on the team (Holmes was also on this squad) and an excellent defender. While Q, as the higher prospect, moved him into left most of the time, Gantt was by far the AZL Indians best defensive center fielder and he likely will be the same for Mahoning Valley once their season starts.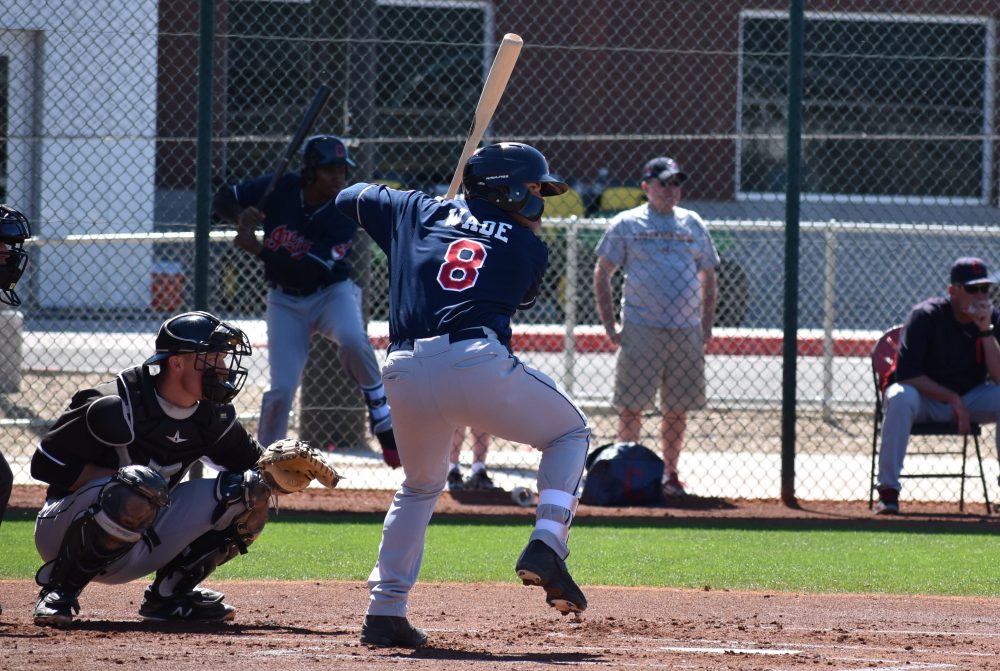 7. Austen Wade – Age: 22 – Unranked in 2017
Drafted 2017, 5th Round
A Lake County
By Peter Conti
Wade lacks offensive skill when it comes to swinging the bat. The positive about the center fielder is that he walks a lot and has more of a grinder mindset so the trend will most likely continue this year. The highest he will get is a fourth outfielder at best, but things could change with the more experience he gets. In the end, he will likely switch between AA and AAA levels for his career as the majors doesn't seem like a real possibility.
6. Jean Montero – Age: 19 – Unranked in 2017
2015 International Free Agent
Extended Spring Training
By Joseph Coblitz
As with any DSL prospect, Montero's value is purely speculative at this point. He certainly has age and speed going for him, but even more interesting could be his .415 OBP and .422 SLG in his second DSL season. We'll see how that translates in a tougher league this year, but there are no obvious negative aspects to Montero's game at this point.
5. Hosea Nelson – Age: 21 – 2017 CF Rank: #10
Drafted 2016, 9th Round
Extended Spring Training
By Peter Conti
Hosea Nelson will need to spend a few more seasons with in the lower minors before being promoted to Columbus. While he is an average contact hitter at best, the more reps he gets in 2018 the better. Not a power hitter, he prefers to play small ball which will likely continue into this season. Projection-wise keep him in Double AA until at least 2021 and see how good he does even if it means earning more experience at the minor league level.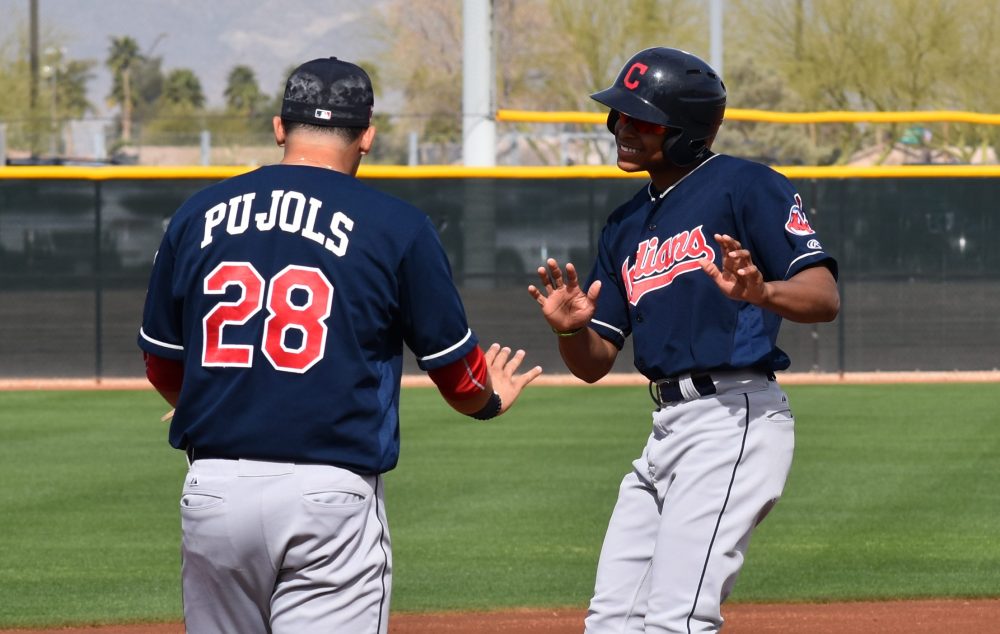 4. Quentin Holmes – Age: 18 – Unranked in 2017
Drafted 2017, 2nd Round
Extended Spring Training
By Joseph Coblitz
Holmes was the highest profile player to come out of the 2017 draft for Cleveland largely due to his incredible speed, called by some to be the fastest player in the class. Once he debuted in Arizona, however, the hype died down quickly. He was outshone defensively by Tre Gantt, on the bases by Tyler Freeman (both fellow 2017 picks) and struck out 61 times in 169 PA with just a .220 OBP. The good news is, plenty of players have had awful seasons in the AZL and went on to have careers that didn't reflect that at all (the opposite is also true). However, Holmes has a long way to go, particularly in the on base department, before he can be considered a stand out player.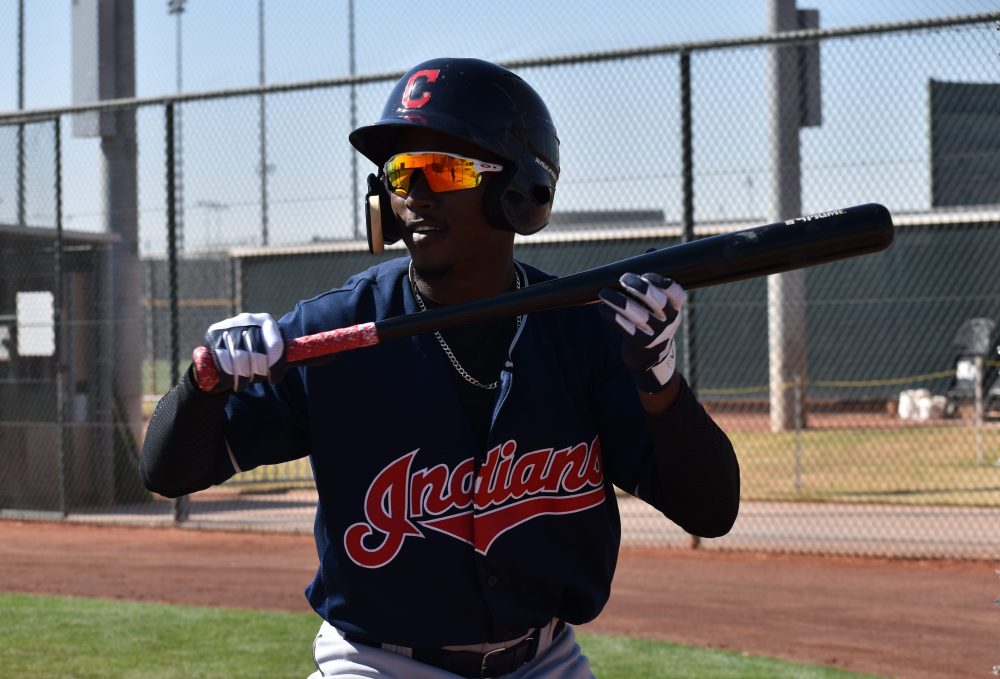 3. Gabriel Mejia – Age: 22 – 2017 CF Rank: #4
2013 International Free Agent
A Lake County
By Joseph Cobltiz
Bursting unto the scene with 72 bases in 70 games in his first season, Mejia was an All-Star in each of his first three years in the Indians farm system, all at advancing levels. In 2017, however, he struggled and wound up missing most of the season with injury. He has begun the 2018 season on the DL as well, putting a further damper on his upside.
In general, the players below Mejia have little likelihood of any MLB career while Mejia projects still has an outside chance of being a low end Billy Hamilton type. He has never hit a minor league home run and doesn't appear to have added any power even as he heads towards his mid-20's. He still has great speed, however, and could be a great baserunner/defensive option in the future.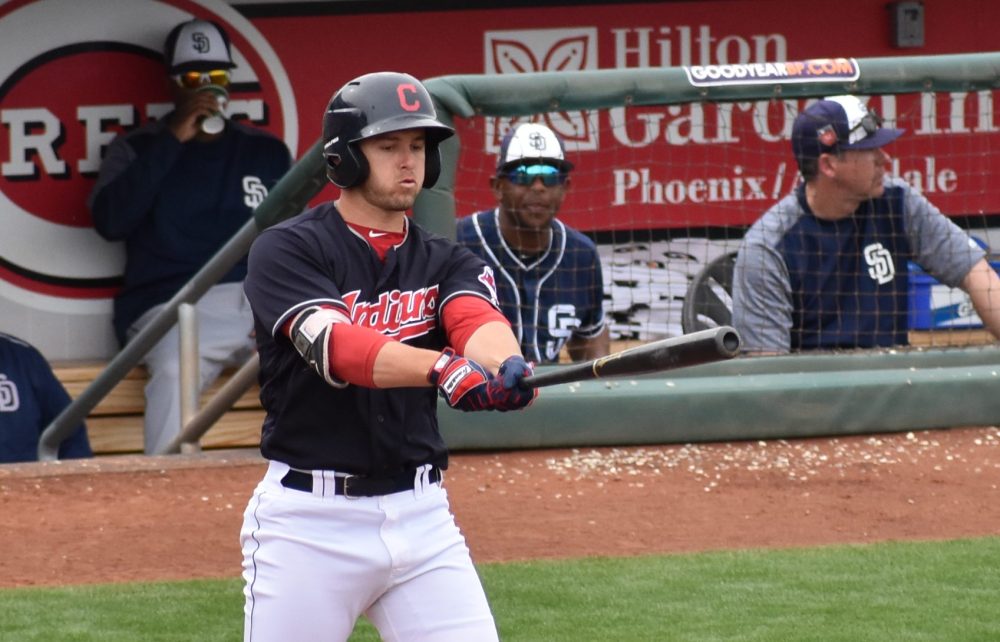 2. Andrew Calica – Age: 24 – 2017 CF Rank: #3
Drafted 2016, 11th Round
AA Akron
By Joseph Coblitz
Ranked only behind Bradley Zimmer and Greg Allen in 2017, Calica has lost some standing as he hits AA for the first time at 24 years old. He has a lot of positive attributes, but individually isn't the best at any. Mejia, Holmes and Gantt are significantly faster, Capel has more power and many are younger with equivalent or better defensive ability. Where Calica has the advantage is that he is the furthest along in his minor league progression among Indians CF as the entire Clippers outfield already has at least some MLB experience. Because of his age, consistent success and advanced level, he is the most likely player on this list to make it to the majors, but he should no longer be considered the player with the highest ceiling.
1. Conner Capel – Age: 20 – 2017 CF Rank: #8
Drafted 2016, 5th Round
A+ Lynchburg
By Joseph Coblitz
One of a few Indians minor leaguers to see a huge uptick in power during the 2017 season, Capel looked like a completely different player with Lake County than he did in Arizona. Now in high A, he has maintained his approach if not improved his current standing. With that power, he is now a multiple tool threat with speed, good glove work and the ability to hit for power and average. While his arm isn't great, it shouldn't affect him greatly as a true center fielder.
As much as I love Mejia, Capel is two years younger and has surpassed him in level and talent largely due to significant time lost to injury over the past two seasons for Gabriel. It is because of this Capel has passed him and others and should now be considered the Indians best minor league CF (second if you include Greg Allen).