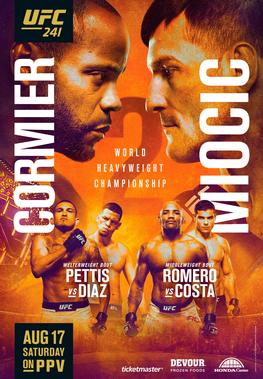 Stipe Miocic got gold around his waist again last night at UFC 241, and was the event's top earner.
Here are the fighter payouts, released by the California State Athletic Commission, and first reported by MMA Junkie.
Attendance:   17,304
Gate:   $3,237,032
Stream live sports and ESPN originals on ESPN+ for only $4.99 a month. Start your 7-day free trial today!
Stipe Miocic:   $830,000 ($750,000 to show, $50,000 Performance of the Night bonus, $30,000 fight week incentive pay)
Daniel Cormier:   $540,000 ($500,000 to show, $40,000 fight week incentive pay)
Nate Diaz:   $270,000 ($250,000 to show, $20,000 fight week incentive pay)
Yoel Romero:   $210,000 ($150,000 to show, $50,000 Fight of the Night bonus, $10,000 fight week incentive pay)
Derek Brunson:   $205,000 ($95,000 to show, $95,000 win bonus, $15,000 fight week incentive pay)
Anthony Pettis:   $175,000 ($155,000 to show, $20,000 fight week incentive pay)
Paulo Costa:   $174,000 ($60,000 to show, $60,000 win bonus, $50,000 Fight of the Night bonus, $4,000 fight week incentive pay)
Cory Sandhagen:   $158,000 ($77,000 to show, $77,000 win bonus, $4,000 fight week incentive pay)
Raphael Assuncao:   $94,000 ($79,000 to show, $15,000 fight week incentive pay)
Khama Worthy:   $77,500 ($12,000 to show, $12,000 win bonus, $50,000 Performance of the Night bonus, $3,500 fight week incentive pay)
Drakkar Klose:   $61,000 ($28,000 to show, $28,000 win bonus, $5,000 fight week incentive pay)
Kyung Ho Kang:   $49,000 ($22,000 to show, $22,000 win bonus, $5,000 fight week incentive pay)
Gabriel Benitez:   $45,000 ($40,000 to show, $5,000 fight week incentive pay)
Christos Giagos:   $33,000 ($28,000 to show, $5,000 fight week incentive pay)
Sodiq Yusuff:   $31,500 ($14,000 to show, $14,000 win bonus, $3,500 fight week incentive pay)
Casey Kenney:  $31,500 ($14,000 to show, $14,000 win bonus, $3,500 fight week incentive pay)
Hannah Cifers:  $31,500 ($14,000 to show, $14,000 win bonus, $3,500 fight week incentive pay)
Ian Heinisch:   $28,500 ($25,000 to show, $3,500 fight week incentive pay)
Devonte Smith:   $26,500 ($23,000 to show, $3,500 fight week incentive pay)
Brandon Davis:   $26,000 ($21,000 to show, $5,000 fight week incentive pay)
Manny Bermudez:   $24,000 ($20,000 to show, $4,000 fight week incentive pay)
Sabina Mazo:   $23,500 ($10,000 to show, $10,000 win bonus, $3,500 fight week incentive pay)
Shana Dobson:   $15,500 ($12,000 to show, $3,500 fight week incentive pay)
Jodie Esquibel:   $14,000 ($10,000 to show, $4,000 fight week incentive pay)