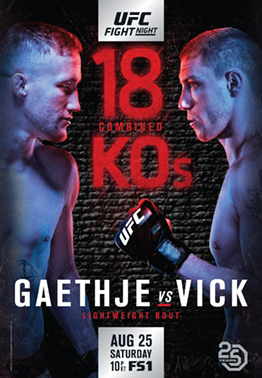 The Prelim Breakout Star is a once per event article that helps fans get to know those who will be entertaining them from the undercard. The intention of the article is not to bring attention to the most talented fighter on the preliminary card, but rather one that the common fan may have overlooked or underestimated.
Hopefully the long layoff did not affect Prelim Breakout Star's hot streak, which now sits at nine straight picks. Check out who we tabbed to bring us into the double digits.
Cory Sandhagen

Affiliation – Elevation Fight Team
From – Aurora, Colorado 
Height – 5'11"
Weight – 145 lbs (Featherweight)
Record – 8-1 (1-0 UFC)
What makes him impressive
Being nearly 6 foot tall in the featherweight division is already a sight to see. He towers over the vast majority of his opponents, but he doesn't use it like you might expect. Most tall fighters are taught and expected to keep their distance. Instead he uses his height to work knees in the clinch and set up body shots. His UFC debut against Austin Arnett is a prime example of this, but far from the only. Check out any of his fights to see how well he mixes it up.
Why he has been overlooked 
When you fight out of a camp as big as Team Elevation, the focus is typically elsewhere. All the cameras are in his gym for this upcoming fight, but they are their to focus on main event fighter Justin Gaethje. A signature win in Lincoln and they might just start turning their focus a bit.
What makes this a good match-up
Iuri Alcantara has made his living with striking from distance. He has quick hands and solid jiu jistsu when made to grapple. However, the clinch has occasionally been his down fall. Letting fighters in close cost him fights with Frankie Saenz and with Brian Kelleher. If he allows the taller Sandhagen to get in close, he'll likely have trouble controlling the fight and may even give Sandhagen the opportunity to finish.
Prelim Breakout Star Record: 151-64-1 (2 NC) (6 DNF)