The end of the 2018 Atlanta Braves season is upon us. There's still much to figure out as far as who the Braves will face in the NLDS, but a season that almost no one predicted will come to a close with the Atlanta Braves as NL East Champions. Recently, I went over the path to that surprising run. Today, I asked the other members of the Walk-Off Walk family to help me with this column that focuses on our favorite moments and dishes out the awards for the 2018 season. Thanks for reading and as always, remember to follow our blog @WalkOffWalk_net.
Best of the Braves
Funniest Moments – Ronald Acuña Jr./Ozzie Albies bromance
Throughout the season, one of the truly great things to watch was how two of the greatest young players in the game interacted with one another. Whether it was jumping all over each other as the Braves rallied to take a lead or hugging one another in the dugout, the two were rarely far away from one another. The Braves have had a few different bromances over the years when young stars climbed up the ladder to the majors together. Brian McCann and Jeff Francoeur, along with Freddie Freeman and Jason Heyward, were very close, but none of them seemed to have the connection that Acuña Jr. and Albies have. All of the WOW voters picked these two for their funniest moment, though Brittni Swanson did also mention a recent moment in which a foul ball nearly hit the Braves manager, Brian Snitker. And, well, that was pretty funny.
On the job since last winter, Anthopoulos has put his stamp on the Atlanta Braves in short time. While we shouldn't take away from the behind-the-scenes work, we focused on the biggest single move he did for our ballot and we ended up splitting the vote. Brittni and I went with the late spring addition of Anibal Sanchez, who has been the Braves' most-reliable starter outside of their ace. Stephen Tolbert and Ryan Cothran went with Kevin Gausman, who Atlanta acquired without surrendering a major prospect. Who's your choice?
Best Play – Dansby's Game-Ender
In a clean sweep, we go back to September 8. The Braves blew two leads – one early and one late – as they tried to take the finale of a four-game set after winning two of the first three games. With the scored tied at three, the Braves took advantage of some poor Diamondbacks defense and pitching – along with a big triple by former Diamondback Ender Inciarte – to take a 5-3 lead in the tenth. A.J. Minter got the ball in the bottom half and immediately put a pair of runners on with one out. A wild pitch moved both runners ahead and after a weak grounder, the Diamondbacks still had both runners in scoring position and two outs. A.J. Pollock singled up the middle, but Dansby Swanson made a diving stop to keep the ball from getting through into the outfield. Former Braves farmhand, Nick Ahmed, tried to score from second, but Swanson didn't panic. He got to his feet and delivered a strike to home, nailing Ahmed. What a way to end a game!
Biggest Home Run – Kakes' Opening-Day Bomb
This category was a runaway, though we did have one other vote. Ryan Cothran mentioned Charlie Culberson's many big homers. In fact, Ryan said "all of them" which I took in very much the same way Ron Swanson orders bacon and eggs. They say you can tell a lot about a season by the way it opens. I don't know if that's true, but it definitely was valid in 2018. Down 5-0, the Braves came back with the help of Gabe Kapler's Wheel of Bullpen Moves. With the score tied, Nick Markakis sent a drive to right field against Hector Neris that SunTrust Park couldn't hold. The 2018 Braves were off-and-running.
Best Individual Pitching Performance – Folty's Two-Hitter
With the Nationals and Braves locked into a tie on top of the NL East as May came to a close, doubters kept to their preseason prediction that the Nationals would eventually run away from the Braves. The Nats had shrugged off a poor start to go 20-7 in May. This was their time. But nobody told Mike Foltynewicz, who faced Stephen Strasburg as June opened. Anthony Rendon singled with two outs in the first. The next 20 Nats? Not a single one of them reached base. Strasburg was good but ran into trouble in the 7th. Back-to-back singles, an error, and a one-out three-run bomb by Dansby Swanson staked the Braves to a 4-0 lead. They really only need one run. Foltynewicz walked a batter in the 8th and gave up a single in the 9th. With two outs, Trea Turner took second on defensive indifference. It was the closest a runner came to scoring against Foltynewicz. The only writer to go with a different choice was me. I went with Sean Newcomb, who came within a strike of a no-hitter against the Dodgers on July 29.
Most Favorite Game – Dansby Caps Off a Comeback
Yes, it was the Marlins. But the Braves entered the ninth inning of their May 20th contest against Miami with a close to 1% chance of winning. And it only worsened after Dansby Swanson struck out to open the frame. A walk and a single followed, but Atlanta was back at a 0% chance of winning after a sacrifice fly. But like Han Solo, never tell the 2018 Braves the odds. The next five Braves reached base, scoring three more runs in the process and getting the Braves within one run. That brought Swanson to the plate. The chance of winning this contest was only at 27% and Swanson was down to his last strike. In the seventh pitch of the at-bat, Swanson rocketed a liner to left field. It would have been the only extra-base hit of the inning, but the Braves only needed Swanson to reach first base as they walked it off. Want to relive it? Here's the nearly thirty-minute video.
Most Surprising Player – Anibal Sanchez
Ryan went with Charlie Culberson while Brittni offered Nick Markakis, but with support from Stephen and myself, the winner is Anibal Sanchez. After his Tigers career ended with a whimper, Sanchez tried to make the Twins roster. He failed and was set free with the Braves signing him. At the time, they didn't know what they would do with the aging right-hander. Would he be a long guy out of the pen? Maybe a spot starter? Sanchez, armed with newfound control over his cutter, made the decision for the Braves. In a season where consistency in the rotation was difficult to find, Sanchez finished with a 2.83 ERA, the first time he had an ERA under 3.00 since leading the AL in that category in 2013. He struck out nearly a batter an inning with his typical great control. He was also another pitching coach for the Braves young arms, helping them improve.
Well, we've hit the unanimous portion of the Best of the Braves section. Unsurprisingly, all four writers went with the man, the myth, the beast for the Best Rookie. All he did was hit .293/.366/.552 with 26 homers and just as many doubles. He also stole 16 bases and improved his walk rate to 9.2% by the end of the season. A .388 wOBA from a 20-year-old? Yes, please. And he did all this while missing 50 games with a business-justified demotion to the minors to open the year and a DL trip later on. If healthy in 2019, Acuña is already an MVP candidate.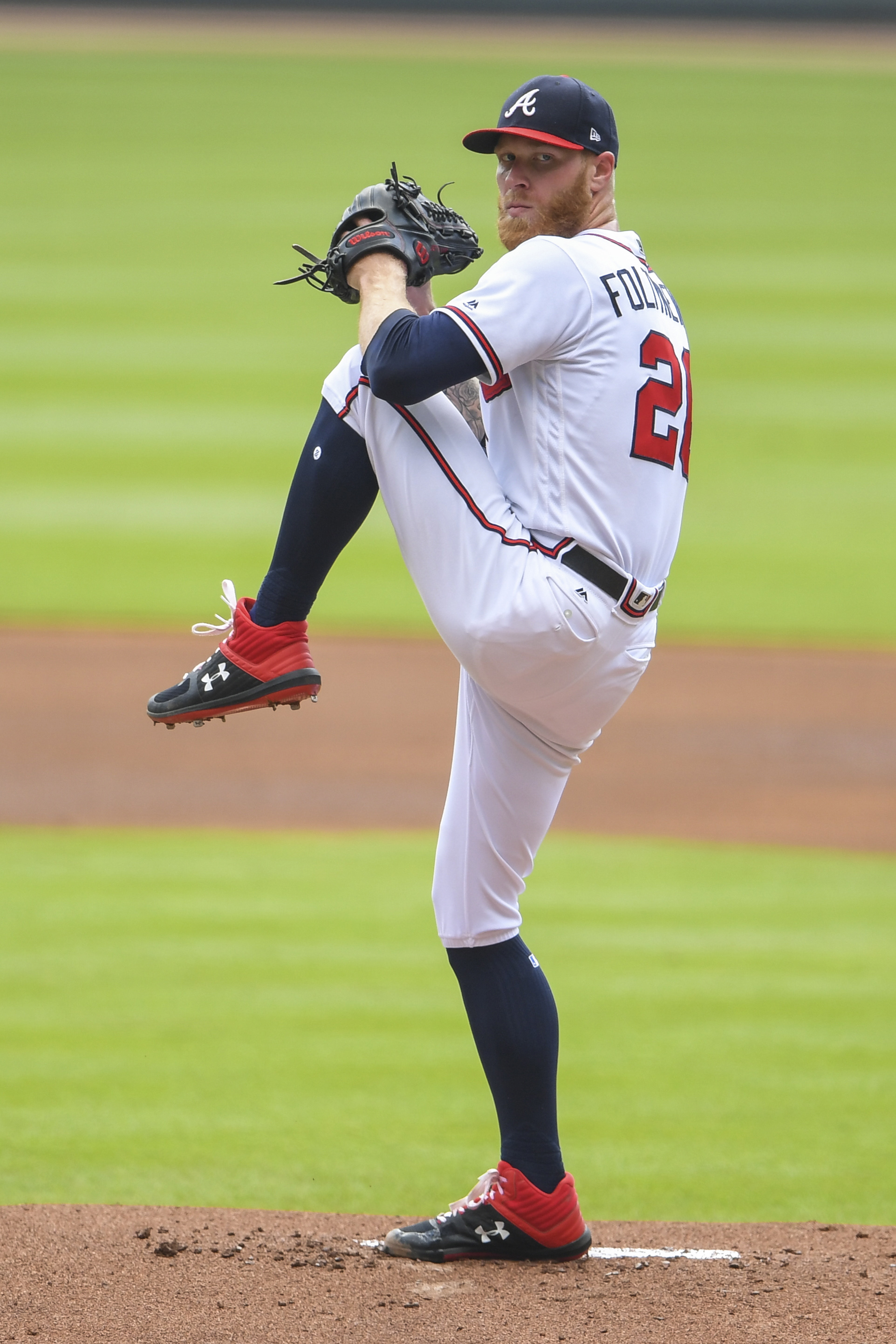 Best Pitcher – Mike Foltynewicz
We debated before whether Folty should even be a starter, but after 2019, it became clear that he was Atlanta's best starter. Acquired a few years back for Evan Gattis, Foltynewicz was never short on stuff, but the results were rarely there. This season, he finished with a 2.85 ERA and 3.9 fWAR. He also reached the 200-K plateau, the first pitcher for the Braves to do that since Javier Vazquez in 2009. There was no real smoking gun with Foltynewicz – no clear reason he lowered his ERA nearly two runs – except he simply improved. He grew into a pitcher. The kind of pitcher that will start Game One of the NLDS later this week.
Best Player – Ronald Acuña Jr.
Unlike with the Best Rookie and Best Pitcher, there was definitely some differences in opinion here. Stephen countered with Freddie Freeman, who did lead the team in most offensive categories, including WAR. Brittni surprisingly went with Dansby Swanson, who delivered a number of big moments during the season. But Ryan and I were thinking along the same lines and went with Acuña, who did lead the team in homers and wOBA. He also, in my mind, was the guy as Freeman and Nick Markakis slowed down during late summer. He kept the line moving and won many games seemingly on his own. Did I fail to mention he is just 20-years-old?
Now, here are our picks for the different league-wide awards. Everyone submitted a ballot with their top three picks.
Manager of the Year
NL
1. Brian Snitker (3 first-place votes)
2. Craig Counsell (1 first-place vote)
3. Bud Black
AL
1. Alex Cora (3 first-place votes)
2. Bob Melvin (1 first-place vote)
3. Aaron Boone
A lot of agreement at the top of the ballots here. I was the only dissenter as far as Manager of the Year in the NL went. Snitker finished second on my ballot, but I went with Craig Counsell for a better record despite a pretty similar expected win-loss record. In the AL, only Brittni didn't go with Cora as she voted for Melvin, the manager of the A's. Certainly, few people projected the A's to be a 97-win team this season who will meet the Yankees this week for the right to advance in the playoffs.
Rookie of the Year
NL
1. Ronald Acuña (4 first-place votes)
2. Juan Soto
3. Walker Buehler
AL
1. Shohei Ohtani (3 first-place votes)
2. Miguel Andujar
3. Joey Wendle (1 first-place vote
The Walk-Off Walk writers all selected the same top two options for Rookie of the Year in the NL. Maybe our love of the Braves helped make our choice rather than go with Soto, who had possibly the best season any teenager has ever had in the majors. On the other hand, Acuña was just as impressive and did it in a pennant race while playing good defense. In the AL, Ohtani was the runaway, though I threw a small wrench into the mix with my selection of Wendle. While playing all over the field and putting up a .300 average in Tampa Bay, Wendle was one of the guys who kept the team in contention into September. I worried no one would give him any love so I over-compensated.
Cy Young Award
NL
1. Jacob deGrom (4 first-place votes)
2. Max Scherzer
3. Aaron Nola
AL
1. Justin Verlander (3 first-place votes)
2. Blake Snell (1 first-place vote)
2. Trevor Bauer
Our voters didn't escape the NL East much in our selections. Patrick Corbin, who I voted for with a third-place vote over Nola, was the only other pitcher in the NL to get any love. Scherzer took home three of the second-place votes with Nola getting a boost from Ryan. In the AL, more options were considered with Gerrit Cole receiving three third-place votes while Corey Kluber got a second-place vote. Snell and Bauer each appeared on two ballots with Bauer receiving a pair of second-place selections while Snell got a first from Brittni and a third-place vote from Ryan. Verlander ran away with the top spot, though, after striking out close to 300 batters with a 2.52 ERA.
Most Valuable Player
NL
1. Christian Yelich (4 first-place votes)
2. Javier Baez
3. Nolan Arenado
AL
1. Mookie Betts (3 first-place votes)
2. Mike Trout (1 first-place vote)
3. Jose Ramirez
It's fitting that Yelich's main competition – such as it was – came from two guys who may keep him from the first NL Triple Crown since 1937. Arenado homered twice Sunday and has one home run more than Yelich. Meanwhile, Baez is two RBI ahead of Yelich who is also tied with Arenado. But Yelich still got all of our first-place votes for MVP for his insanely good season. Matt Carpenter and Freddie Freeman also received votes. In the AL, the top two players on the ballot were the same for all four writers with Stephen flipping Betts and Trout. Jose Ramirez took home two third-place votes from Stephen and Ryan while Alex Bregman and J.D. Martinez finished with one third-place vote apiece.
What do you think of our selections? Got better ones you want to share? Let us know below or on Twitter!