There's an old saying in baseball that you can't win a championship in April, but you can lose it.
With just over one full month of play in the books and the calendar flipping to May, this is a good time to stop and peek at what's been happening. Yes, there's still another five months of regular-season baseball to be played before October hits. However, it's worth looking back at recent history to see if postseason-hopeful clubs off to sluggish starts should really be worried, or if they should just shrug it off due to small sample size.
Most of MLB's divisions are looking how we expected them to at this point in the year (at least, close to what we expected). The two divisions that don't resemble what many likely predicted during Spring Training are the National League East and National League West.
It doesn't matter what the Washington Nationals or Los Angeles Dodgers do Monday night, because both clubs — who are each reigning division champs — will enter May with a losing record. The Nats and first-year manager Davey Martinez enter tonight's action with a 12-16 record, while Dave Roberts' group is currently 12-15.
With this in mind, we're focusing on how postseason teams have performed through the end of April since 2010 to look for some similarities.
The Big Picture
There have been a total of 76 teams that have reached the postseason this decade. Our sample differs from other periods because of a second wild-card team being instituted in time for 2012. So, the 2010 and 2011 seasons gave us eight playoff-bound squads each, while that number increased to 10 from 2012-17.
Among those 76 teams, 14 entered May with a losing record, giving us a rate of 18.4%. In other words, nearly one of out every five playoff teams this decade finished April with a record below .500.
Has it been rare? Yes, but to a degree — those sluggish starts aren't necessarily guarantee failure by season's end. What's also interesting is that these occurrences have been spread out rather evenly.
Outside of 2017 (when it didn't happen at all), it's happened at least once each season since 2010. And outside of 2016 (when it happened four times), it's never happened more than twice in the same year.
Bucking the Trend
Since I don't like keeping people in suspense for too long, here are those 14 clubs mentioned above. The following table includes the team, the year in which it happened, their final record, and record through April 30th.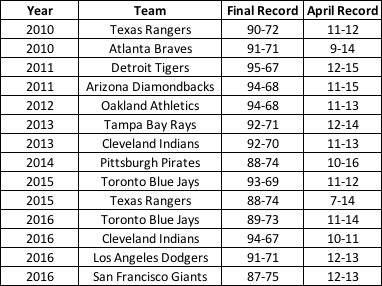 There are a couple observations worth pointing out. One is that we don't see a ton of deep October runs among this group. There are two World Series appearances — one by the 2010 Texas Rangers and another by the 2016 Cleveland Indians — but they also both ended up going home disappointed.
Only four teams (all taking place since 2014) failed to win 90-plus games, meaning just over 71.0% of them found success in this regard. When we throw the Nationals and Dodgers onto this list, they seem to fit right in.
The Deficit
Beginning the month of May with a losing record isn't the preferred route for any team with postseason aspirations, but that's also not the only consideration. What's going on around them matters a great deal, too.
For instance, it's not entirely shocking that both the Dodgers and San Francisco Giants made the playoffs in 2016. Why? Well, despite their identical 12-13 records, they were still tied for first in the NL West.
Entering action on Monday, the Nats are looking at a six-game deficit between them and first place, while Los Angeles has seven games to make up in the standings. Among the 14 teams we've been talking about, six were at least six games out of first place following one month of play.
The two outliers were the 2014 Pittsburgh Pirates (9.0-game deficit) and 2015 Texas Rangers (7.5-game deficit). They're the only teams among this smaller subset that dealt with a deficit greater than 6.5 games. They both finished with identical 88-74 records, which led to the Pirates snagging a wild-card berth and the Rangers winning a division title.
Special Circumstances
NL East teams not named the Miami Marlins will seemingly give the Nationals more of a fight this year than last, but Washington hasn't been close to full strength on offense.
While Bryce Harper is doing his thing (164 wRC+, .287 ISO, and 28.3% walk rate in 127 plate appearances), he hasn't had nearly as much support as he initially expected. Adam Eaton (33 plate appearances) and Anthony Rendon (62 plate appearances) have been limited by injuries, and Daniel Murphy hasn't made his season debut yet as he continues rehabbing from knee surgery.
Washington is currently being propped up by a stellar starting rotation that ranks among the top 10 in fWAR (2.9), ERA (3.49), and strikeout rate (26.6%).
As for the Dodgers, they boast a similarly stellar rotation, and although the offense has been one of baseball's better units, they miss third baseman Justin Turner dearly. Just about every team would miss a guy who slashed .322/.415/.530 in 543 plate appearances last year, which led to a 151 wRC+ (seventh-best in baseball).
Editor's Note: L.A.'s uphill battle just got a little more difficult after learning that shortstop Corey Seager will miss the rest of this season due to Tommy John surgery. 
Basically, what we're getting at here is that the sample size with regard to games played is still too small to draw any real conclusions. That's why many front-office executives give their clubs until Memorial Day to uncover their identity.
For the Nats and Dodgers — two teams who were overwhelming preseason favorites to win their respective divisions — entering May with a losing record and a sizable deficit is not ideal. However, each situation is likely to improve as certain impact players become healthy.
Knowing that it hasn't been impossible to go from a below-.500 team at the start of May to playoff bound by October in recent years doesn't hurt, though.
---
About Matt Musico

Matt Musico currently manages Chin Music Baseball and contributes to The Sports Daily. His past work has been featured at numberFire, Yahoo! Sports and Bleacher Report. He's also written a book about how to become a sports blogger. You can sign up for his email newsletter here.
---