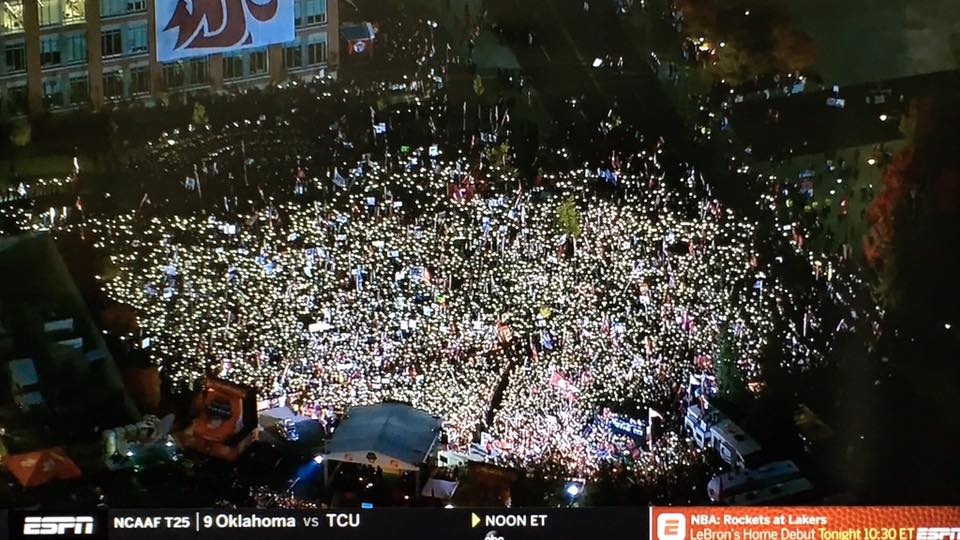 Greetings fellow Cougs, and a happy Dad's Weekend Gameday to you and yours! Here's hoping you partake in some part of today's festivities, whether you are boots on the ground in Pullman and ready to brave the rainy forecast for tonight, or just gathering with family and friends to watch the game in warm glow of a flat screen. For it is a great day today, and in mostly the Mike Leach era every Coug Football Saturday is a reason to be happy and interested and present in the moment. And just like you, we here at WSU Football Blog are jacked and pumped for where things are, and admittedly through long text strings among blogfathers, well, we're "gripping" a bit too about what's to come.
I guess if you are a Coug (and if you are one of the few that are reading this, you probably are?), there isn't a huge reason to explain that feeling to YOU. But you know the usual fan approach we may have once we start to really taste some success – see, we've been here before. Oh, of course we don't always fail in the biggest of moments, and we've seen them succeed (1997 and 2001, 2002 and 2003 for the most part). But there is also very recent history, and we've seen them flirt with the top yet just fall short (most recently, 2016 and 2017 where the Pac-12 North was on the line going in to the Apple Cup).
But like all things in life, nothing ever stays the same. Everything is in perpetual motion, every moment is new. Lights come on for people, where they continue to grow or improve or embrace a huge challenge and knock it out of the park. Or sometimes things go south, where a high level of success is reached somewhat early on and maybe ahead of schedule, and then the light starts to flicker a bit? As a football fan in particular we try to use history as our teacher as we move forward, yet nothing is ever exactly as it was. Players and coaches and opponents change, not just year to year but even week to week, things can be drastically different in what you see on any given Saturday.
One can take a very quick look to our purple-n-gold cousins in Seattle right now to realize how things can go from an unbelievable level of success (playoffs 2016, Jake Browning and 40+ Td's, etc) to now, with 3 close losses this year and unranked while fighting for their bowl slot lives, as their senior QB now leads the conference in interceptions.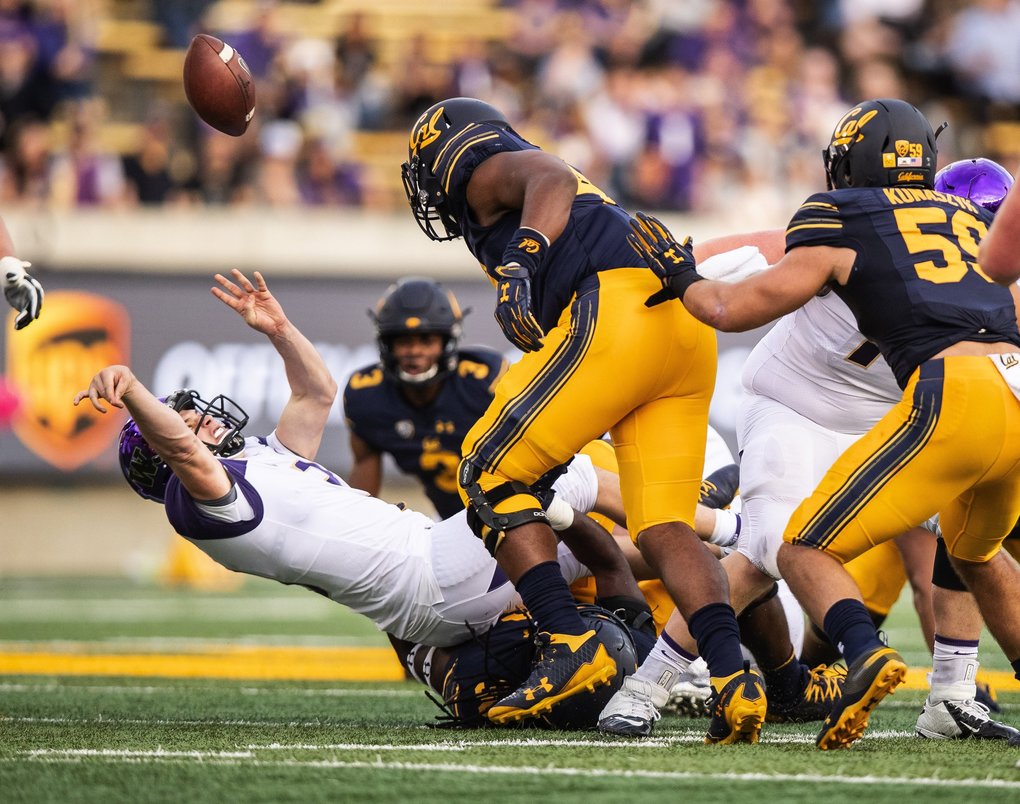 So while we see the Cougs sitting here at 7-1 and ranked 8th in the playoff rankings, one can't help but harken back to 2017 and the moment of exhilaration after moving to 6-0 after beating Oregon in Eugene and headed for what looked like a total tomato can opponent in the Berkeley Bears. Then of course, 37-3 happened as the Cougs moved into the second half of the 2017 schedule, and started a bit of a slide towards a 3-3 regular season finish with a hugely disappointing Apple Cup loss and overall a 3-4 finish including the disastrous Holiday Bowl. And then the offseason happened, coaches left and nearly including Mike Leach on that coaches left list, the horrible tragedy of Tyler, on and on it went as a cascade of awfulness. But you know what? That was last year, that was last offseason. That was a different team at a different place in time, mentally and physically and everything else you can say about it. That was not the 2018 edition of Cougar football.
What is 2018 Cougar Football? Well it's easy to see there is a different "vibe". Leach is still Leach, no question about it. But he seems to be a happier version of Leach, I think, overall, for the most part anyway? There seems to be less crankiness out of him, and more an overall sense of belief and satisfaction in how things have been moving along. And maybe it is all the change that happened (sans the Hilinski tragedy, obviously), but change with new coaches and a certain QB with the Brett Favre/Baker Mayfield swagger. Much like Patriot fans look for even a hint of happy Bill Belichick (if there is such a thing?), you have to squint to really see it.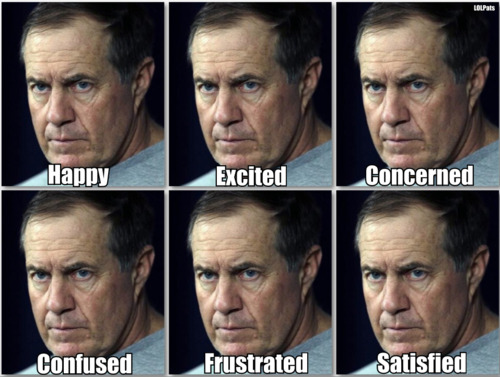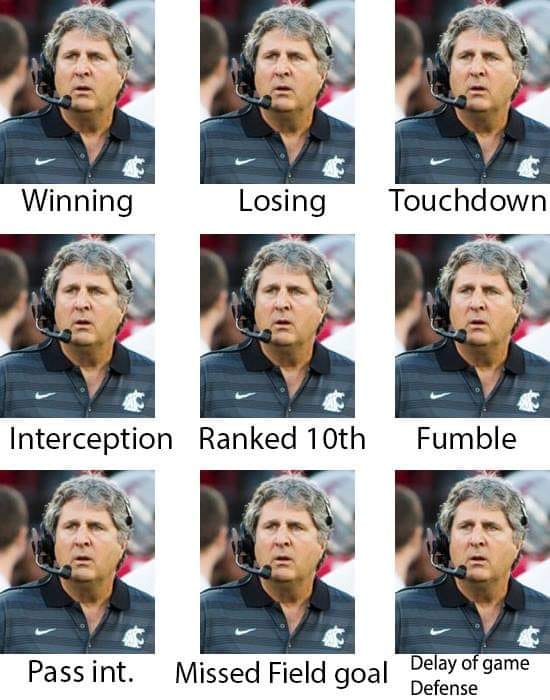 But Leach has offered up some extra praise here and there in the media that you didn't hear much over the last few years, including an interesting quote after the Stanford game where he said this is his "most coachable team he has ever had".
I think Leach is an odd duck, as does virtually anyone who comes across him out in the wild (breaking news, right?). An interesting guy who has a legit, genuine curiosity about a lot of things, but like a lot of successful multi-million dollar head coaches he also flashes narcissistic qualities, so he's kind of an odd mix. Our buddy Longball ran into him earlier this year at a movie theater in Pullman and exchanged pleasantries, but then Leach quickly turned it into a 15-minute conversation about history and some other random stuff that was pretty much all over board as you might imagine. It was just SO LEACH, and that's just who he is, in front of the camera or behind it. But there is something else there, something more. And I think it is more and more obvious that part of being a successful coach is not just having a great grasp of the X's and O's, but figuring out how to make all those Jimmie's and Joe's play to their capabilities and beyond, of pushing further to another level where they might be self-consciously holding themselves back. As Kliff Kingsbury recently said in an article about Texas Tech and Oklahoma, part of the job is being a psychiatrist to your roster of young men! And Leach seems to really have his finger on the pulse of this team, this year, right now.
And that's where I think I appreciate Leach more than anything else. Leach is very consistent in his approach to leading his teams, year in and year out, and he doesn't really waver. He has his rules and will stick to them, all with the approach of this is how you build out a football program designed for continued success. Since the day he was hired here, he has been harping on the Belichick mindset of do your job, play the next play, control what you can control. Don't look at the scoreboard, don't get too low after making a mistake and don't celebrate and relax and take a play off after you do something wonderful. Put it in the rearview and move forward, FOCUS on what's in front of you, and good things will happen. At least that is what he has been trying to get through to these guys, and this year more than any other in Pullman it seems like the message is really finding it's place.
Personally I take that approach to heart, and I have a whole new level of respect for what that really means in the bigger picture. For example I have changed in my approach to being a fan of football, where in years past I would cling to my phone and obsessively watch Twitter during games, all the while texting friends with emotional outbursts at each instance of success or failure. But now? Not so much. In fact, during games I put my phone in a docking station and leave it in my office. I don't even have it on me during games. Our blogfather Huddy runs our Twitter account during games (and he does a masterful job at that!), but it's been a very healthy thing for me anyway to just put it down and roll with the punches, be in that moment. A big part of this change has been mindfulness trainings I have been part of at my place of employment, where you strive to be aware of your thoughts, feelings and environment and present in the moment throughout the day. My career in software demands being present as much as I can be, and the last part of the year in particular is especially stressful and when you need to be all in. There are no "plays off" in the 4th quarter! But maybe the biggest takeaway for me has been to really value and enjoy the PROCESS, and not just focus on the end result. Finding the fun or even the joy in the process can be considerably more rewarding than just what things look like in the end.
Side note – In August I climbed Mt St Helens with my wife and a group of friends from her running group. We trained from the spring and through the summer, regularly going on hikes all over the region and following a training plan that saw almost every hike increase in difficulty and duration. By the time the St Helens climb happened, we were ready and really did well that day, even though late summer NW wildfire smoke really ruined the views. And it was something where you couldn't even see the summit when we started out, it looked so far away and felt like there is NO WAY we'll make it. But you had to focus on the very next step, then the very next boulder in front of you, and the mile long field of scree/ash/sand at the end where it was two steps forward, one step sliding back, or you could fall and possibly get injured. It was step by step in the process.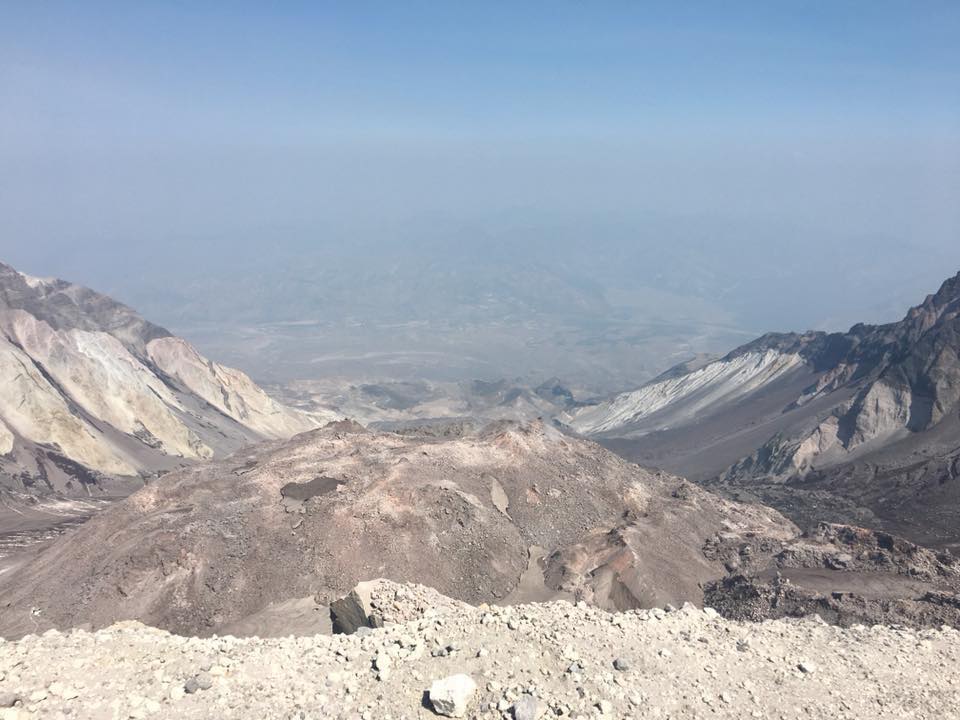 But after getting to the crater that late August day and then climbing back down and hanging out at the RV campground afterwards with a drink in hand, it was incredibly rewarding but also some great perspective. What I felt after looking back at it all was NOT just getting to the summit and looking at what is still an active volcano(!), but what hit me the most is that what I really enjoyed more than anything was all the training hikes that led up to it and even the climb itself. It wasn't easy, and there were moments of "why am I doing this??", but when it was all said and done it was the process and the experiences with the people and pushing yourself that was most enjoyable, not just making the summit. Only appreciating the outcome can rob you of so many great moments that happen along the way!
But the joy of being a football fan isn't just looking at the final score the next day, is it? No, to me the joy is in the process that they go through, the ups and downs and seeing them push through to success. It's a hard game, played at a high level with excellent coaches and athletes and all that in the Pac-12. So winning and being successful isn't easy. I mean we know how hard it is to win in Pullman, at least our history says so (look at 2004-2014 for an example of the darkness!).
But football is an emotional roller coaster, especially on the college level. They are wearing YOUR school, YOUR colors, YOUR home out there every Saturday. At the ESPN Gameday weekend a few weeks ago vs. Oregon, I was lucky enough to go with Sutra and 'lil Sutra, and we had amazing hospitality with Longball and Aimee and Longball's uncle Jack and Aunt Deb by allowing us hang out and to plug-in the RV at their home.  And in that game we saw our Cougs roll to the big early lead and then Oregon chipped away, play-by-play in the third quarter. But when they made it 27-20 I took a quick moment to myself from the stands. I looked back towards the student section that was still absolutely packed and alive and just soaked it all in for a moment, just in awe of the buzz in the stadium and how amazing the fans were that day. It was one of the loudest games I've ever been to at Martin Stadium, and I think a lot the post game reaction echoed that sentiment.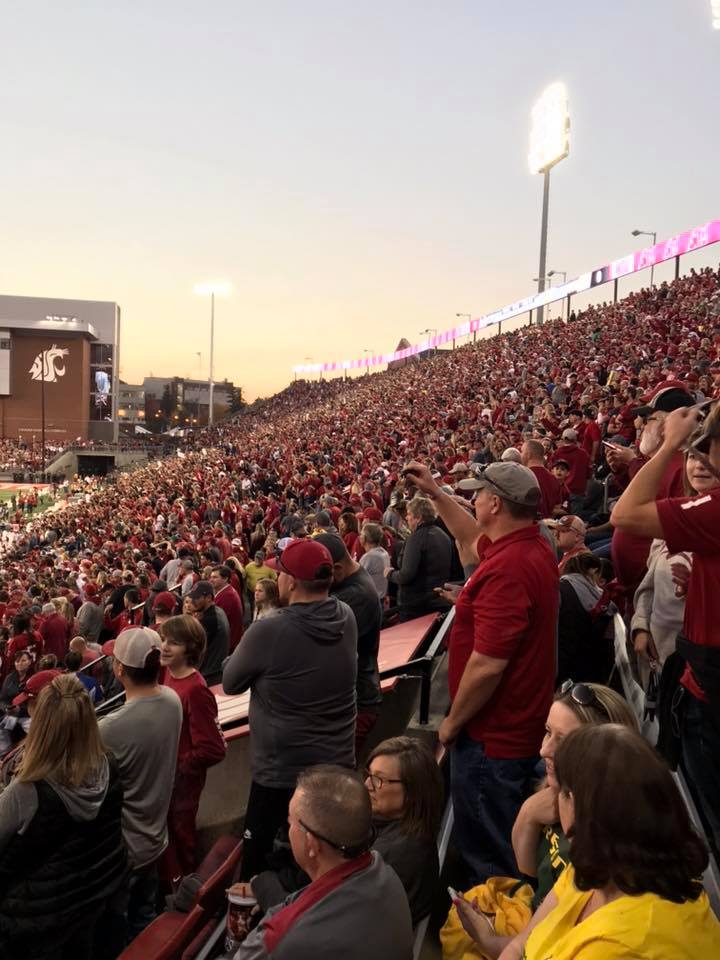 I was in that moment and could just feel the energy. But I also found a spot on the turf, about the 20 yard line, and just stared quietly for a moment. I told myself the mindfulness stuff I've been working on, of controlling what you can control and being present, but that I also had no influence on what the outcome was going to be here in this game. But to just keep enjoying that I was there, keep cheering and making noise whenever I could, that I was in Pullman on a beautiful 70-degree October day among great friends. That today, this was what being a COUG fan was all about. No matter the outcome, in that moment it was still important to appreciate where we were and what we were seeing.  And in the end, the Cougs made more big plays and came away with the 34-20 win on one of the biggest days in Pullman football history.  But man, what a freaking amazing weekend!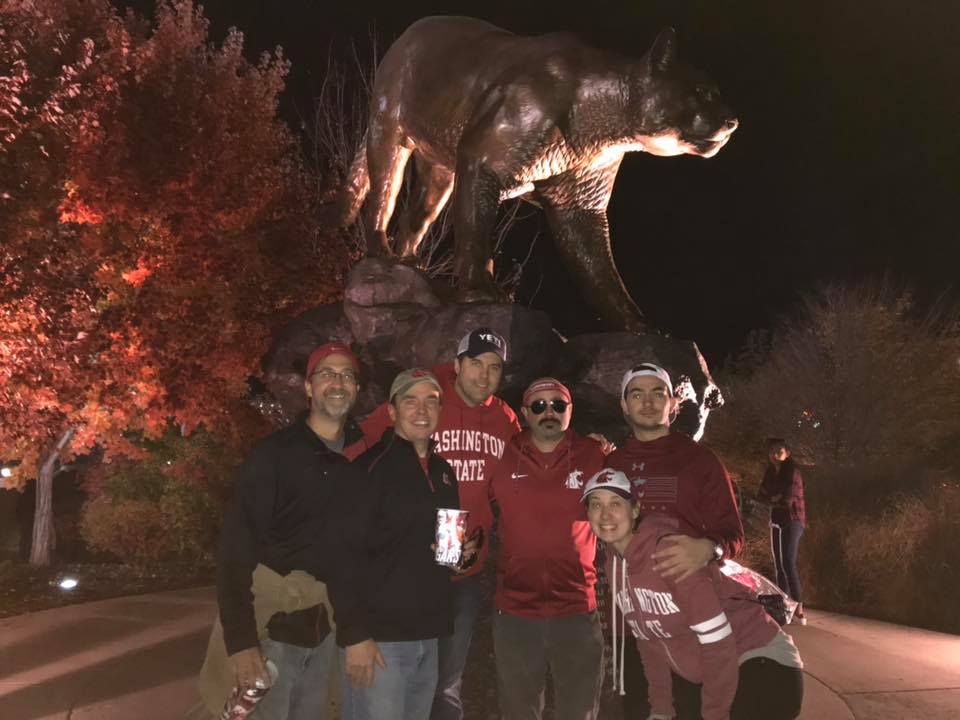 So ask yourself this – How much fun has it been to watch Gardner Minshew II take steps forward this year? And what a path he has taken to get to this point in his life? He has not followed the 5-star path to get here, not even remotely close to the big name guys. But look at him now. Think he has been solely focused on the outcome, or the process of grinding and pushing to get himself where he is today?
We saw it from the very first game at Wyoming, but even the Stanford game last week has been a sort of microcosm of the season, hasn't it? A good start, then a bit of a stumble here and there, but then things clicked in the second half and the good plays started to stack up, time and again. And of course they found a way in Palo Alto.
Moment by moment, play-by-play they have been building something special this year, and have really cut loose and made the most of the things at crucial times when it was desperately needed (I won't go over the ending of USC, but you get the idea). But the greatest joy of being a fan right now is watching them succeed as a unit and overcoming the situations in front of them.
So that's my takeaway today, my friends. Enjoy the game tonight. Roll around in the idea that we have a damn good football team this year, and let yourself think of all the possibilities of what lies ahead, no matter the outcome tonight. But be sure to enjoy the moment as well. Realize that nothing ever stays the same, that teams and players and coaches will move on sooner rather than later. Heck, you can pretty much count the number of times we'll see Minshew in a WSU uniform again on one hand. But all that stuff in the future will be there for you, where it belongs, in the future. Joy in the process, not solely reliant on the outcome, that's what this year is all about.  For there is always great joy to be found in the present!
GO COUGS!