When I found out that the Warriors were picking up DeMarcus Cousins, I freaked. Plain and simple. My friends texted me asking how I was holding up. Others texted telling me they weren't even going to watch basketball next year. Oh, and even SportsCenter put this tweet up:
Warriors. East All-Stars.

Who wins a 7-game series? pic.twitter.com/HxKIC5MAuj

— SportsCenter (@SportsCenter) July 4, 2018
Yikes.
This tweet got me thinking about the Warriors even more. Surely enough, I found myself digging through Google to check out some future Warrior's salaries.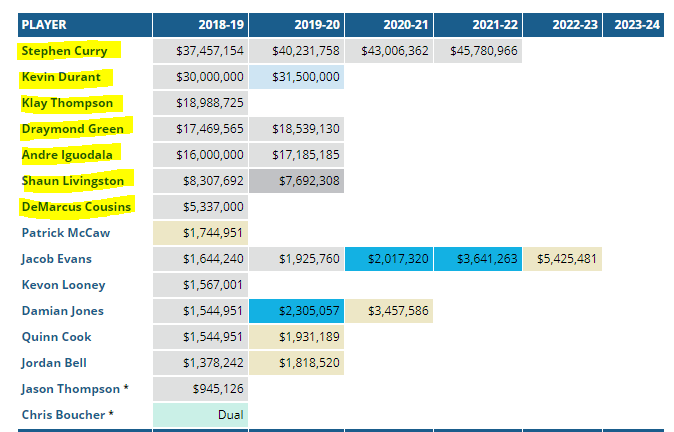 To recap:
Klay Thompson      – FA in 2019/2020
Steph Curry             – FA in Never
Kevin Durant          – FA in 2020/2010 (Player Option)
Draymond Green   – FA in 2020/2021
Andre Iguodala      – FA in 2020/2021
Shaun Livingston   – FA in 2020/2021
Demarcus Cousins – FA in 2019/2020
In the not-so-distant future, this team could face a crossroads. Klay will command a max contract, yet he has stated in the past that he could consider taking a discount. Draymond, however, has been rumored to hold out for a max contract. KD is on the books for a couple more years, and most likely will opt out next summer because he qualifies for a 5 year/200 M+ deal. Iggy and Livingston, two key rotation pieces, will be around a little longer. Cousins is looking to make good on his prove it contract. Oh, and when Steph leaves Golden State it will be in a casket.
In other words, the Warriors' mainstay players have done nothing but state their desire to play with Golden State. Yet, they will be buried in the tax if they decide to pay each of  their core guys (Green, Klay, KD, Steph) the max. There may be some financial decisions to make going forward, from both the team and player perspective.
After looking at these figures, I got even more mad. This team is going to destroy NBA parity for the next year or two. Then I got an idea. Why not engage in a little offseason hypothetical?
Imagine all of the four core Warrior players were free agents RIGHT NOW. Every team in the NBA who doesn't have cap space, has declared that they would use the amnesty rule or work a trade to gain the space. Which Warrior would you take off of this team to create more parity in the League?
Who would it be, and where would you send them?
Some quick notes on your options:
Klay Thompson
A 28-year-old, 6'7″ sniper who is an elite defender and underrated playmaker, Thompson has been the eye of NBA imaginists for a while now. We love to picture him playing in Madison Square Garden, being the focal point of a team who needs one more star.
What does Thompson do for the Warriors? Dude takes a little less than 50% of his shots from behind the arc, providing the floor spacing which allows for KD, Chef, and Draymond to find those vintage backdoor cuts. Take a glance at his career 3P attempt rate.
Draymond Green
Everybody knows that Draymond is the catalyst of this offense. He routinely leads the Dubs in assists despite not having even the 2nd highest usage rate. What's more, Green is the leader in the clubhouse. Oh, and let's not forget he is arguably the best defensive player in the League right now and one of the greatest defenders in history as well.
If you take Draymond off of this team, can it find a way to keep its offensive motor running as smoothly? Who would be their defensive quarterback?
Kevin Durant
A former MVP and scoring machine, KD has worked on his defense as well. When the game slows down in the Finals, and your team needs a bucket, KD will go and get you one. Ask Cleveland how that felt during Game 3 in last year's Finals. He is a constant threat for the 50/40/90 club.
Per Game Table

| Season | Age | Tm | FG | FGA | FG% | 3P | 3PA | 3P% | FT% |
| --- | --- | --- | --- | --- | --- | --- | --- | --- | --- |
| 2017-18 | 29 | GSW | 9.3 | 18.0 | .516 | 2.5 | 6.1 | .419 | .889 |
The Warriors won a ring without Durant but, they were also down 2-1 in that 2014-2015 Finals, and had to face Kyrie for a single game. Durant assures them rings, even though they could probably win one without him.
Steph Curry
A basketball sensation who will pull up from anywhere, the two-time MVP has not lost a step. He shoots just about 10 threes per game and defenders must stick to him wherever he is on the court. Steph has even more gravity than Klay Thompson, if that is even possible.
What would happen if you took Curry off of this team and replace him with an average point guard? Maybe a Jeff Teague type of player. Do they still reach the Finals? Probably. And that is a testament to how good the Dubs personnel is beyond Steph Curry.
What would I do?
I don't have the heart to take SC and remove him from the town he once revived. Curry is the most responsible for this dynasty, and perhaps Golden State's most beloved son.
Kevin Durant has only been in town for a couple of years. Let the man live. Plus, amongst Jalen Rose whispers on Bill Simmons podcasts, KD may be destined to shine somewhere else in the future anyways.
I would love to see Klay be the man somewhere else. Imagine him in New York? MSG would go nuts every night for this man. Yet, I can't break up the Splash Brothers. Just can't do it.
Draymond, however, is someone I could envision departing the Warriors. Why? Green does so much for this club on both sides of the ball. If he leaves, we truly get to see how smart of a coach Steve Kerr is. Can he adjust both the defense and offense accordingly? Can the remaining Warriors step their games up? Where would I put Draymond. New Orleans. It works from an Xs and Os and karma perspective. AD, Jrue, Randle, Moore and Green is an awesome starting lineup who could give teams matchup problems during the Western Conference playoffs.
So what's your answer? @Mattesposito @ProCityHoops