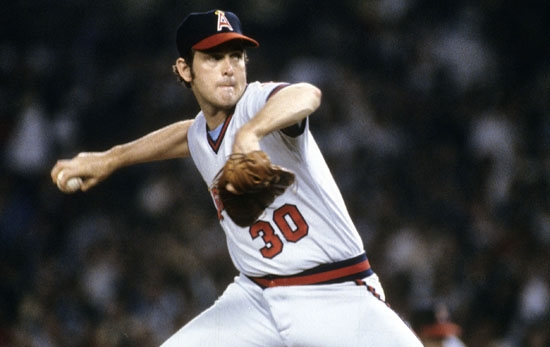 By David Saltzer, AngelsWin.com Senior Writer
One of the many joys of having children is that as they grow up, you can have much deeper conversations about things, and they can understand so much more. The passions that you have can become their passions, and you can teach them about why you love the things that you do.
When my sons woke up Sunday morning, they started working on sorting and organizing their baseball card collections. Like them, when I was young, I had a decent sized baseball card collection, and still have some of my favorite cards.
At lunch, one of my sons asked me "Dad, who would you say were the best Angels players in Angels history?" One of my twins decided to take it to another level (because the best isn't good enough for him) and asked me who were the most legendary Angels players.
At first we had to decide what "legendary" meant because lots of players could be legendary for positive or negative things. We decided that to be a legendary Angels player, a player had to play a substantial portion of his career with the Angels and be forever associated with the team and a position.
Once we had the definition in place, we spent the rest of the lunch we discussed who would in my 25-man roster. It was not an easy process as there were many players up for consideration. There were many positional battles, and sometimes players had to be moved to make it all work out (or at least work out in a way that made me happy). Some players who had great years with the Angels ultimately had to be cut. Towards the end, it got brutal, to be honest.
Ironically, and unbeknownst to us, at the same time, Topps and Beckett Media partnered up to present their 30 Teams in 30 Weeks as they counts down to the most Legendary Lineup for every Major League baseball team. You can check out their lineup for the Angels here. When I came up with my team, I had no idea who would be on their team, as their team wasn't unveiled until today.
Since today is an off-day today, let's discuss my team. Who did I leave off of your list? Who did I get right? Compare my list to the Topps and Beckett Media's list. Which one is better? Where did they get it right and I got it wrong? And, if you want to have fun, you can start making your own Angels legendary lineup. Here's a reference that will surely help.
Catcher: Bob Boone
This wasn't easy. For me, it came down to Boone and Bengie Molina. Both were incredible, but I consider Boone a bit better defensively. Since catching is a defensive position, that tilts the scale over Molina's better offense. It really is close between these two. Since all teams really need two catchers, Molina will make it on the bench, and the two of them will split the season with each playing about half the games. That way, they both will be rested, and will both be that much better.
First Base: Wally Joyner
When I think of an Angels 1B, I can't help but think of the joy and fun that Wally brought to Anaheim. If you were an Angels fan in the mid 80s to early 90s, all you heard at times was: Wally! Wally! Wally! Albert Pujols is the best first baseman to ever play the position for the Angels, but Wallyworld will forever be synonymous with the Angels. That's legendary. I heavily debated Rod Carew, but in the end, I thought that Carew would be associated more with the Twins than the Angels as he played far more seasons there and had more of his hits with them.
Second Base: Bobby Grich
This was the second easiest position to decide for me (if you can't figure out the easiest one, then you haven't been paying attention as an Angels fan). Sure, he spent the first part of his career with Baltimore, but, Grich was part of the Angels first three playoff appearances and played the majority of his career with the Angels. He was part of the big spending spree by Gene Autry, and put up offensive numbers from a position that at the time generally was not known for much offense. The only other choice who garnered any consideration was Howie Kendrick. While he was a great player, and has the 8th best batting average and 5th most doubles for any qualified Angels player, Grich had the overall better Angels career in my opinion.
Shortstop: Jim Fregosi
I never got to see him play, but I've seen footage. And, before he passed, I got to meet him a few times. In talking with veterans from the era, he was the real deal. An All-Star almost every year he was a Halo, he has to be the choice. The only real competition at the position for me was Andrelton Simmons. I've said on many occasions that Simba's defense is worth the price of admission, and I mean it. If he continues for about 5 more years as an Angel at the level he's playing, he may surpass Fregosi to be the most legendary Angels shortstop. His defense is amazing, and fans will discuss it for years. But, he needs more time to become legendary. So, for now, that honor still resides with Fregosi.
Third Base: Troy Glaus
This position came down to two people: Troy Glaus and Doug DeCinces. Comparing the two, Glaus had better overall numbers as an Angel Glaus bests DeCinces in HRs, doubles, and OB%. And, most importantly, Glaus was part of our only World Series win. DeCinces did help the team reach the playoffs twice, but, also spent the majority of his career in Baltimore. Like Carew, DeCinces will probably always be more associated with another team rather than the Angels whereas Glaus and the 2002 team will become the stuff of legends.
Right Field: Tim Salmon
Any legendary Angels team has to have the King Fish. He spent his entire career with the Angels, during the free agent era, and leads the team in homeruns hit as an Angels. When you're known as Mr. Angel, you are the icon. But he had a lot of competition. Thank goodness there is a DH spot to help make this all work out. Sure, Vlad is our first-ever Hall of Famer, but the legend belongs to Salmon (don't worry Vlad will make the team elsewhere). Vlad definitely has the stronger arm in the field, but Salmon was the more consistent defender. And, since it is a legendary team, Mr. Angel gets the nod in Right Field for me.
Center Field: Mike Trout
Ummmm . . . this was the easiest decision of all. It helps that he's the best baseball player in his generation, and keeps getting better every year. This was by far the easiest position to decide.
Left Field: Garret Anderson
Okay, I know a lot of fans have mixed feeling on GA. But, as the last several years have shown, having a consistent presence in the lineup is a very valuable thing. How many left fielders have we gone through to get to a consistent level of play from that position since GA left? Fans underestimate consistency, but for fun, go through the historical offensive stats for the Angels. GA ranks in the top-5 players in almost every single category. Year after year, GA went out there and put up solid numbers. He wasn't the most flashy, he did sing his own praises, he just did his job on the field, and he was good at it. I'd take that any day in my lineup. It might not be the most exciting legend, but, it sure did get the job done.
DH: Vladimir Guerrero
Okay, this one was tough. How can I not place the first-ever Angels Hall of Famer on the legendary team? His numbers were unreal. His style was unreal. When he first came to the Angels, the entire stadium would hush during his at bats. He brought an electricity that has only been matched by Shohei Ohtani. But, by choosing him, I had to exclude every other player whom I could have placed here. Names like Downing, Baylor, Reggie, Erstad. Those weren't easy choices. One could make a strong case for any of those players. But, in the end, Vlad has to be on the team, and as I said in the Right Field discussion, King Fish starts in the field, so Vlad gets the DH spot.
Rotation: 1. Nolan Ryan 2. Frank Tanana 3. Chuck Finley 4. Jered Weaver 5. Mike Witt. 6. Shohei Ohtani
The first decision I had to make was whether to go with a 4-man, 5-man, or 6-man rotation. And, before I get ripped too much for including Ohtani on this list, think about this: this is the iconic list. For the next 30 years, any broadcast involving a team using the 6-man rotation will forever discuss the Angels and Ohtani. Any team that has a player who tries to be a 2-way player will forever include a discussion of Ohtani. I know it's only been a month, but if he becomes the player and we become the team for the discussion of an issue, that, by its own definition, is legendary. So, Ohtani has to be on the list. He's already become legendary with his pitch velocity, his exit velocity, and his running speed. Plus it really helps the team to have his left-handed bat off the bench!
As for the others, they are mostly self-explanatory. I'll take Mike Witt with his perfect game and combined no-hitter as my #5 starter. He has the 4th most wins in our team's history and the 4th most strikeouts. There are others, and you can pick them from other eras, but, he is one of my favorite players, and he's who I'd want to see on the mound.
As for Nolan Ryan, it's always bothered me that he isn't more associated with the Angels. I remember when and how he left, and it wasn't pleasant. But, his numbers for the Angels were unreal. In an era when batters did not like to strike out (unlike today), he set a record that will most likely never be broken–383. He had 5 seasons with more than 300 strikeouts with the Angels, and oh yeah, 4 no-hitters. How he isn't considered our preeminent pitcher is astounding. I still blame Bavasi for that. Any Angels fan from that era will forever talk about him, so he is by far-and-away, our most legendary pitcher.
Closer: Frankie Rodriguez
In 2002, the Angels added K-Rod to the postseason roster, and forever altered the team's dynamics. Frankie set the single-season record for Saves as an Angel. Sure, Percival had more saves, but, in the end, when K-Rod had his stuff, he was electric. Sure Percival had "the stare", but for me, Frankie was the more legendary closer.
Bullpen: 1. Troy Percival 2. Bryan Harvey 3. Scot Shields 4. Jim Abbott
I'm going to go with a 5-man bullpen so that I can fit other position players on my iconic team. So, all the other dominant closers for the Angels have a spot here. And, we are including the rubber-armed Scot Shields. Having him to go 1 or more innings multiple times a week made our bullpen so much more effective.
And, before I get too much grief for putting Jim Abbott in the bullpen, yes, I know he was a starter, not a reliever. But, he is by far one of my all-time favorite players. His story is so compelling. And, the Angels really don't have any major standout lefties from the pen. So, humor me as a writer here for giving him a spot in my pen. It's my legendary team, you can debate me with your choices in the discussion. But, his story will forever be tied with the Angels. He is part of our lore, and as such, has to make the team.
Bench: 1. Brian Downing 2. Darin Erstad 3. Bengie Molina 4. Chone Figgins
With the roster choices that I've made, I only have a 4-man bench. I couldn't leave Brian Downing off of the team, but he lost out in left field to GA. And, as iconic as he was as the Angels DH for so many years, he lost that battle to Vlad. He's too legendary of an Angel to leave off the team, so he has to be one of my batters on the bench.
With Erstad, I can think of 26 words that will forever justify him on the team. They are: "Here's the pitch to Lofton. Fly ball, center field. Erstad says he's got it. Erstad makes the catch! The Anaheim Angels are the champions of baseball!" Who still doesn't get chills whenever they hear that? And, if we ever need a team meeting to motivate the players, he's the guy I want in the clubhouse.
Bengie Molina was discussed in the Catchers section.
Chone Figgins. Yes, we're getting Figgy with it. Sure, he wasn't the same once he left us, but, he could play 3B, SS, 2B, and the OF. He is the epitome of a utility player. He could work a walk and steal a base. If I'm making a true team, I need a true utility player. In a pinch, Erstad could cover 1B, which means that all the remaining positions have to be covered by one player. And for me, that's Figgins.
Okay, there's my team. As I said, it's an off day. Go ahead, criticize mine and make your own. Compare it to the Topps and Becket Media roster. No matter what, you'll have fun. And, the more you dig into it, the more you'll see how difficult it is to do. Yet, at the same time, the more you dig into it, the more you'll enjoy it.
We have an off-day today, so let's debate. Where do you agree with me? Where do you disagree? What do think of the Topps Beckett Media lineup?