The Washington Mystics were 3:07 away from potentially taking a 2-0 series lead on Tuesday in Atlanta when one of the worst possible things that could happen happened. All-Star Elena Delle Donne slid across the floor during a drive to her right towards the basket and had her left knee bend inwards in a way no one ever wants to see. There is no ligament damage, but a bone bruise on that left knee kept her out of Friday's pivotal Game 3 back in D.C.
The career 20 points per game scorer was lighting it up in the series with 59 points in less than two full games and removing that offensive threat from the lineup was a big factor in the Mystics 81-76 loss to the Dream at GW's Charles Smith Center. Washington now faces elimination, down 2-1 in the best-of-5 semifinal series.
"You are taking 20 points, 10 rebounds out of your lineup," head coach Mike Thibault began about playing without Delle Donne, "and the fact that she also draws other defenders to give other people good looks, it's a hard game for somebody like Kristi [Toliver] who can play off somebody like that to get clean looks. It's like any great star in this league. Your team is just never going to be the same without them. I thought we put up a great fight. I don't think we played great offensively at all."
Washington shot a poor 36 percent from the field, 27-of-75, and an even worse 21.3 percent from beyond the arc, 5-of-23. Take away rookie Ariel Atkins and the three-point shooting drops to 10.5 percent, 2-of-19. Former Maryland star Kristi Toliver continued to struggle in this series. She finished Friday night with just seven points on 3-of-15 shooting and 1-of-9 from deep while playing all 40 minutes. Through three games, she is shooting just 25.6 percent from the field, 10-of-39, and 19 percent from deep, 4-of-21. During the regular season, Toliver shot 43.3 percent from the field and 36 percent from beyond the arc.
"I think the key is me and [Alex] Bentley just take turns," Dream guard Tiffany Hayes said after a game-high 23 points. "Doesn't get us tired because she's all over the place but when I can take a break sometimes when Bentley comes in and then she takes a break when I'm in the game guarding her. It's good to have two people that have great defense on her all the times because she can go off at any moment. She's a great player. And then everybody helping out if she beats us on the drive. Just fortunate to have a lot of people who can guard."
Without Delle Donne, Thibault tried to throw a curve ball at the Dream by playing extremely small. At times Washington played four guards around center LaToya Sanders. Mid-season acquisition Aerial Powers provided a spark off the bench with 18 points in 22 minutes, much of which came at power forward where she had not played all season.
"I am a player that whatever my team needs I try to give to them," Powers expressed. "I realized that they needed some help rebounding, so I tried to make that my goal to get in there and rebound. Whatever gaps there are to fill I just try and do my best and fill them."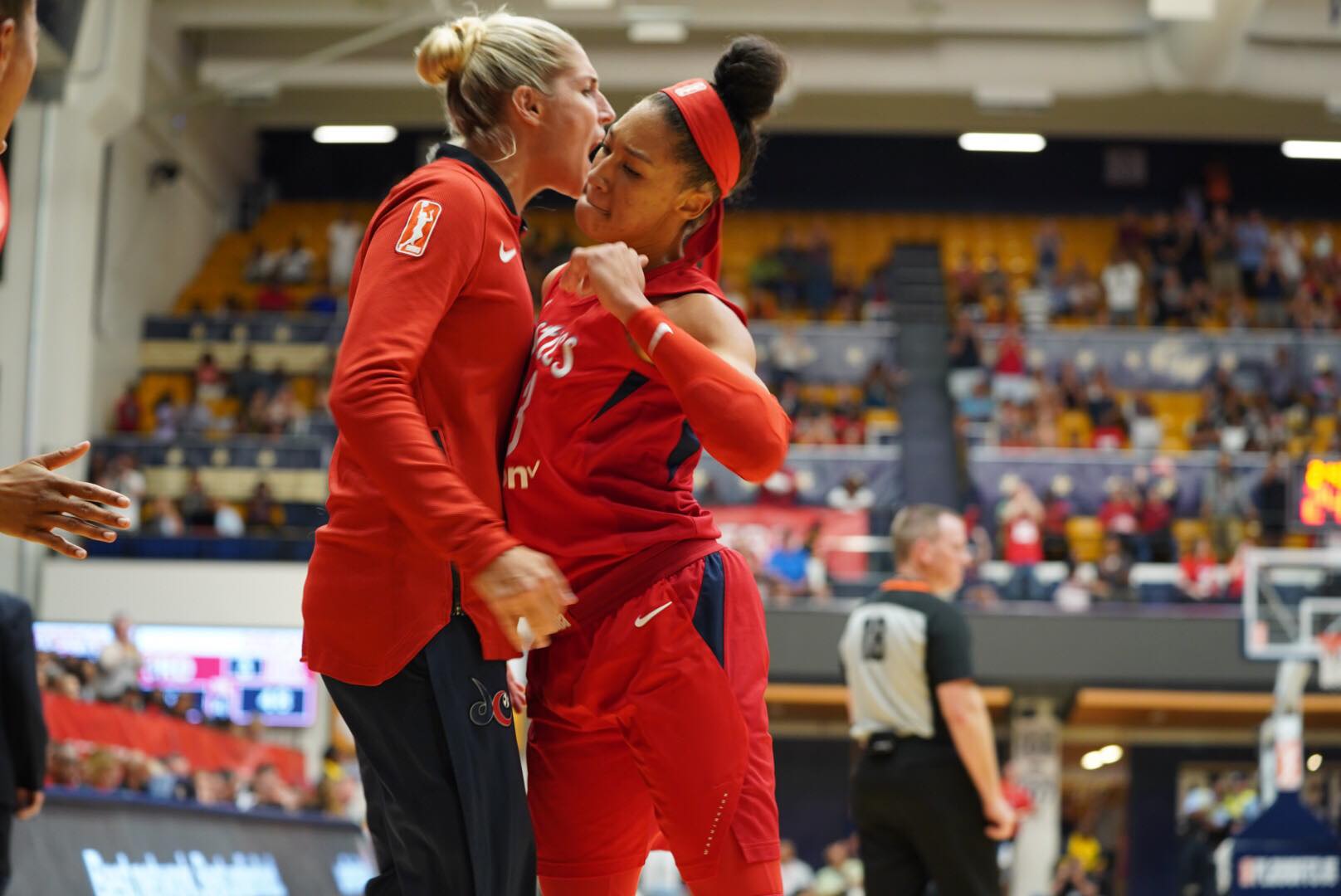 Do not tell that Delle Donne-less Mystics that they cannot compete with the Dream without their best player because they felt that they were right there with the Dream on Friday night in front of a rowdy home crowd. When asked if Atlanta was more aggressive in their defense of Washington's secondary stars like Toliver, Powers politely interrupted Sanders response to make the simple point that they did not shoot the ball well. She did concede that those shots may be less open without Delle Donne, but she still believes it is simply a matter of knocking down a few more shots by hitting their average percentages. Despite having a poor offensive game, Washington put it all out on the court.
"Nothing came easy," Dream head coach Nicki Collen explained. "I thought that Washington was incredibly scrappy. Obviously undersized a lot of the game; really went small and played [Aerial] Powers at the four. But in doing that, they were really aggressive; they created great spacing; really attacked the rim; got to the foul line."
The Mystics will fight to keep their season alive in Game 4, an elimination game in the best-of-5 series, on Sunday at 3 p.m. from the Charles Smith Center on the campus of George Washington. Delle Donne continues to get around the clock treatment on her left knee bone bruise and was seen barely limping on Friday as she went upstairs. Thibault has already said that it is all about pain tolerance for the All-Star forward as well as that she can make all the cuts necessary to be effective (or maybe just a decoy). Her availability has already impacted this series and will certainly continue to be one in Game 4. At the very least, we love seeing her in decent spirits as she goes through this ill-timed injury.
https://www.instagram.com/p/BnKhA5ZADn2/?taken-by=hoopdistrict