It's happening!
Scrolling through Facebook and Twitter overnight those were the only two words most wrestling fans could utter –
It's happening!
After months of speculation, rumors, denial and a four-month long countdown…
IT'S HAPPENING!
On the most recent episode of Being The Elite, which was posted at midnight PST on New Years Day – the moment that Ring of Honor contracts expired for members of the Elite, Cody, Hangman Page and the Young Bucks made the official announcement that All Elite Wrestling, the rumored new promotion, would indeed be a reality.
Along with the announcement of AEW, the episode also announced the group's follow-up to September's All-In, Double or Nothing. More details on both will be made official at a rally that will be held on Tuesday, January 8 in Jacksonville. The event will be held in Jacksonville as the co-owner of the Jacksonville Jaguars, Tony Kahn, is rumored to be the President of the start-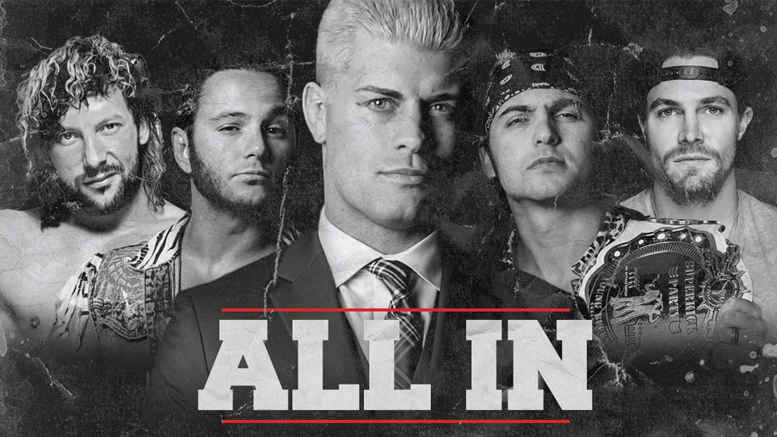 up promotion.
Coincidently, and possibly symbolically and prophetically the rally will take place hours before WWE will air SmackDown Live – also in Jacksonville.
Vince and the rest of the McMahons should take note of this. If The Elite are able to maintain the tremendous momentum they had from All-In, this may not be the last time that AEW will be breathing down the neck of the perennial powerhouse of the sports-entertainment world.
In the mid-90s, WWF had seemingly become complacent, as what they produced was boring storylines delivered from stale characters. Outside influences had caused them to move away from relying on nothing but muscled-up meatheads and they didn't seem to be able to handle the translation.
Ceasing the opportunity, Eric Bischoff used the opening to create a product at
rival WCW to attract an older and much more vocal demographic to challenge Vince McMahon for the top spot in the industry.
And, for 83 weeks, they succeeded!
It is this same demographic that has become restless with what WWE has given us in recent years. The most frustrating part possibly being that WWE has a ton of talent but have just been misusing it. Previous to the New Years announcement, this talent had nowhere to go – WWE was the only nationwide stage. Talent in the 90s had the luxury of being able to go to another company that was on the same level.
One of the exciting elements of the rise of Monday Nitro was the introduction of new superstars. Strangely enough, even before it officially begins AEW has inevitable debuts ready to go. As of now, the reported signed roster includes Being The Elite stars Cody, Hangman, The Young Bucks, and SCU. Obviously there are a couple big names missing from that list.
Marty Scurll is still under contract to Ring of Honor and has started his own stable, Villain Enterprises. Once his contract is up, it is almost certain to
think that The Villain will make his way over to AEW.
Also absent is arguably the biggest name in the wrestling world today and co-founder of The Elite, Kenny Omega. The current IWGP Heavyweight Champion obviously has commitments to fulfill, mainly his WrestleKingdom main event match with Hiroshi Tanahashi later this week. The Cleaner's contract status hasn't been made as public at this time but you have to believe that he will have a spot waiting for him in the new promotion whenever he is ready to head over.
I am not saying that All Elite Wrestling will automatically be side by side with WWE when it debuts – and if you think they will, you need to calm down. But as time goes on and more contracts of underutilized WWE talent expire, AEW will grow…and grow…and grow.
WCW and the Monday Night Wars that were created with the creation of WCW's Monday Nitro forced WWE to kick it up a notch and completely overhaul their creative process. What came from that was the most prosperous and entertaining time in wrestling history.
A new war could now be brewing.
The likes of Hulk Hogan, Randy Savage, Scott Hall and Kevin Nash left for WCW in the 90s for the money. A potential mass-exodus in WWE this time around would be about the opportunity to display skills…and of course the eventual potential for a large paycheck or two with AEW.
One of the biggest problems facing WWE now is the inability to properly utilize stars that make a big name for themselves on NXT on the main roster, Too often we have seen big names in NXT make an exciting debut on the main roster, only to fizzle out pretty quickly – Tye Dillinger, Tyler Breeze, Bobby Roode, Authors of Pain, The Ascension,…I could go on…
…and I will!
With this opportunity, WWE will be forced to put more of a focus on stars with exceptional in-ring ability and a sizeable following like Finn Balor, Shinsuke Nakamura, and Sami Zayn.
For the first time in nearly 20 years there is another viable option in the wrestling business – an option that a lot of talent could very well pursue.