It's finally here. Time to start our preseason Top 50 Prospects! Yesterday, we introduced the list's methodology and three players we liked, but who missed out on this year's countdown. Today, we get to the really fun part – counting down from #50 all the way to the top prospect. If you want a hint to the latter before that becomes public in mid-February, here's one – unlike last year, we didn't all agree on the top prospect. Hey, I didn't say I was going to outright spoil who the top guy was!
As I pointed out yesterday, this is a joint effort with our newest writer, Michael Francis, joining Ryan Cothran and myself. For each player, you'll get info on where they ranked on each ballot along with what their 2018 placements in the preseason and midseason lists were. If you see "UR," this simply means they were unranked either by that person or on that list from last year.
That last fact is a common theme over especially the first two batches of prospects we will release. Because the system is stacked at the top with so many elite prospects, the top half of the list is pretty similar across the board. But once you hit the late 20's and especially beyond, there was very little agreement among the three of us. To drive that home, no player in today's first ten players revealed was in the Top 50 of all three writers.
With all that said, let's get on with the list.
50. Braxton Davidson
Poe: UR, Francis: #49, Cothran: #50
2018 Preseason: #50, Midseason: UR
I want to do it. Every year I want to leave Braxton off this list but something holds me back. Last year, I just couldn't fathom leaving a former 1st round pick off, and I let him hang on by the thread of his knickers. This year, it was actual performance that made me tuck tail and admit defeat. And yes, while it's a small sample and we were warned about small samples in this league, Braxton caught my attention one more time with his Arizona Fall League performance.
For the 3rd straight year, Braxton took his cleats and low expectations to A+ ball, and for the 3rd straight year, his performance in A+ ball was D- piss poor. Oh, he's still walking. And yes, he's still got real power. But the rest of his game: hitting for average, defense, laying off of anything thrown in the other batter's box, taking pitches popping the mitt down the pipe…it was all turds.
Then comes fall. Sweet fall. The weather ticks down a hair. The cacti in Arizona become less prickly. The cougars all howl at the 20 somethings in tight pants & Braxton Davidson arrived, looked around, and thought…"Hey cougars, watch this". And then the show started.
Six home runs and an .885 OPS in 18 games, including a walk off championship winner that resulted in what was originally thought to be a broken foot rounding the bases (probably did it to get cougar sympathies), Braxton did enough in the AFL to keep my attention 1 more year, but I promise to Ronald Acuña himself that this is where the line is drawn and will stay marked in the desert sands of Arizona. Good job, Braxton…do better. (Cothran)
49. Braulio Vasquez
Poe: #49, Francis: UR, Cothran: #38
2018 Preseason: #45, Midseason: #47
One of the few remaining prospects from that star-studded 2016 international signing class that was gutted and led to a general manager being banned, Vasquez has spent the last two years in the Gulf Coast League putting on weight and trying to figure out a lasting position. Originally signed as a potential glove-first shortstop, the switch-hitter bashed four homers last year – or four more than he had hit in his first two professional years. Moved off short, he has played a good deal of second-and-third. If the bat continues to develop, and he did hit .285/.361/.371 as a teenager, Vasquez profiles as a potential bench player. A few breaks in his development could yield even more production.
Put it this way – it's not out of the realm of possibility that Vasquez becomes the best player the Braves signed back in 2016. Likely? No. But a possibility. (Poe)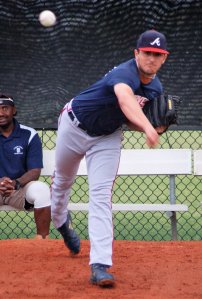 48. Matt Rowland
Poe: #46, Francis: UR, Cothran: #48
2018 Preseason: UR , Midseason: UR
It's been a long, long road for Rowland. After being picked in the 11th round of the 2016 draft, Rowland showed up to extended spring training and realized that he had hurt his arm in the final game of his high school career. After an MRI, Rowland learned that he would need Tommy John surgery. Rowland's rehab continued through the 2017 campaign and it wasn't until last summer that he finally made his professional debut. Still just 20-years-old, Rowland had a 3.02 ERA over his first ten starts in Danville with hitters mustering just a .691 OPS against him. Whether he wore down or not, Rowland's final three starts were a struggle and his fullseason numbers suffered as a result.
It may be important to remember that Rowland was once a strong prep star who received better-than-slot money to sign and was hitting the mid 90's last summer with an excellent curve. And that was in his first taste of professional ball after two years watching. By the time we reconvene for our Midseason Top 50, I wouldn't be surprised to see Rowland make the biggest jump. (Poe)
47. Trey Harris
Poe: #44, Francis: UR, Cothran: #43
2018 Preseason: UR, Midseason: UR
Trey Harris was drafted by the Braves in the 32nd round of the 2018 draft out of the University of Missouri. Originally from Powder Springs, GA, Braves scouting director, Brian Bridges, has had a long-standing relationship with Harris which made him comfortable taking a flyer on him toward the end of the draft. After playing mostly second base during his largely successful time with the Tigers, Harris played exclusively in the outfield in his first taste of pro-ball.
Harris showed good contact skills and a quality approach in his pro debut, walking more than he struck out in over 200 plate appearances across two levels. This likely won't continue as he moves up the minor league ladder, but it is a good place to start. Harris's ceiling is likely that of a fourth/fifth outfielder or a utility guy that can play a little infield as well. However, he will need to keep hitting like he did in 2018 to come close to reaching that potential. (Francis)
46. Lucas Herbert
Poe: #45, Francis: #38, Cothran: UR
2018 Preseason: #36, Midseason: #45
To describe Lucas Herbert's professional career thus far as anything other than a disappointment would be dishonest. The 2015 second rounder has slashed .213/.271/.326 in over a thousand plate appearances in the low minors. However, it's not quite time to give up on Herbert yet. Through all the offensive woes, Herbert is by all accounts an exceptional defender behind the plate. Pitchers and coaches rave about his game calling and how he handles a pitching staff and he is excellent at mowing down baserunners with his superb catch and throw skills.
With these defensive skills, the offensive bar for him to clear isn't very high. The major league average slash line for catchers was only .232/.304/.372 last season. While even a line such as this would require a considerable improvement for Herbert, with his defense he likely doesn't even need to be this good at the plate to carve out a major league role as a backup. It may take some time for the bat to develop enough, but quality defenders behind the plate always seem to find playing time in the big leagues. (Francis)
45. Jake Higginbotham
Poe: #41, Francis: #49 , Cothran: UR
2018 Preseason: UR, Midseason: UR
Another Georgia kid, the southpaw Higginbotham comes to the Braves via Clemson and the ACC. One of the first things that stands out about Higginbotham is that he lacks prototypical size, but that shouldn't encourage you to overlook the 11th rounder. He only reached the Braves in that round because of injury. That increases his risk, but there's a lot to like here as well. Higginbotham was a college starter with a decent changeup, but his bread-and-butter is a mid-90's heater and a curve that drops off the cliff. Those two pitches along with his advanced age might push the Braves to give him a reliever path. However, if they feel the offspeed stuff can come along, Higginbotham could max out as a middle-of-the-rotation arm, though the chances of him reaching that are not as good as being a high-leverage arm out of the pen. He'll be one to watch with Rome this spring to see how the Braves utilize him. (Poe)
44. Tanner Lawson
Poe: #48, Francis: #43 , Cothran: UR
2018 Preseason: UR, Midseason: UR
Tanner Lawson had a very good debut for the Braves in 2018 after being drafted in the 21st round out of St. Edwards University. Striking out over 25% of the batters he faced and walking just 4%, is enough to cause people to notice on its own. However, Lawson looked promising by nearly every statistical category. In addition to the strikeouts and walks, he also kept the ball on the ground extremely well, allowed only one home run, generated a high percentage of pop ups and didn't allow many line drives. He was also quite unlucky as his 3.68 ERA was generated by a slightly elevated .318 BABIP and very low left on-base percentage.
Lawson is a lefty who is starting now but will likely be forced to the pen in the upper levels. His fastball won't likely blow many hitters away, but it features solid arm-side movement. He also features a hard-breaking, swing and miss curveball. Lawson's stuff plays up due to his impeccable control of his arsenal and his ability to pound the strike zone with all his pitches. If Lawson can continue to dominate hitters like he did this past season in the Appalachian league he will likely see a precipitous jump in the next ranking. (Francis)
43. Nolan Kingham
Poe: #43, Francis: UR, Cothran: #47
2018 Preseason: UR, Midseason: UR
This is an Atlanta Braves special – find a kid in the draft who is falling and go grab him on the cheap in hope of turning him around. Kingham entered his junior season with a chance to be drafted in the top ten rounds, maybe even on the first day, but struggles and injuries took away much of his momentum. However, if healthy and if the Braves clean up the rest of his game, Kingham has all the tools to be a solid major league contributor. His fastball lacked velocity consistency with the Texas Longhorns during his college days, but can touch 97 mph and has tremendous sink. The slider and changeup are both plus offerings even though he rarely needed the latter in college. Kingham is still somewhat raw for a kid who was a key member of a major conference team. The Braves were beyond thrilled to get him in the 12th round and he could turn into the biggest bargain in the draft by any club. (Poe)
42. Hayden Deal
Poe: UR, Francis: #44, Cothran: #33
2018 Preseason: UR, Midseason: #40
I've tried to figure out what it is that I like about this guy. Is it all the puns that could be made with his last name? Is it that he's good without having a dominant fastball? Is it that I feel like I'm the only one paying attention? I think the real answer might surprise you and that is:
He reminds me of Kris Medlen.
Yes, he's left-handed. Yes, he's 6'4 210. Yes, there's nothing remotely similar in their builds, but Deal has that same appeal that Medlen had when he was a prospect and that was the ability to keep people off the bases combined with the ability to be constantly overlooked. Sure he's 24 and hasn't pitched past A-ball, but I've watched him and he seems to have that same pitchability and location that Medlen possessed.
An undrafted free agent sign, Deal works off a low-90s fastball that relies on location and he's good at it. His fastball has sink and comes at a downward plane which keeps the ball on the ground. He's candy in my eyes because I see him maintaining success as he advances. I expect to see him challenged in 2019, maybe making the jump to AA. If he succeeds there, he could be part of someone's big league bullpen in 2020. (Cothran)
41. Troy Bacon
Poe: UR, Francis: #46, Cothran: #30
2018 Preseason: UR, Midseason: UR
"Mmmm…glistening bacon" ~Homer Simpson
Mid-90s fastball and good accompaniment, Bacon has sizzled since being drafted in the 4th round by the Braves in 2017. As a reliever, his stuff has played up and unlike many that took the mound out of Atlanta's pen last year, Bacon seems to know where it's going most of the time and that should push him to Double-A either right away or by mid-year. From there, it's anyone's guess. While he might not have the same ceiling, Bacon reminds me a lot of former Brave Joey Devine, and if he can continue to develop his offspeed, it'd sure be fun to watch him fry up some bats with some of that sizzling Bacon grease. I'll stop now.(Cothran)
Ten players done and still forty to go. Remember to like, comment, and share this with your friends. Next Tuesday, we'll release another ten prospects. Until then, thanks for reading!