Hello, fellow Braves fans!
Hope all is well with you lot! We're 2 games into the World Series and if the current pattern holds true, the offseason's going to begin about as quickly as possible. We all know our Atlanta Braves overachieved in the 2018 season and gave us a glimpse into a very bright future. There will be trades made and money spent and I've already went through 2 ways that Anthopoulos could get creative this offseason by shopping Ender Inciarte and taking on undesirable contracts to land additional talent. If you have not read either of these, it's worth your time! Today, we're going to look at a different strategy that the Braves could take to acquire talent.
For those that have been living with the dwarfs in underground caves lacking air and technology from the outside world, you're likely not going to know that the Braves have one of, if not the best, farm system in all of baseball, and said farm system is chock full of stud pitching prospects.  In fact, there are so many stud pitching prospects that the Braves could literally build 3 rotations and there'd still be someone left out. While I'm not sure that Anthopoulos will explore this avenue to acquire talent, it's at least worth consideration and due diligence to talk about swapping excess farm talent for lacking farm talent, especially if it could be a need for need swap.
This leads into the topic at hand. Through the help of Twitter and my own research, I've scoured 29 farm systems and 29 MLB teams for young offensive talent (focusing solely on C and OF) that could be blocked by MLB talent, similar to Braves pitching talent. While I'm not going to suggest specific trades, it is at least worth considering that some of these players could potentially be acquired by giving up some of the Braves relief surplus or in a rare prospect for prospect trade.
Young Outfielders Braves Could Pursue
Kyle Tucker– I've already made it clear that Kyle Tucker is my numero uno target for the OF vacancy and suggested a trade where Braves send Ender to the Astros (who are CF needy) for him.  Kyle is a monster at the plate and is considered to be a good defender in the corners. He had a lackluster showing in the MLB. Like Freddie Freeman, he's a LH hitter but LH pitching doesn't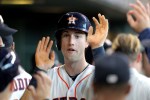 seem to faze him and carries both healthy K and BB-rates. Coming in at 6'4, he's likely to transition to 1B at some point in his career, but if the Braves get him young, he could give them 6 great years of production.
Yordan Alvarez– A few steps down from Tucker on defense, but dang near on par with him on offense, Alvarez is another product of the Astros farm system. Listed as a OF/1B/DH type and coming in at 6'5, Alvarez could likely pull off the OF while in his early 20's but only average out there, at best. A mountain of a man among that makes grown men look like school children, Alvarez has been compared to a LH version of Domingo Santana and that seems about right.
Alex Verdugo– Likely the most Markakis-y player on this list, Verdugo is more of the "professional hitter" type rather than a guy that profiles as a basher. He's an all-around player that provides slightly above average production in everything he does, but isn't going to WOW on any particular skill. In my opinion, he doesn't have the ceiling of Markakis during his prime, rather could be the 2018 version of Markakis for 5-6 years.
Clint Frazier– Similar to Verdugo which is similar to Markakis, Frazier has simply been known as a "baseball player" and that seems about right. However, he seems to be adding a bit more power in his age and that could bode well for a team that could give him daily at-bats, but the Yankees do not look like a team that will provide him with that (I expect them to grab a big FA this offseason to fill a corner OF spot). Would fit in nicely in LF or RF.
*The next 3 guys on this list are all in the St. Louis Cardinals organization. Even if the Cards trade Marcell Ozuna in his last year of control, they'll still have a logjam. With the breakout seasons of both Harrison Bader and Jose Martinez (who's truly position-less and could be trade bait for a DH-needy team), it's highly likely that one of these guys are traded and they're in order of my personal preference. 
Tyler O'Neill–  Similar to what we saw with Dustin Peterson, Rio Ruiz, and Lane Adams, O'Neill has dropped his hands and it's seemed to have made all the difference his results. He truly put up elite power numbers at AAA this year then showed the same potential at the MLB level with increased swing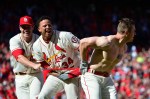 and miss potential. Yes, he ripped his shirt off in a celebration and likely thinks a lot of himself, but he's a good baseball player and would fit nicely in a corner OF spot should Cards shop him (which is highly unlikely).
Randy Arozarena– Likely the most potential of all the offensive prospects in the Cardinals organization, Arozarena is a Cuban defector that, while establishing residency in the U.S., was without professional baseball for about 2 years. With potential to be a 5-tool threat, he really needs MLB ABs, and it's going to be hard to find them in the Cardinals outfield. Arozarena is only listed behind O'Neill due to the lack of experience, but in my opinion, could be a great steal in a need for need trade.
Adolis Garcia– Known as Adonis's little bro in Braves circles, but the talent he has isn't dwarfed by his brothers, yet the opposite. Also a defector from Cuba, Adolis reigned supreme before leaving as he was awarded the MVP of the Cuban league. While he's not put up elite numbers quite yet, he, like Arozarena, is a serious 5-tool talent that could bust through at any moment, yet it's going to be hard to make that happen in the Cardinals organization.
Young Catchers Braves Could Pursue
Keibert Ruiz– If the Dodgers re-sign Grandal, Ruiz could become surplus and that could be good for the Braves. Ruiz projects as a Johnny Estrada type catcher. On offense, A switch-hitter (better from right side), Ruiz has shown the ability to be an above average hitter for a backstop with good contact skills and gap-driving ability, but less over the fence pop. Many think it'll come and believe the common theme that the bat in a catcher develops last and that his power will show up as he matures. Only 20 years old and spent all year in AA in 2018, Ruiz could be MLB-ready by the middle of 2019 should the bat continue to develop.
Will Smith– The kind of catcher that I like, Smith is a converted SS and split time with the aforementioned Ruiz at AA before a late season promotion to AAA. He's logged innings at 2b, 3b, and catcher in his professional career and has shown well as a catcher despite the lack of innings. A more complete hitter than Ruiz (at this time), Smith has serious over the fence pop and above average patience. Between he and Ruiz, it's highly likely one of them becomes trade bait and if I'm reading in between the lines correctly, I'd bet it's Smith that gets traded.
Austin Hedges– At 26 years of age and 4 years into professional ball, you're likely wondering why Hedges made this list…and I'll explain that. The Padres acquired Francisco Mejia in a trade that sent Brad Hand to the Indians, and Mejia is destined to become the Padres number 1 catcher. While it wouldn't surprise me to see them keep Hedges around, it would make more sense for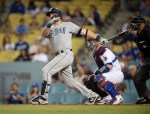 them the trade him while some still see him as a regular catcher…and that's something the Braves should be interested in. Hedges is a good frickin' catcher that is a road warrior. Petco simply destroys his offensive ability and the defense is always on point. Like Flowers from a few years back, Hedges is a buy-low the Braves should be looking into and it'd likely only take 1 of the bajillion starting pitcher prospects to acquire him and have him under team control for the next 4 years.
Andrew Knizner– The Cardinals have that annoying catcher named Yadier Molina that just won't go away and let Knizner become an everyday dude…and that problem isn't going away for the next 2 years. At 23 years of age and 3 years of professional ball under his wing, A bat first catcher, Knizner has gotten himself into good shape and most scouts think he's going to be an average defensive catcher with serious upside with the bat. The bat's been there since the draft and I'd be ok with him splitting time with Flowers next season.
Victor Caratini– With their love affair with depth, I cannot imagine the Cubs trade Caratini, but if they did, the Braves could look to reacquire him. Not a personal favorite option of mine but there's no denying that Caratini can hit…but can he cut it in 90ish games a season behind the dish? Some scouts don't think he can, but under the tutelage of Tyler Flowers, maybe he can up his receiving game and be a passable catcher with offensive upside.
That's a wrap, folks! Who ya got out of this group? Lots to like here!
Go Braves!