During Spring Training I wrote an article on the Indians ever increasing versatility and no position has been effected more than first base. This makes it difficult to specifically denote players as first basemen for the case of ranking them. To make a separation, we'll try to include players who are currently primarily being used at the position, meaning four players who were in the top ten last year, Mike Papi (corner outfield), Jose Vicente (catcher), Jose Medina (corner outfield) and Joe Sever (3B), will no longer be included. Also missing from the 2017 top 10 1B are Ronny Rodriguez and Juan De La Cruz who left through minor league free agency.
With all this movement in the list, it shouldn't be a total surprise that first base may be the weakest position in the Indians farm system right now.
10. Christopher De Jesus – Age: 21 – Unranked in 2017
2014 International Free Agent
Extended Spring Training
By Joseph Coblitz
Not only are the Indians incredibly shallow at first base (it was hard finding ten players who even qualify for this list), the bottom are not really worth evaluating. De Jesus is already 21 and has yet to play in official games in the US. He was horrendous offensively in 2017 after being just okay in 2016. I have not actually seen him during extended spring, so there is a chance he is no longer in the organization, making this a top 9 list.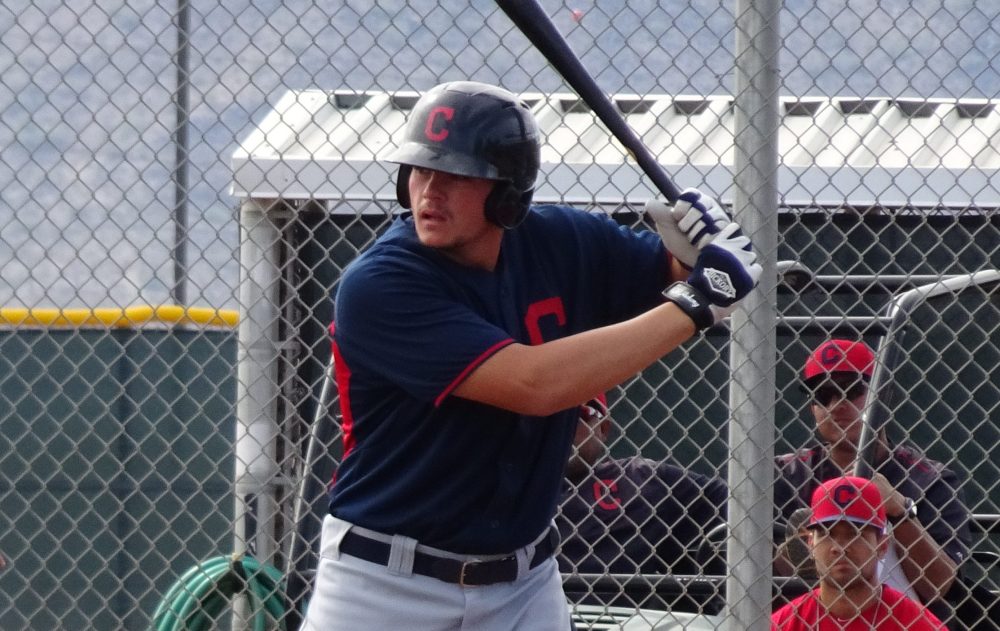 9. Anthony Miller – Age: 23 – Unranked in 2017
Drafted 2015, Round 18
A+ Lynchburg
By Peter Conti
Miller is off to an efficient start offensively for the Hillcats. His slash line thus far is .276/.389/.379 in fifty eight at bats, however, he is more consistent as a contact hitter rather than one who can hit home runs. If he continues to gain experience in high A and can put up similar numbers in Akron, then he could potentially hit AAA by 2019, although his ceiling may be lower than that. The only number that is a bit concerning is the high strikeout rate, but at the same time as the season progresses then that number could dip drastically.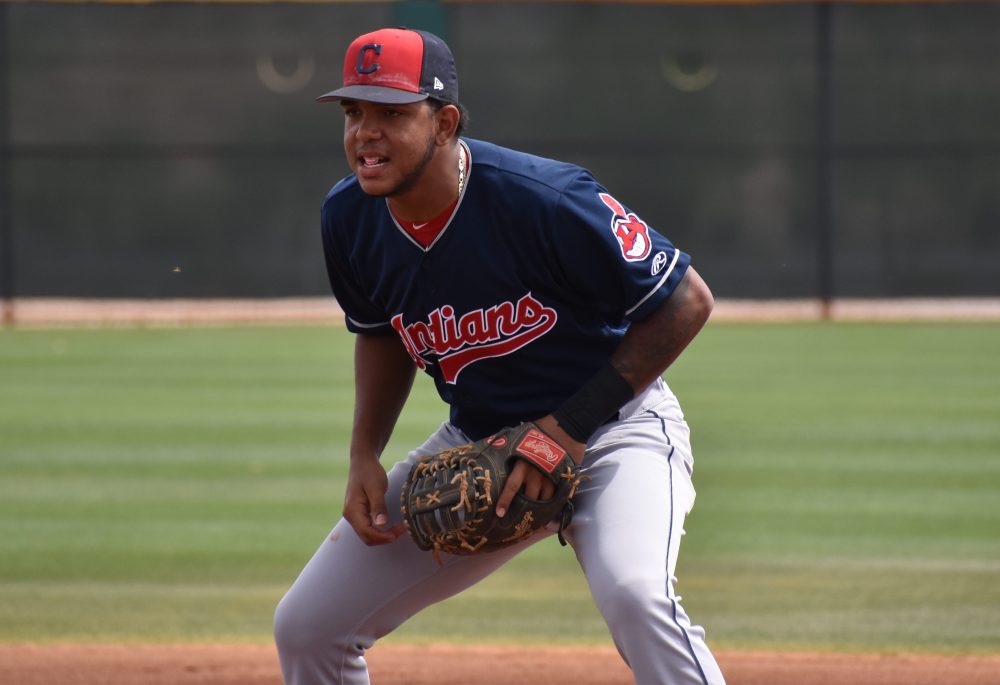 8. Henderson De Oleo – Age: 20 – Unranked in 2017
2014 International Free Agent
Extended Spring Training
By Joseph Coblitz
Originally a third baseman, De Oleo struggled through his first two seasons in the Dominican Summer League, but really took off in 2017 as he made a permanent move to first base. This could very well be due to the fact that he was 19 years old playing against 17 year olds, but it also may mean he figured something out. He'll play in Arizona this year with one of the two AZL teams and we should be able to see if the change is real. While there is little chance of De Oleo ever making a significant impact, there aren't any real threats of that beyond the top five.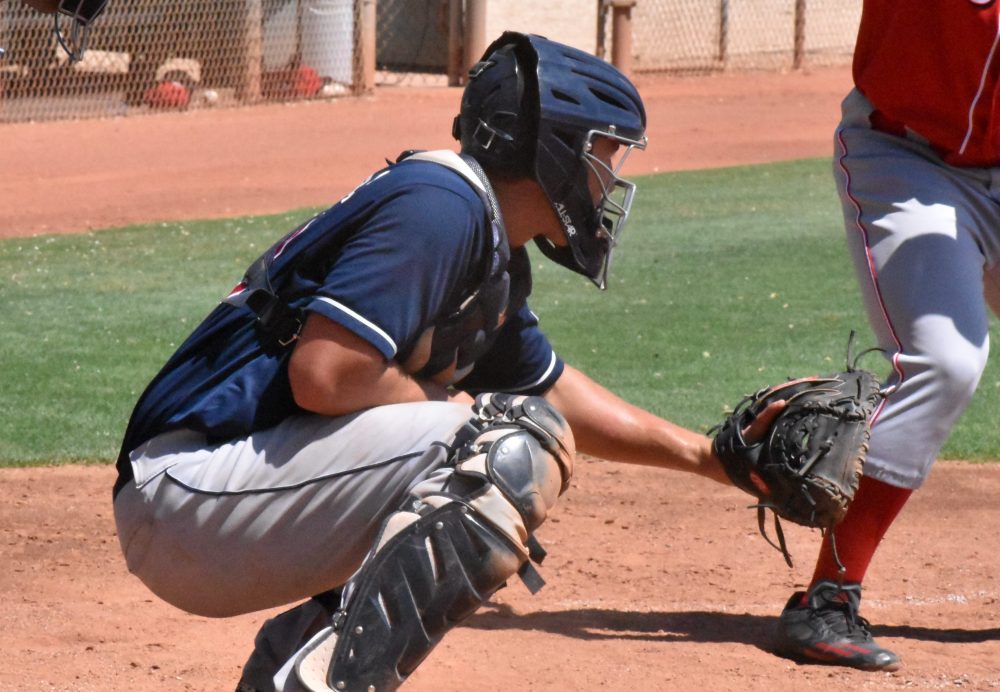 7. Simeon Lucas – Age: 22 – Unranked in 2017
Drafted 2014, Round 7
Extended Spring Training
By Joseph Coblitz
Lucas is currently playing his fifth straight season in Arizona and has apparently been permanently moved from behind the plate to first base. I personally don't understand the reasoning behind the move as he was one of the better defensive catchers in the low minors for Cleveland and doesn't hit well enough to demand plate appearances at first or DH. In addition, I've never seen a more lead gloved first baseman as he struggles to make even the most routine plays during practice. While he greatly improved his offensive profile in 2016, he hasn't advanced much since then and will likely return to Mahoning Valley for another season in 2018. His age is an advantage as he's still young for low A, but it is disconcerting that he hasn't advanced past short season in five years.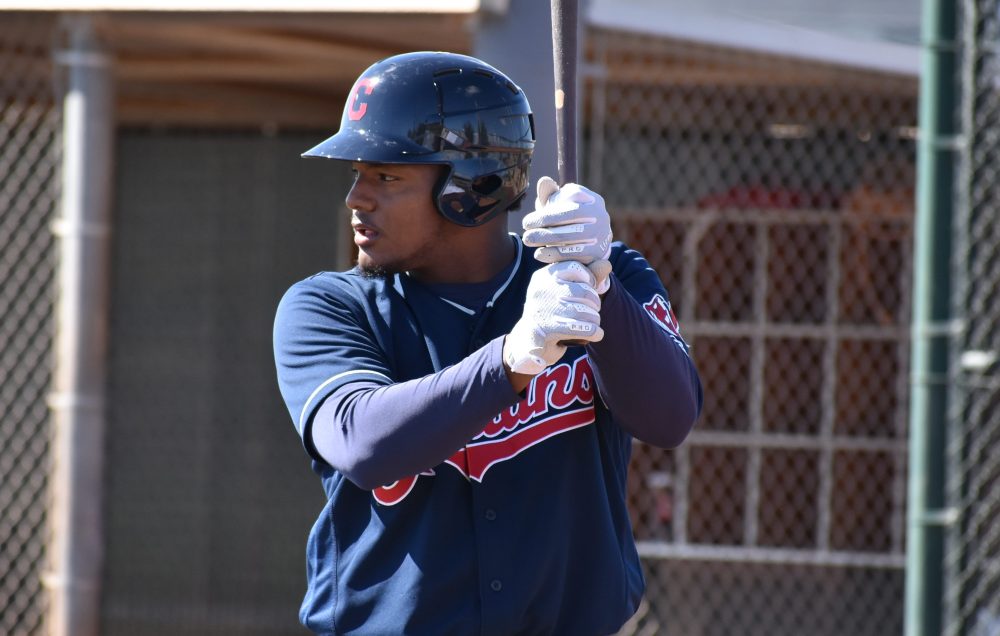 6. Emmanuel Tapia – Age: 22 – 2017 1B Rank: #8
2013 International Free Agent
A+ Lynchburg
By Peter Conti
Tapia has had a dismal start for Lynchburg batting a measly .200 in 112 plate appearances. The chances of being considered for a promotion to Akron remain to be seen, but it is likely that he will stay in high A ball for the foreseeable future as he gets more experience at the dish. The fact that he only has 20 hits in 29 games does not help his case as his offensive numbers are not where they need to be. However, he was a power hitter when he played college ball so there is the possibility that there could be a turnaround but as of now, it does not seem likely.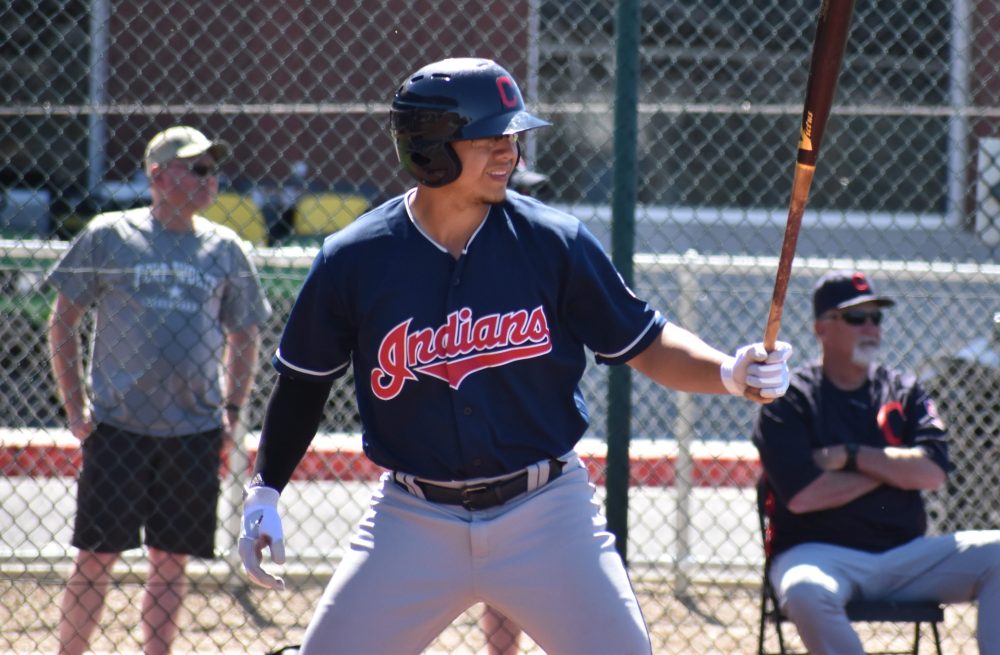 5. Ulysses Cantu – Age: 20 – 2017 1B Rank: #4
Drafted 2016, Round 6
A Lake County
By Joseph Coblitz
A third baseman in high school, Cantu was immediately transitioned to first after being selected in the 2016 draft. There, he has been fine, but not great defensively while remaining completely underwhelming at the plate. He has advanced quickly, about two years younger than the average player at each level, but to this point he hasn't walked much, hit for power or average.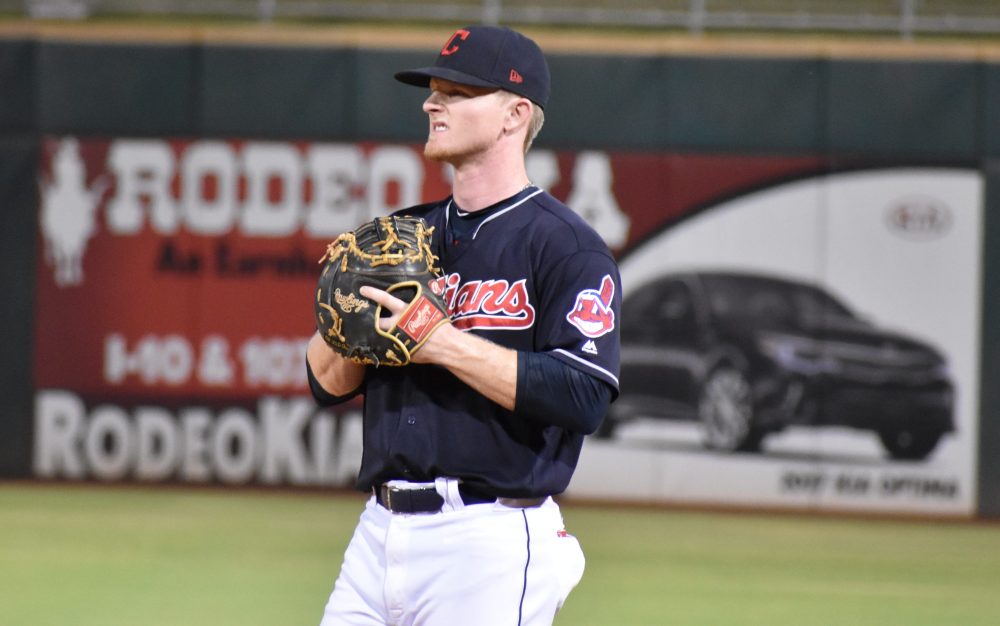 4. Mitch Reeves – Age: 23 – Unranked in 2017
Drafted 2017, Round 32
Extended Spring Training
By Joseph Coblitz
While he primarily played left field in his rookie season behind Cooper, Reeves lack of speed and agility will likely see him stick at first. While a liability in the outfield, Reeves is solid defensively at first. Offensively, he was one of the top hitters on the 2017 AZL Indians (along with short stop Tyler Freeman) and earned himself a late call-up to Mahoning Valley. Already 22 when drafted, Reeves had a great age advantage over the competition, so we have to play down his numbers a bit. While he is currently in extended spring, he should reach Lake County this season and has greater potential than most of the upper level first basemen.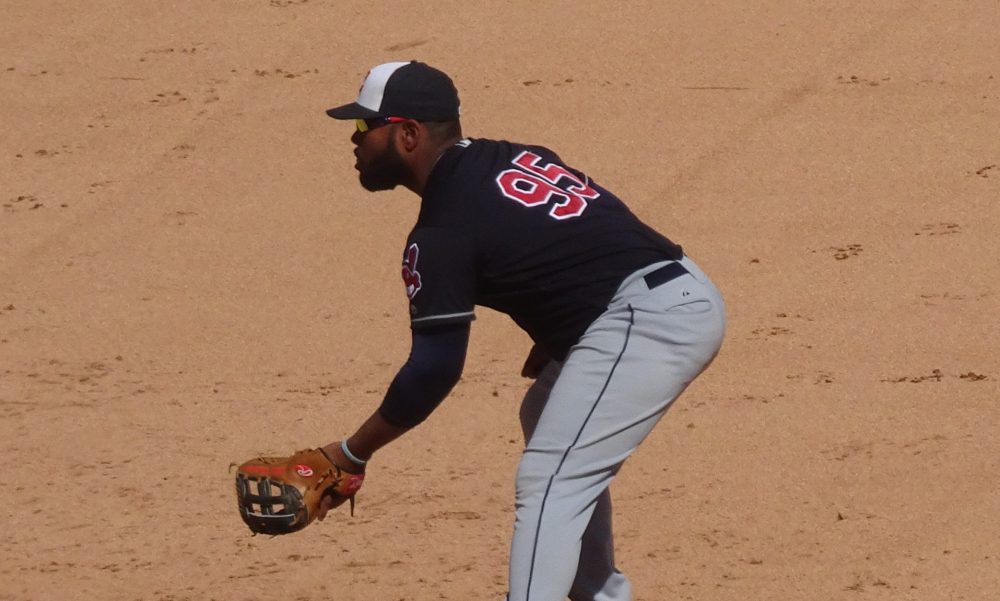 3. Nellie Rodriguez – Age: 23 – 2017 1B Rank: #2
Drafted 2012, Round 15
AAA Columbus
By Peter Conti
Rodriguez is another first baseman who has yet to impress so far this season. His average is .165 in the early goings of the year with two home runs. He should remain in Columbus for the time being, as his slugging percentage is not where it was two years ago in Akron. He has limited time to return to his younger form as he will become a minor league free agent at year's end if he is not protected on the 40 man roster. He could end up a Major League threat, but it is unlikely to happen in Cleveland.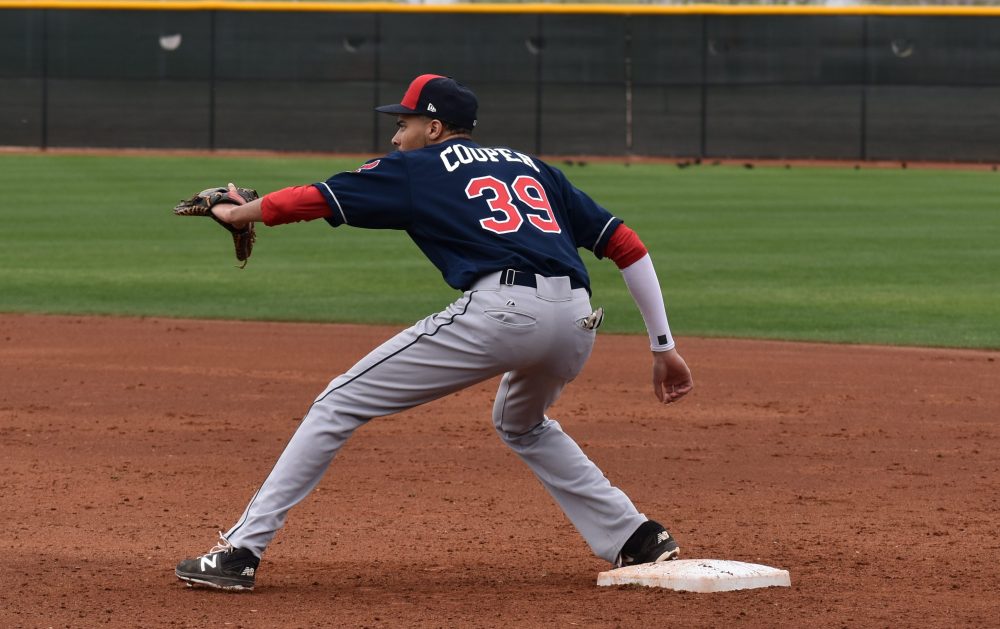 2. Michael Cooper – Age: 18 – Unranked in 2017
Drafted 2017, Round 33
Extended Spring Training
By Joseph Coblitz
At 6'5″ and 180 pounds, Cooper reminds me of a young Richie Sexson both offensively (9 2B, 4 3B and 3 HR in his rookie year in 45 games) and defensively as his extensive wing span allows him to reach throws that would pull most first baseman off the bag. Of course, the big swing and large strike zone come with a cost and Cooper struck out almost twice as many times as he walked in 2017. Like many lanky players, he has holes within his strike zone, particularly low and outside, and has to make up for that by smashing everything close. At the moment, his lack of OBP skills in the AZL last year don't bother me in the slightest as he was 17 years old and in his first pro season. There is huge potential here and how he plays once he reaches Lake County (probably by the end of 2018 or beginning of 2019) should be more indicative of future performance.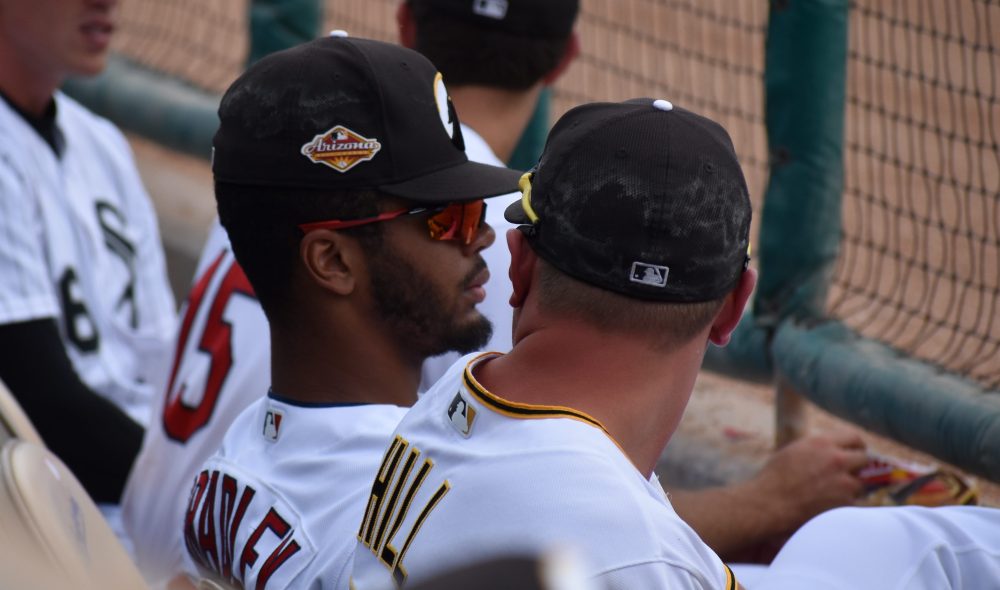 1. Bobby Bradley – Age: 21 – 2017 1B Rank: #1
Drafted 2014, Round 3
AA Akron
By Joseph Coblitz
The next big thing had a disappointing start to the season, first because he was not promoted to AAA to start the year, then because of his .114/.202/.228 April. He turned things around quickly, however, with a .308/.426/.718 line through the first two weeks of May. He has hit more than 20 home runs in each of his full MiLB seasons and has consistently improved his BB/K rate. While he still strikes out a lot, he has such incredible power that it can be forgiven. He has the highest ceiling and highest floor of all the players on this list and is almost certain to be a Major League starter, most likely by 2020.