Wizards 109
76ers 94
February 25, 2018 | Capital One Arena | Washington, D.C.
If the Wizards need one thing to fix before the playoffs, it's this: Do not play to the same level of their competition. A solid win against one of the best teams in Cleveland followed by a double-digit loss to Charlotte is not the best ingredient for a team that is heralded this season as one of the favorites to challenge Cleveland in the East. With Philadelphia being one of the best teams in the East, currently holding onto the six seed, Wizards fans can assume that the level of play will be a great one, and they did, beating the Sixers 109-94.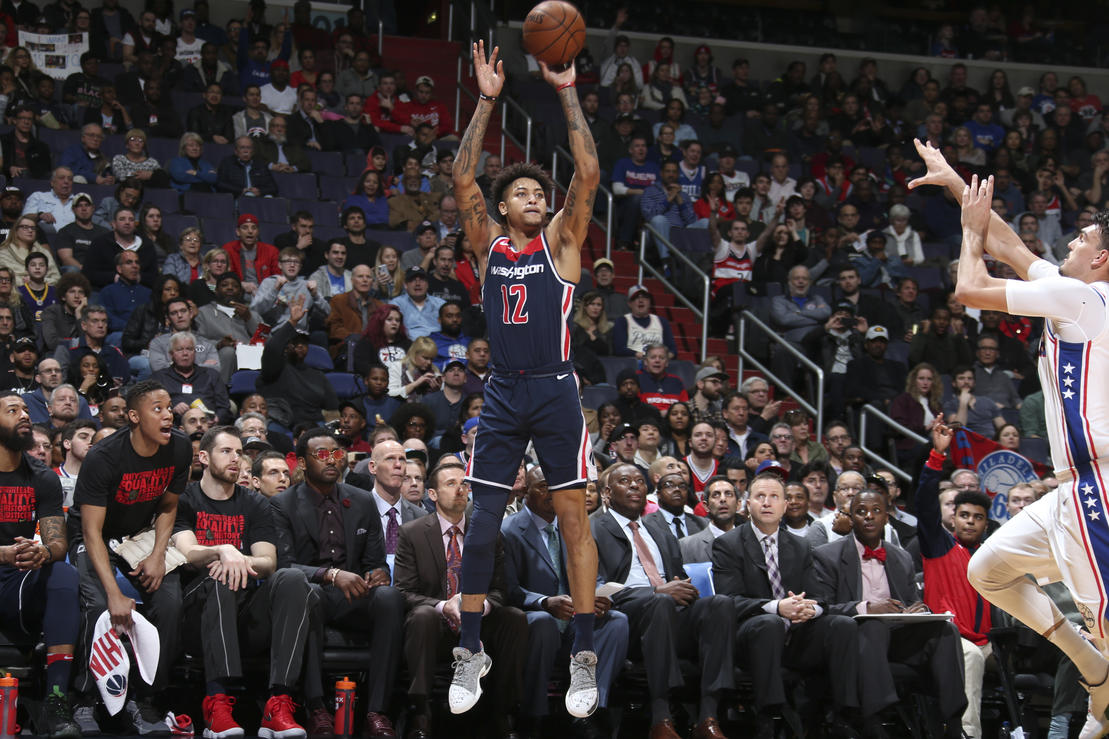 (Photo: Ned Dishman via Getty Images)
Hot Shooting in First Half
The Wizards went into halftime shooting 60 percent from the field and led the Sixers 67-48. Kelly Oubre Jr., Otto Porter Jr., and Bradley Beal combined for 44 of the Wizards 67 points. Tomas Satoransky also provided 8 assists before intermission with flashy passes and a nice find to Porter for a buzzer beating three-pointer to end the half.
"Defense, our defense was on point," Scott Brooks said of the turnaround in the second quarter. "We made them miss a lot of shots and that's what we have to continue to do is to continue to fight for one another on the defensive end and score. That's what I tell the guys. Play your butts off on the defensive end, help each other out, trust each other, and you'll score after you get a stop. And that's what we did throughout the game. We countered everything that they threw at us. They made a late run but we seem to always make the right play and we made big shots. I like the way we [had] 35 assists on 43 buckets, but it's the defense. You held a very good team that's playing as good as anybody in the league right now, seven straight wins, 36 percent and 27 percent from the three-point line."
Tomas Satoransky
Ever since John Wall had surgery, Satoransky has proved to be one of the Wizards' most reliable players. The statistics that he provides, 7 points, 10 assists, and 7 rebounds against the 76ers, along with the statistics that are not recorded, such as cutting into the lane without the ball, setting solid screens, hustling for loose balls, etc. has provided efficiency in the Wizards' offense. For the official record, Washington is not better without their five-time All-Star.
"Whatever, it takes to get a win, especially against these guys," Satoransky said about his stat stuffing performance despite just three shot attempts. "Everybody knew that we had to come and play with a different energy then we had against Charlotte, similar like in Cleveland with different juice. I think we did. The second unit gave us the push, I think in the first half, at the end of the second quarter. I think we played our best game running. Whoever grabbed the rebound, went on the fast-break, and we shared the ball there and got a run."
The Law Firm of Beal, Porter, and Oubre
The Wizards were able to get production from their key players. Kelly Oubre Jr. started the game hot from beyond the three point line and ended up with 19 points. Otto Porter Jr. finished with 23 points where four shots were as the shot and/or game clock were winding down. Bradley Beal provided the usual performance with 23 points on 9-of-14 shooting. This marks Beal's 43rd game with 20+ points this season, which ranks first among Eastern Conference guards.
"We let Kelly be Kelly," Beal said about the Wizards' sixth man. "Kelly's Kelly. He brings a lot of energy, a little Wave Papi to the floor. We feed off of that. I always tell him: stay in the game no matter what's going on. You control your emotions, you control how you play, the intensity that you bring. He's gotten a lot better at that. He's shooting the ball well, playing well offensively and defensively he's one of our best defenders, if not the best. So, whenever he's active and in the game, we like our chances."
Keeping Things Close
If I had a dollar for every time the Wizards lost a lead with less than five minutes to go this season, I would be pretty rich. It is incredible to see how poor movement on offense and sloppy plays can make a difference. Fortunately, the Wizards were able to keep producing to maintain a healthy lead this time around.
Much of the struggles midway through the fourth quarter could be attributed to Beal and Porter as the only ball handlers on the court once Satoransky came out for four minutes in the final quarter. Satoransky did ask for the substitution for a breather as he had played 16 straight minutes, but Brooks opted for the non-point guard lineup instead of Tim Frazier.
"We sort of reclaimed some energy," Philadelphia head coach Brett Brown said. "We sort of reclaimed some defense that enabled us to get out and go. I give the Wizards a lot of credit. They made tough shots. They made shots at the end of shot clocks, I think six times, five times. But I thought that we had a spirit to our defense. It conveyed into some decent offense and we took 23 points and brought it back to eight."
Joel Embiid
Embiid picked up his fourth foul with 10 minutes to go in the third quarter and managed to produce nine points by the end of the third quarter. The Wizards could not find a way to take advantage of his foul trouble and let him be an important factor throughout the rest of the second half. The "monster" as Beal described his fellow trainee of Drew Hanlen finished with 25 points, 10 rebounds, four assists, two steals, a block, five turnovers, and five fouls in 32 minutes of play.
"We wanted to do the best to make him take shots over the hand and not get anything under the basket," Brooks said. "He's a lull down there, and he gets position and he fights for position. He has good footwork. We put him on the free-throw line too many times and we couldn't get there. But I thought throughout the game we did a good job of competing against their players and making them miss shots. There are sometimes that teams miss, and there are sometimes we make them miss. I thought tonight was a game that we made them miss."
Next Game: The Wizards will play the Milwaukee Bucks on Tuesday night on the road.