Games in New Jersey lick taints. Always have. Always will.
First of all, they're in New Jersey. Have you ever been to New Jersey? Imagine if Sloth from The Goonies did a #3 inside a boiling gallon of sentient dumpster piss and they had a baby.  That fucked up offspring is that state. It's like taking all of the shitty parts of Philly and New York and mashing it into an asshole grinder.
Secondly, nothing good has ever happened in or come out of New Jersey.  That sure as shit wasn't changing with the Penguins in town.
While the Pens did control about 30 minutes of the play, it also meant that they didn't control 30 minutes of the play.  That showed up to the tune of Jersey owning a 48-45 edge in shot attempts, 29-26 in shots on goal, and 8-7 in high danger scoring chances at 5b5.  The Penguins ended up with a 22-16 advantage in scoring chances, but still fell 4-2.
If there's one positive takeaway, it can be found in the shot locations.
In fact, of the 28 5v5 shots on goal DeSmith faced, only 4 of them came from the high danger area of the ice (though 2 went in).  He also faced (and stopped) 5 mid-danger shots while giving up an additional goal on 19 low danger shots.
It's a start.
---
LINEUP
Only change to the Pens lineup that topped Arizona on Saturday involved Oleksiak coming back into the fray in place of Riikola, who joined Sprong in the pressbox.  The Smith vs. Kink Aid in the pipes.
GOALS
NJD – 1st Pd./0:28 – Zajac; A: Hall, Severson – 1-0
As mentioned, literally nothing good has ever come out of or happened in New Jersey.  Try to think of one thing.  Go ahead, take your time.  This post isn't going anywhere.
Nothing, right?  Cool.
So 28 seconds into the game, we got that ever needed confirmation bias as the Devils opening the scoring because the Penguins generally have no idea what to do in their own zone anymore.  First, Jack Johnson went back to retrieve a dump in.  He shoveled it up the wall, on the ice, on his backhand, where Letang couldn't even take it and even just eat it along the wall.  Rust got a piece of it on his off wing, but only as far as Kyle Palmieri.  Fortunately for all involved, Dom Simon knocked Palmieri down to the ice to delay the inevitable.
Andy Greene swooped back into the neutral zone to collect the freebie, reset to Severson to quickly hit Hall streaking through the neutral zone to gain the line with speed, 2v2 with Palmieri on Letang/Johnson.  Hall tried to drive wide on Letang, eventually throwing a bad angle shot that was redirected to the corner.  He went to work there with Letang still in pursuit.  Letang did a great job to push Hall up high and run him out of real estate, forcing Hall to turn and throw a blind shot on net.  DeSmith had about 3 chance to cover up the puck, even after Severson jarred it loose, but instead did not that thing and was punished for it as Zajac jumped in and buried the biscuit.
Quite simply- that goal cannot go in.
PIT – 1st Pd./13:19 – PPG – Phil!; A: Crosby, Malkin – 1-1
The Pens hung around though, killing off a Malkin penalty before getting a PP of their own.  The experiment of 2 top PPs with Sid split up from Gene/Phil! was no more as PP1 was back to being PP1 with the Big 5 jumping over the boards.
After a clear, they went to work with Gene lugging the puck up ice and dumping it in.  Kink Aid couldn't control it and Horny burrowed into the corner, getting some help from 87 along the way.  They were able to dig the puck out and set up shop.  Not even sure the movement from 87, 71, and 58 was enough to breakdown the Devils PK, but Crosby's pass to Phil! hanging out on the back stick was.
Unreal.  This guy literally lives on the same planet as us mere mortals.
Nice little grimy slump buster for Phil!, who was probably preparing himself for some dickhead local blogger to try to run him out of town again.
NJD – 2nd Pd./8:06 – Severson; A: Hall, Bratt – 2-1
Despite getting two straight PPs split on either side of the intermission, the Pens man-advantage couldn't power them to another goal.  They did have a nice flurry to start the period and into their 3rd and final powerplay chance, but when the Devils got Lovejoy's delay of game penalty killed off, they started to take control of the 2nd frame, starting with their 2nd go-ahead goal of the night.
First, the Pens missed a pass in the o-zone and reset the puck, going all the way back to the D-zone to Johnson.  He threw it around the boards to Letang to alleviate the pressure from the single forechecker.  Letang wanted to go to the middle to break the puck out, but had that passing lane taken away.  Johnson read breakout and started to move up ice.  What that did was took away Letang's secondary option, which he needed here.  So Letang exercises that option, expecting Johnson to be behind the net.  Instead, Johnson circles the net to give chase to the pass, which was the longest possible route to track it down.  By this point, the Devils got bodies into the zone as they gained possession with Sheahan and Johnson both giving chase.
Bratt and Zacha turned around with the puck and cycled it down low.  Still no real immediate danger until Bratt threw it to Hall in front of the net for a shot that The Smith turned away.  Hall followed his rebound, but was nicely boxed out by Sheahan.  Zacha planted himself at the bottom of the faceoff circle to try to bang home anything that may have popped out, but instead the rebound came straight to the stick of Jack Johnson.
This is where the wheels fell right the fuck off.  If this were the Oregon Trail, everyone would've died of dysentery right as the wagon fell off a goddamn cliff.
Let's make something perfectly clear about Jack Johnson once and for all before we get any further into this goal.  You know how deep dish pizza is actually just a shitty stuffed bread bowl and really not at all pizza?  Well, that's Jack Johnson.  See, deep dish is technically considered pizza, but in the same way that Jack Johnson is technically considered an NHL defenseman.  They check all of the boxes:  Deep dish has sauce, cheese, sometimes meats, and a crust.  Jack Johnson wears skates, gets ice time in the NHL, sometimes skates backwards and has a "D" listed under the position category.  But both are in fact terrible and need thrown in the trash.
So anyway, Johnson picks up the puck here, already on his backhand.  You'll notice that Zacha is just taking his first stride here (from a standstill).  Hall is completely tied up and taken out of the play by Sheahan.  Bratt is behind the net, but not currently a threat with Letang where he is.  Phil! is turning himself up ice, looking for the short little pass from Johnson so he can exit the zone.  PHil's positioning is keeping Severson from pinching down any further from where he is, sealing off the boards.

Having the puck on your stick in front of the net is never happy fun time.  But Johnson has time to make a short 6-8 feet pass to Kessel.  The 8 year olds that play during intermissions that can barely even stand up on skates can make this pass.  If Johnson makes it, the Pens are out of the zone.  No two ways around it, no matter how many times Johnson's best friend from high school uses 3 different Twitter accounts to harass you online about it.
Mind you, he can also see Bratt (still below the goal line) here and should know not to move the puck in that direction.  If he has time to stickhandle the puck in front of the net, he can make the right play.
Instead, he moves the puck in that direction.

Bratt can't believe his turn of fortunes, pivots and has the angle, speed, and body position to beat Johnson to the puck he inexplicably passed to no one in the corner.

From there, Bratt easily cycles the puck down to Hall behind the net, where the Devils now have the numbers advantage.  Letang has to respect Zacha at the side of the net and Sheahan probably gets burned if he chases Hall.  With Phil! still posted up on the wall expecting a pass, he doesn't get his head turned to pick Severson up jumping down from the blueline to bomb a one-timer by DeSmith.
NJD – 2nd Pd./14:20 – Bratt; A: Butcher, Kinkaid – 3-1
Just over 6 minutes later, the Pens nearly went down 3-1 had it not been for Phil Kessel.  On a Dumoulin zone exit, he flipped the puck to Phil! in the neutral zone .  Phil! got himself sealed off from entering the zone by Seney throwing a high hit, leaving Kessel with his only option of throwing it into the zone.  Kinkaid collected and slid it to Butcher for the breakout, catching the Pens on a change to send Bratt in on a breakaway to beat The Smith.
But behind the play, a barely audible whistle was blown before Bratt buried the chance because Phil! took issue with the hit and mauled the shit out of Seney.  Perfect human.
PIT – 3rd Pd./4:04 – Guentzel; A: Crosby, Phil! – 2-2
But, despite the ice being tilted heavily in the Devils favor in the 2nd period (62.5% shot attempt share and 68.52% shots on goal share at 5v5) and having a goal disallowed, the Pens were the team firing on all cylinders in the 3rd period.
Just 4:04 into it, that quick-strike transition reared its beautiful head as Maatta gathered a misplaced shot, threw it up the boards to Phil! (NOT INTO THE CORNER LIKE AN ASSHOLE) for a quick touch pass to send Crosby off to the races.  Sid torched Coleman and drove straight to the net, nearly beating Kinkaid himself.  Instead, he ran out of runway between catching a little cross-check from Coleman and Vatanen closing him down, crashing into Kinkaid in the process.  With the netminder out of commission, Guentzel followed up and banged home the rebound.
NJD would challenge for goaltender interference, but there was nothing there.  Contact was made, but Crosby did make an effort to avoid it.  It's one of those that if it had been pulled back, you wouldn't have heard a complaint.
NJD – 3rd Pd./8:07 – Hall; A: Zajac, Palmieri – 3-2
But all that positive energy and puck control didn't mean shit about 4 minutes later.  Off a jumbled offensive zone draw, the puck popped itself out to Palmieri on the right wing.  Letang pinched with Dumo covering, but was a little late getting over.  Phil! also joined Dumo in cover and had Zajac surrounded as he gathered the puck, but Zajac somehow was able to channel Lionel Messi in taking the grenade off his skate, putting it right on his stick and in a position that only he could control it and slip it to Hall breaking in.  No chance for The Smith.
NJD – 3rd Pd./19:33 – ENG – Hall; A: Noesen – 4-2
The Peng couldn't find a late equalizer despite DeSmith being pulled for the extra skater for about the last 2:21, but late on with the Pens 6 skaters set up, a Letang blast from the point was blocked by Noesen, who chipped it to an area where only Hall could latch on to send the Pens to hell.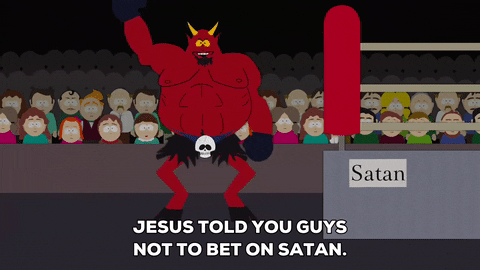 Game.
NOTES
Turns out Kris Letang might be human after all.  In 11:07 with Johnson at 5v5, they had a 31.82% share of shot attempts, 29.41% share of unblocked shot attempts, were on the ice for 1 scoring chance for and 5 against as well as 2 high danger chances against and 0 for and 2 goals against.  Letang had a 55%+ share of shot attempts and unblocked attempts, 75% share of shots on goal, and was on the ice for 7 scoring chances for and just 2 against in about 8 minutes of 5v5 ice time away from Johnson.  Evergreen tweet
Chad Ruhwedel actually led the team in shots on goal with 4 and shot attempts with 5 in just over 13.5 minutes of ice time.  Not something you really expect to see every day.
Crosby ended up with 5 individual scoring chances at 5v5 and 2 high danger chances, both a team high.
The Penguanos are back in action on Thursday for some home cooking as Tampa comes to town.  Maybe playing a real team will be good for them.  Do it.