The ledger will show that Jacob deGrom lost Friday's game to the Yankees. Jacob deGrom will show you that he lost Friday's game to the Yankees.
Jacob deGrom blames only himself. "The goal is to put up zeroes." #Mets pic.twitter.com/7QSid4CxHS

— Anthony DiComo (@AnthonyDiComo) June 9, 2018
All of us watching know better. I'm sure Jacob knows better too, but Jacob is too classy to tell it like it is. That the only reason he was in the game in the 8th inning to give up a two run HR to Brett Gardner is because this team can't score any runs for anybody, much less a pitcher whose ERA rose to 1.57 because he had the audacity to give up two earned runs in eight innings (the third run he gave up being unearned because of an Adrian Gonzalez error and Jay Bruce not being able to throw out Betty White with hamstring issues). The Mets have scored three runs in the last five games, they're next to last in the league in hits, runs and homers, and all of a sudden that offensive team that led the league in home runs, the same group everybody complained about last year, is a group that I'm wistful for.
There have been recent whispers about trading deGrom to replenish the farm system because deGrom is useless on this particular incarnation of the Mets. Sure, you can do it, proclaim the farm system fixed regardless of whether these prospects pan out or not, and call it a day. But it will reveal a bigger problem with the Mets, as they will be perfectly comfortable with trading a world class talent before they're ready to pay him, thus extending the cycle of Oakland A's type roster management that was supposed to end at this part of the decade. Players like deGrom and Syndergaard are supposed to be the players you build around with smart drafting, better scouting, and roster construction that isn't piss poor.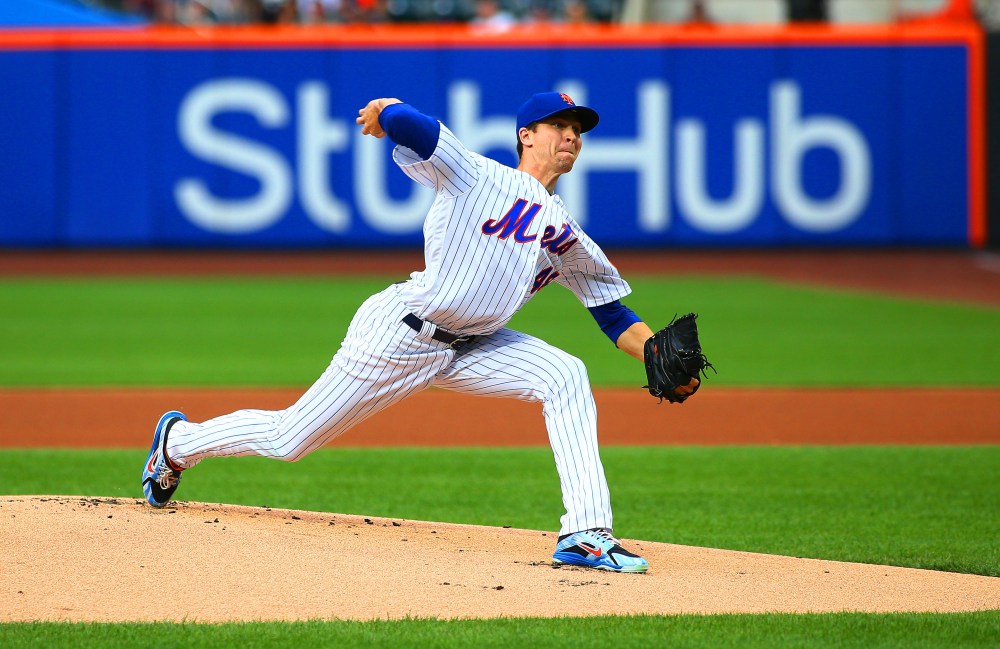 But here we are. We're at the point where trading deGrom would be celebrated in some circles as the only necessary path to respectability. It's a quick fix, however, and doesn't address the other aspects are this organization that compromise this team on a daily basis. Those who think in the here and now of current despair will be disappointed if the return for deGrom come from the pool of players like Alex Ochoa, Juan Acevedo, Jason Anderson, Anderson Garcia, and Danny Herrera.
All that said, I wouldn't worry about it, because there's no way the Mets are going to sell off for parts. Not with every key piece of this team signed though at least next season … including Sandy Alderson. The answer for this team will be to re-sign Daniel Murphy and make 2019 the season of the homecoming to bring fans back to the fold. (Never mind that Murphy might come back a shell of his 2016 self.) In either case, whether deGrom stays for one more run or he's a Milwaukee Brewer by the end of the season, we all owe deGrom an apology for being the LeBron James to our team of J.R. Smiths. (Just don't break your hand punching a blackboard.)
It's even plain to Yoenis Cespedes …
That's quite the comment from Yoenis Cespedes: https://t.co/QwM0OHdB2S via @asburyparkpress pic.twitter.com/5u6LQ39Z8t

— James Wagner (@ByJamesWagner) June 9, 2018
No lies detected. We have video of Cespedes from his rehab start in Binghamton …
Today's Hate List
Brett Gardner
Masahiro Tanaka
Giancarlo Stanton
Gleyber Torres
Greg Bird