Wednesday's win over the Phillies was probably the game you never thought would happen. If I had told you that Noah Syndergaard would go four innings with his pitch count up to 92 while the bullpen threw five scoreless innings, with Hansel Robles being responsible for one of those innings, then I would hope you would have called the police because that would have been my signal that I was being held against my will. (I'm having a hard enough time trying not to question the validity of Robles' scoreless inning because the only place I saw it was on Facebook. I mean, has anybody fact checked that inning?)
Noah Syndergaard: "I just want to give some thanks and some kudos to my homies in the bullpen."

— Anthony DiComo (@AnthonyDiComo) April 4, 2018
That bullpen today pic.twitter.com/GXoJnpEIF9

— Noah Syndergaard (@Noahsyndergaard) April 5, 2018
But that's exactly what happened. Gsellman's two innings (hooray for long relievers), and scoreless frames by Robles, A.J. Ramos, and Jeurys Familia picked up Syndergaard and backed up Yoenis Cespedes' two run homer and Amed Rosario's two run triple to give the Mets a 4-2 social media victory. Syndergaard's waterloo came in the third inning as a double to Carlos Santana and a walk to Rhys Hoskins were the key mistakes which led to, respectively, an RBI groundout and a botched rundown in which Santana stole home. Hoskins probably strayed too far from the baseline, but Adrian Gonzalez's sloth like speed meant he couldn't take the chance of chasing him and catching him before Santana reached the plate, so Gonzalez opted to throw home and was just a little late.
But no matter, because the offense from Cespedes and Rosario along with the drama-free work by the bullpen was enough to overcome mishaps. (The only hit given up by the bullpen was a bloop single off Familia by Hoskins, and he was quickly erased by a double play.) So whichever emojis you wanted to use for the online broadcast were probably appropriate. Though there should have been an emoji for the Facebook broadcast to illustrate the suggestion that John Kruk shouldn't call a game with his mouth full.
🤢, perhaps?
But get your happy emojis ready for Thursday's Nationals home opener, because it will feature Michael Conforto on the roster. Maybe he'll even play in the first game between the Mets and the Nats, and hopefully the first of a small handful of games between the two teams that will feature the Mets in first place. It may also feature a custom logo dripping with hyperbole.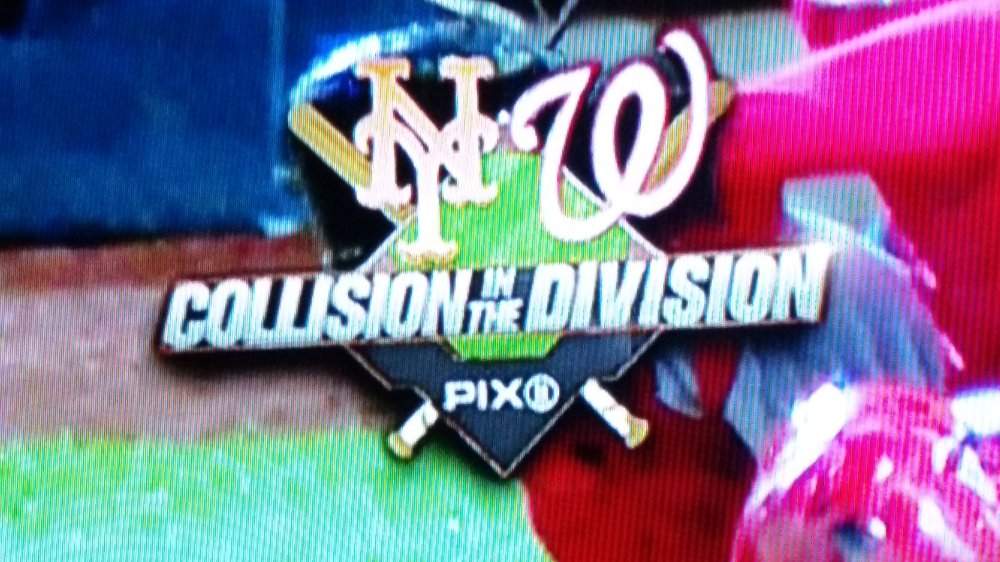 The Washington D.C. cherry blossoms are supposed to reach their full bloom between April 5-8. Let's hope that's also not the full bloom of the Mets season.
Today's Hate List
Adam Wainwright
Giancarlo Stanton
Starting the season in the Northeast
The black cloud that follows the Tigers around
Jake Arrieta