I wore a Ty Wigginton jersey tonight.
Let me explain …
Now that I'm getting older, I can more clearly remember the beginnings of careers. David Wright was one of those guys we all knew about as he was making his way through the Mets' minor league system. For months, my friend and I would have long late night conversations as he would drive to work during his days on the graveyard shift, and the topic of conversation would always drift towards the Mets, or as he introduced it: "All right, now for important stuff". And from 2003-04, the conversations usually centered around "how can this guy Wright come up when Ty Wigginton is doing so well?" But while summer days in 2003 were still fairly innocent in terms of prospect rankings and advanced minor league statistics while we were still pre-explosion in terms of minor league coverage on the Internet, we still all pretty much knew that David Wright was the real deal. So even when Wigginton was displaced while hitting .328 in his previous 19 games, it was apparent to almost everybody that Wright was the future, and Wigginton was going to be a casualty.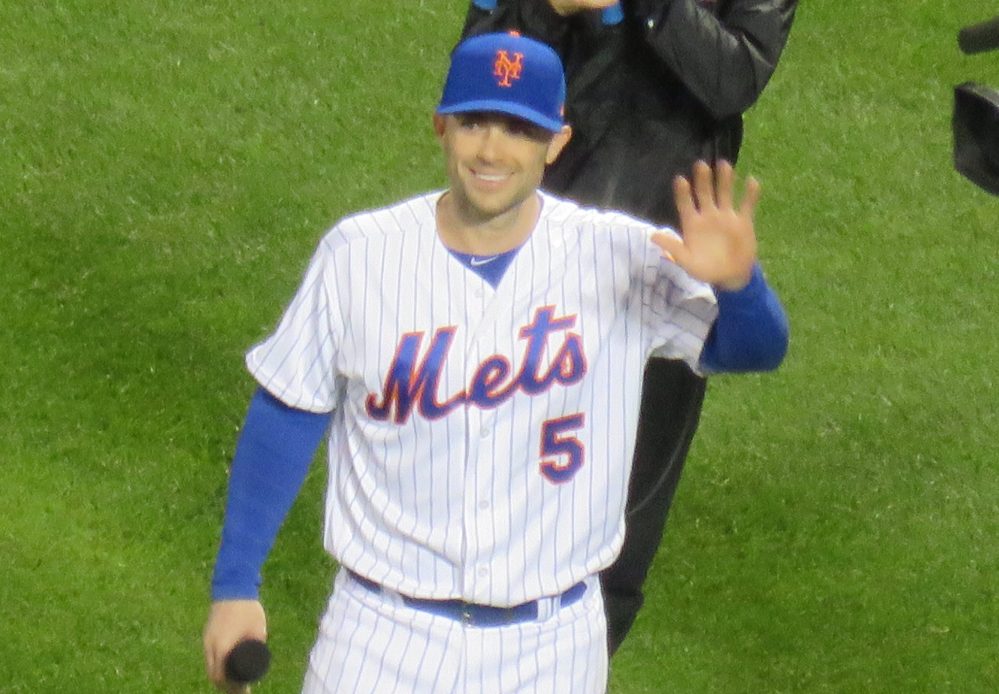 Almost everybody, as my buddy held out hope that Wigginton would still be able to have a major role in the future of the Mets. Instead, he was traded to the Pirates on July 30th in a deal that also included some guy named Jose Bautista. Then he went on to become the property of seven more teams. So if somebody was going to light the torch for Ty Wigginton, it had to be me … I guess. But moreover, it was a way to close the circle. The guy who I had all of those conversations with me about Wigginton and Wright, and so many other Mets between 2003-2018, was one of the people with me on Saturday as we said farewell to the person we always referred to as the "real deal". Wearing a Wigginton 9 was my way of closing the circle. It opened with our late night conversations, it closes with a shared farewell to a franchise icon. I couldn't think of a more fitting way for us to share this day … along with our wives who put up with our crazy schedules and our hour long conversations about why Scott Kazmir was traded for Victor Zambrano, how Lastings Milledge turned into such a bust, and who the hell was this R.A. Dickey guy and how the hell could he one-hit the Mets at Shea Stadium?
I was asked what my emotions were going to be on Saturday night. I wasn't sure then. I'm still not sure. The scripted nature of the game: his daughter was going to throw the first pitch … Wright would get two at-bats … he'd be pulled after taking the field … there would be a speech after the game … knowing what was coming made it all feel like a spring training game where you knew exactly who was going to pitch. But hey, we all knew that this was going to be more ceremony than competition. The only things not in the script were the 13 innings against the Marlins (although Mets/Marlins, you should have expected it), Brandon Nimmo hurting himself (see you for Brandon Nimmo retirement night in 2021), and booing Peter O'Brien for having the audacity to catch David Wright's foul pop in what turned out to be the final at-bat of his career.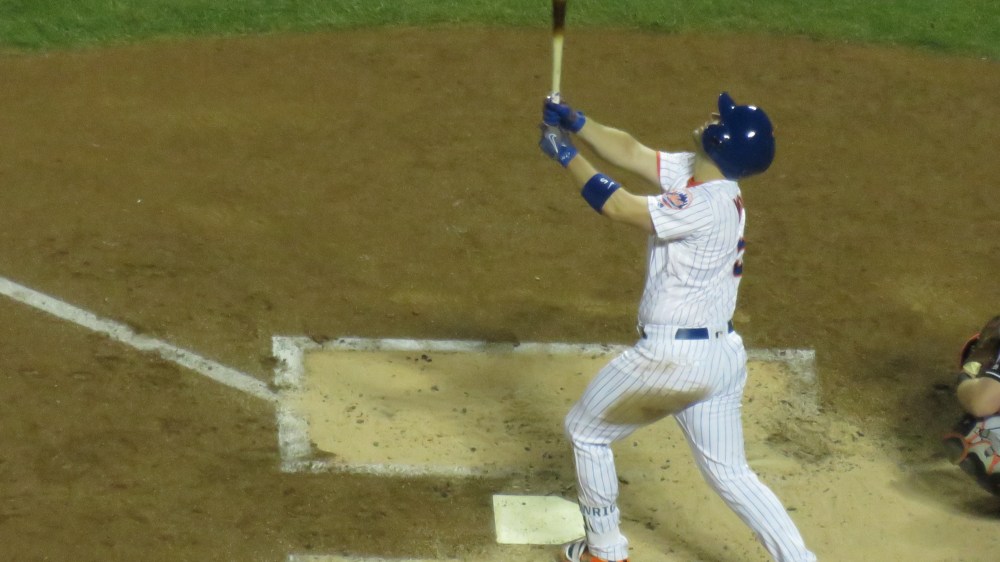 I gotta say, when the crowd started booing O'Brien when he took the plate in his first at-bat after catching the pop-up, I was wondering what the hell was going on. Was Bobby Bonilla on the scoreboard? Did Chase Utley break Wright's leg? Did Luis Castillo drop Olivia?
No, the crowd was booing a guy for doing his job, which I really thought was a bit silly. It's not like the guy was Chipper Jones for crissakes. But then I realized that with no playoffs, and now no David, booing poor Peter O'Brien for catching a pop-up was all we had left. Mickey Callaway said that this game was going to be like the playoffs. I think we're all desperate to recreate a playoff atmosphere, and the only way to do it was elevate Peter O'Brien to "enemy of our time". I long for the days when we had real enemies. I guess we'll have to settle for Peter O'Brien. Poor kid.
Whether it be Wright's career, another season of catching games at Citi Field, circles closed tonight. They all have to at some point, right? A young friend of mine reminded me that all millenials knew of Mets baseball included David Wright on the roster. Now that's gone and it's going to be weird for those of that age. I went through it when I was at Shea to see the final at-bats for Keith Hernandez and Gary Carter as Mets at Shea Stadium in 1989. The reaction had all the spontaneity with none of the inflated ticket prices on StubHub. (Kids, there was no StubHub back then.) So get used to it. Life will continue to disappoint you and things will end. Being 47 years old doesn't make it any easier to take either. It just makes you crankier.
They always said David Wright was our Derek Jeter. Instead, he turned out to be our Don Mattingly … the sure fire Hall of Famer who was only sidetracked by injury, with a cursory playoff moment which wasn't enough. We took him for granted, but not because we didn't care. But because he was always there. He was our fifth hitter until he was our third hitter until all of a sudden he couldn't hit or do anything on a baseball field anymore, and it's jarring now that after all of the rehab, all of the effort, more than most ballplayers would have put up with, it's all over in the blink of three at-bats.
There should have been so much more for David Wright than there was, whether it be because of injury or other factors which didn't put him in the best position to succeed. But one thing that I'm sure David can be thankful for is that he at least got Saturday night. (And that Austin Jackson ended this thing with David on the winning side.)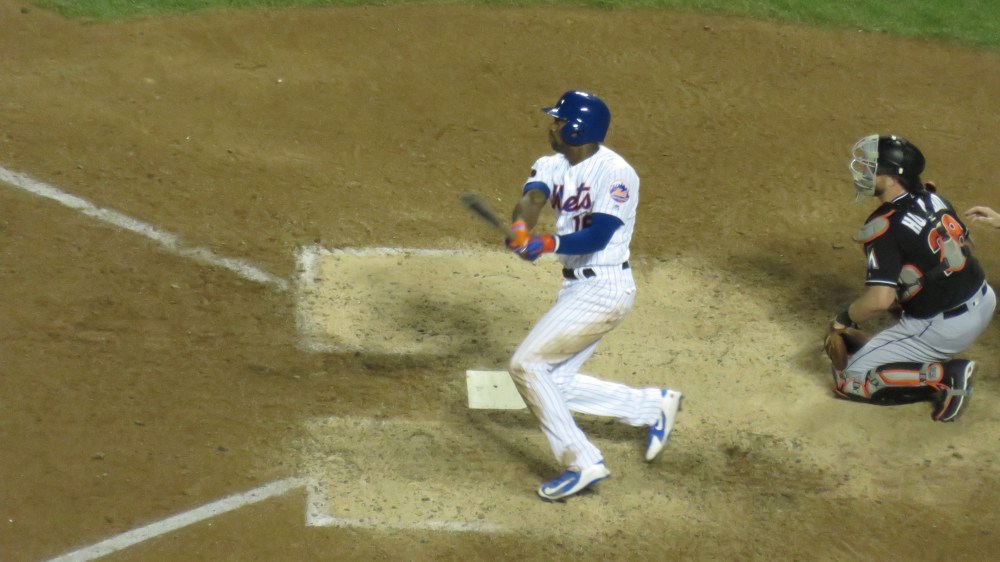 There are great players … even Hall of Famers whose career ended with a manager telling him in spring training that his services were no longer needed. Or worse: they ended in their living room after not one of 30 teams called. David got one last night to reminisce and celebrate with us, and his teammates. He deserved it. He took less money to stay with this organization than he could have gotten elsewhere. He worked for two and a half years through what I'm sure was debilitating pain so that he can be an everyday player again. The least he could have gotten was Saturday night, and fans were happy to provide it, even under the notion that it should have turned out to be so much more.
But even though there should have been more, remember this: There are people who work hard all their lives only to be laid off a year from retirement because they cost too much money. Those people don't even get a pat on the back or an ounce of thanks for the years of blood, sweat and stress they spend needlessly, because they're seen as nothing more than a dollar sign. Whether Wright was seen as a dollar sign or not by his bosses didn't matter, at least for one night, as he got his just due while we got to share a little of it. We can all be thankful for that.
For me, I'm thankful that I got to share this game with people I love, including my buddy who thought I wore the Wigginton jersey to rub in the fact that I knew David Wright would be his replacement for 12 years all the way back in 2004. But in reality, it just helped to close the circle. I'm sure David remembered all of his friends tonight, past and present. Circles close for him, as circles close for all of us. We can only hope that when one circle closes, another will start its circumference on another plane … one that will provide joy, camaraderie, friendship, and perhaps even a couple of playoff rounds. Maybe as that circle closes, I'll wear the Wigginton jersey again.
I guess, to answer a previous question, these are the emotions I have: Sadness that it's over. Gratitude that it happened. But most of all the feeling that I'm absolutely done with nostalgia. While it's nice to look back, after Sunday I'm more than ready to start looking forward. New adventures. New memories. New ideas. Nostalgia can be exhausting. I'm ready for a new circle.
But tonight, I raise a toast to the old circle. The old captain. Our old friend.
Cheers.
Provided me moments I'll never forget. #DavidWright #LGM pic.twitter.com/iwQDggcNDE

— Paul Lo Duca (@paulloduca16) September 29, 2018
David Wright: You saying I could play for the '86 Mets might be the best compliment I've ever received@KeithHernandez: "You might hit seventh! You're not gonna hit third" pic.twitter.com/nvT4F3AeI6

— SNY (@SNYtv) September 30, 2018
Congrats #DavidWright on a great career, you were a great teammate and a great person. Believe it!! @Mets

— Johan Santana (@johansantana) September 30, 2018
Cliff Floyd's scouting report on David Wright:

"Amazing dude, amazing character, personality off the charts, good-looking dude, can't dress worth shit — though that changed when he got money.

"That's how you get that C."

— Tim Britton (@TimBritton) September 29, 2018
Tipping the cap to #CaptainAmerica… A great Ambassador for the #Mets and the game of baseball. Look forward to seeing your next chapter! #DavidWright #LGM #OurCaptain pic.twitter.com/9PG2v9IIFI

— Tebow.SOL (@TimTebow) September 29, 2018
https://twitter.com/yayroger/status/1046280902182096896
Most people don't know that #DavidWright was one of the reasons I signed with the @mets in '13. I believed in his vision as the team Captain & wanted to play w/one of the greatest leaders this game will ever know. Thanks for the memories bro, it was an honor to be your teammate! pic.twitter.com/zoNGD4KO99

— Curtis Granderson (@cgrand3) September 29, 2018
Today's Hate List
Peter O'Brien … I guess.