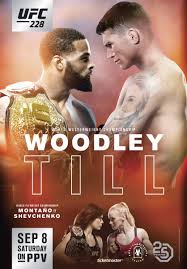 a
Champ T-Wood but on a dominant performance last night in the Lone Star state, and was the top earner at UFC 228.
Before we go any further, we should note that the  Texas   State Athletic  Commission doesn't release fighter pay info, so none of the following salary data for the event is official.  However, you can get a fairly accurate picture of a fighter's pay based on official purse info released from past fights.  So, based on that info, here is the estimated pay breakdown for the 26 fighters that traded blows at the event.  But please remember – this is only an estimate, not official info.
Looking for the best ufc betting sites to jump into legal online sports betting? We've got sportsbook promo codes, sportsbook reviews, and more in our sports betting guide.
Attendance:  14,073
Gate:  $1,700,000
Tyron Woodley:  $590,000 ($500,000 to show, $50,000 Performance of the Night bonus, $40,000 fight week incentive pay)
Diego Sanchez:  $210,000 ($95,000 to show, $95,000 win bonus, $20,000 fight week incentive pay)
Jessica Andrade:  $164,000 ($52,000 to show, $52,000 win bonus, $50,000 Performance of the Night bonus, $10,000 fight week incentive pay)
Jim Miller:  $152,000 ($66,000 to show, $66,000 win bonus, $20,000 fight week incentive pay)
Darren Till:   $130,000 ($100,000 to show, $30,000 fight week incentive pay)
Irene Aldana:  $104,000 ($25,000 to show, $25,000 win bonus, $50,000 Fight of the Night bonus, $4,000 fight week incentive pay)
Aljamain Sterling:  $88,000 ($39,000 to show, $39,000 win bonus, $10,000 fight week incentive pay)
Lucie Pudilova:  $68,000 ($14,000 to show, $50,000 Fight of the Night bonus, $4,000 fight week incentive pay)
John Dodson:   $54,000 ($44,000 to show, $10,000 fight week incentive pay)
Jimmie Rivera: $61,000 ($28,000 to show, $28,000 win bonus, $5,000 fight week incentive pay)
Tatiana Suarez:  $58,000 ($27,000 to show, $27,000 win bonus, $4,000 fight week incentive pay)
Carla Esparza:  $50,000 ($45,000 to show, $5,000 fight week incentive pay)
Abdul Razak Alhassan:  $48,000 ($22,000 to show, $22,000 win bonus, $4,000 fight week incentive pay)
Darren Stewart:  $44,000 ($20,000 to show, $20,000 win bonus, $4,000 fight week incentive pay)
Zabit Magomedsharipov:   $36,000 ($16,000 to show, $16,000 to show, $4,000 fight week incentive pay)
Niko Price:  $35,000 ($30,000 to show, $5,000 fight week incentive pay)
Jarred Brooks:  $32,000 ($14,000 to show, $14,000 win bonus, $4,000 fight week incentive pay)
Karolina Kowalkiewicz:   $30,000 ($25,000 to show, $5,000 fight week incentive pay)
Geoff Neal:   $27,500 ($12,000 to show, $12,000 win bonus, $3,500 fight week incentive pay)
Cody Stamann:  $26,000 ($22,000 to show, $4,000 fight week incentive pay)
Brandon Davis:  $22,000 ($18,000 to show, $4,000 fight week incentive pay)
Alex White:  $21,000 ($16,000 to show, $5,000 fight week incentive pay)
Frank Camacho:  $15,500 ($12,000 to show, $3,500 fight week incentive pay)
Charles Byrd:  $15,500 ($12,000 to show, $3,500 fight week incentive pay)
Roberto Sanchez:  $15,500 ($12,000 to show, $3,500 fight week incentive pay)
Craig White:  $13,500 ($10,000 to show, $3,500 fight week incentive pay)