Regression to the mean is a bitch, ain't it?
The Mets took a 6-1 lead into the eighth inning on Monday, where the Mets have dominated this year with an eclectic group of relievers led by Mickey Callaway pushing all the right buttons. This time, after Jacob deGrom went seven and a third stellar innings, Callaway pushed every button he had and it turned into a MacGruber episode. Seth Lugo walked a batter. Jerry Blevins gave up a two run hit to Bryce Harper. Then we got the A.J. Ramos experience … striking out Ryan Zimmerman, giving up a single to Pedro Severino, and then Kenny Rogersing Matt Reynolds to drive in the fourth run.
Callaway had no choice but to bring in Jeurys Familia for a four out save, but that didn't work either. He gave up a two run single to Wilmer Difo, hit Moises Sierra with a pitch, then walked Michael Taylor to give the Nationals the lead for good. Familia threw 15 pitches … six strikes. And he wasn't close. This game made the season look like the Mets were holding their gut in for 14 games in anticipation of the pretty girl walking by. But instead of the pretty girl, it was Bryce Harper, who has pretty hair. And the Mets couldn't suck in their gut anymore. It was like watching a Patriots playoff game and you're just hoping for somebody to make one play, or prevent Julian Edelman from making a miracle catch, or maybe throw a pass more than five yards against their defense while you have a three run lead on the road. One out from any one of those relievers and this game is home. I'm just glad this was an early season game or else an SNY scorebug would have made it on to a whole bunch of t-shirts.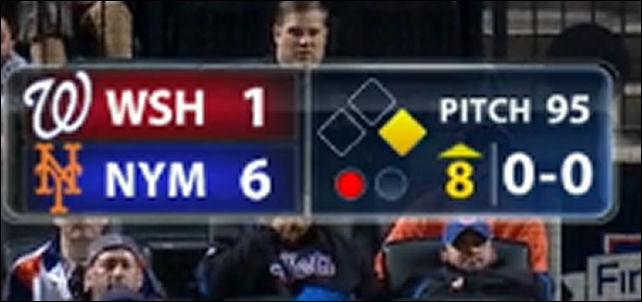 This wasn't a peaceful regression to the mean. This was Scorpion from Mortal Kombat parked at the mean catching the Mets bullpen with his kunai and yelling "GET OVER HERE" as he yanks us back to the mean. That's what that eighth inning was.
Also, I know that everybody wants to take the extra base these days and be aggressive, and that Asdrubal Cabrera is feeling spry these days. But can we introduce some situational running here? Getting thrown out at third base with one out in the ninth with the tying run at the plate in the form of Michael Conforto? Maybe not the right time for a "dirtball read".
But other than a horrible loss which featured blowing a five run eighth inning lead to the main division rival and possibly giving them life going forward, things are just peachy. Still.
I hope.
Today's Hate List
I cringed when the Citi Field fans taunted Harper in the middle of the game. It seemed silly then, and looked worse after the Nationals came back to win the game. Can we not do that again until at least July?