"The ancient Romans had a tradition: whenever one of their engineers constructed an arch, as the capstone was hoisted into place, the engineer assumed accountability for his work in the most profound way possible: he stood under the arch" was a quote by Michael Armstrong. I think Minnesota forward Devin Setoguchi found that out Tuesday night when he found himself benched for missing a team meeting. The Wild were in the midst (and still are) of a 3 game losing streak; having won just once in their last 12 games going into their game against San Jose Tuesday night. Injuries had helped turn the Wild's fortunes after a torrid start to where Minnesota sat in 8th place in the Western Conference. The injury woes appeared to continue when it was announced that Pierre-Marc Bouchard was out indefinitely with concussion symptoms; the same condition that kept Bouchard out of the Wild's lineup for nearly a season and half. So with all of those outside factors in place, the Wild still chose to hold Setoguchi accountable and make him a healthy scratch. Some would say that was bold and risky. However, it seems to fit with the strong character of the Wild's coach, Mike Yeo who ultimately made the decision. Setoguchi was apologetic; going as far as apologizing to the team, coaching staff and management telling Michael Russo of the Minneapolis Star Tribune, "I talked with Mike (Yeo) and Chuck (Fletcher) about what happened, but there's no excuse for that, I have one job and that's to show up to the rink." So in Armstrong's quote, Setoguchi would've stood under that arch as it fell right on top of him but it was good to hear him own up to it.
Can Setoguchi restore Mike Yeo's trust?
After Minnesota's thrilling 5-4 shootout win over San Jose, Mike Yeo insisted that Setoguchi would have a clean slate after having sat out and so far he seems to be living up to his word as he will be returning to play on the team's top line with Mikko Koivu and Dany Heatley. Ultimately it will be up to Setoguchi as to what he does with this 'clean slate' but to use a classic Yeo-ism we'll see how he responds. Minnesota travels to Chicago to play a very tough, high scoring Blackhawks squad so any extra offensive boost he can provide would help make the Wild's margin for error a bit more favorable. So will Setoguchi respond with a strong game tonight or will he play humble and sheepish?
Click on "Read More" for the rest of the article…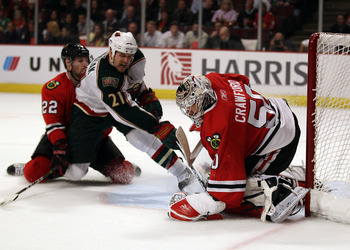 1st Period Thoughts: Minnesota had good pace and hustle to start the game, winning many early races to the loose pucks. After a not bad shift by the top line, the 2nd line had an even better one as Cal Clutterbuck, Matt Cullen, and Casey Wellman worked well with the puck down behind the Blackhawks goal for a good scoring chance by Cullen that was stonewalled by Ray Emery. The Wild's 4th line was even showing some good effort as a nice little play by David McIntyre got a rush going and Brad Staubitz hammered a slap shot that was steered wide by Emery. The 3rd line built on that momentum with some great little plays by Darroll Powe that resulted in a few quality shots for Kyle Brodziak that were dangerously close to converting. The Blackhawks tried to answer back with some pressure of their own, and a familiar face in Andrew Brunette caused some of the trouble as he helped set up a shot from the point by Steve Montador that was knocked down by Harding and covered up by Josh Harding. Minnesota would go back on the attack, and the Wild would strike off the rush as a pass was dropped back to Marek Zidlicky into the high slot and he ripped a wrist shot that Emery stopped but Devin Setoguchi was there to bang home the rebound to give the State of Hockey a 1-0 lead. Chicago would try to respond soon after the goal as former Vermont Catamount Viktor Stalberg hammered a slap shot that was directed aside by the leg pad of Harding, and then made another save on a shot by David Bolland. The Wild seemed to have relaxed a bit after the goal, but Minnesota's top line would create some havoc in the Chicago zone as Setoguchi was pulling the trigger with reckless abandon. Chicago would tie the game a minute later as Harding found himself fooled by a wrist shot from Andrew Shaw that took advantage of a screen made by Bryan Bickell and Greg Zanon who had fallen down about 15 feet from the Wild crease. It was not a good goal for Harding. Chicago wasted little time trying to set up the go-ahead goal as Jonathan Toews set up Patrick Kane in the slot and he snapped a shot which was blocked up into the netting by Nick Schultz. The Blackhawks were looking to blast the puck by Harding again as Niklas Hjalmarsson stepped into a slapper that just missed wide. A few moments later, the Wild would get caught on a rush that would result in a 2-on-1 for Chicago between Bolland and Marian Hossa and Bolland would dish to Hossa who was robbed by a diving save by Harding. Minnesota would start to get physical and Clutterbuck delivered a thundering hit on Patrick Kane, and the Wild were able to get the puck out of their zone. The Blackhawks had a great opportunity on little play through the neutral zone where Michael Frolik caught the Wild flatfooted and he'd race in on a break away but his wrist shot was denied by a fine save by Harding. Seconds after that, Brunette drew a tripping call on Nick Johnson and the Blackhawks went on the power play. Chicago worked the puck near the crease where there was a flurry of activity but no pucks were reaching Harding and Minnesota's penalty kill managed to keep the Blackhawks at bey. The Blackhawks were patient, looking to set up the perfect shot and Minnesota was able to escape unscathed. Minnesota had to feel pretty good about the way they were able to create some offensive pressure, but some of the defensive lapses had to be a little disconcerting as well. The clutch play of the penalty kill late in the period was huge. The Wild were being outshot 13-8.
2nd Period Thoughts: The Blackhawks came out to start the period a bit more committed defensively, using their sticks to clog up the offensive zone making it tough for Minnesota to execute its plays. Chicago meanwhile, wanted to work the puck down low and then pass it out front into the slot area, but the Wild were collapsing well defensively. Minnesota finally was able to create a little pressure offensiely with its 2nd line as Cullen would dangle to gain some space before firing a wrist shot that was stopped by Emery. Minnesota's top line would cause the Blackhawks some problems after Dany Heatley was able to power his way around a defender through the neutral zone where Mikko Koivu set up Nick Schultz for a shot that was blocked away by Emery, but the Wild were earning these opportunities through good effort. Chicago would draw another penalty with some hustle of their own as Justin Falk held up Stalberg with his stick giving the Blackhawks their 2nd power play of the game. The Blackhawks power play was a little lethargic, slowly moving the puck from half wall out to the point and Minnesota would keep Chicago off the scoreboard for a little while. In the 2nd half of the man advantage, the Blackhawks worked the puck down behind the net and Bolland set up Jimmy Hayes in the slot for a bang-bang goal that Harding had no chance on. Chicago would pile on another just about 20 seconds later as Jonathan Toews found Stalberg sneaking behind the lazy defene of Greg Zanon for a quick shot that beat Harding 5-hole to put the Blackhawks up 3-1. Casey Wellman was showing a little more physical edge as he delivered a nice hit to Benn Smith that nearly sent him all the way into his bench. Minnesota seemed a little fatigued at this point in the game, just lacking the jump to win those races to the loose puck that made them so successful early in the game. The Wild's 2nd line tried to get things going and Cal Clutterbuck was flying around the ice as he toe dragged a puck into the slot before flinging a wrist shot that gave Emery a little trouble. As Clutterbuck continued to swarm in the Blackhawks zone he'd drive the net on a failed play from behind the goal as he barely bumped into Emery for a goaltender interference penalty. Nevermind the water skiing by the Blackhawks defense before that, what a garbage call. Chicago would make Minnesota pay for its indiscretion, as a point shot by Steve Montador was partially blocked and the puck dribbled on goal to Harding who pushed it out towards Clayton Stoner who just stared at the biscuit and Bolland pounced on it and tapped it in for an embarassingly easy goal, 4-1 Blackhawks. Wild Head Coach Mike Yeo would replace Harding with Matt Hackett as well as use the time to chew out his club for their lack of focus. Minnesota wasn't able to get much of anything going in the rest of the 2nd as Chicago clearly was in control of this game. An ugly period where those defensive lapses I mentioned were really killing the Wild. The bad call on Clutterbuck certainly was annoying, but that wasn't the whole reason the Wild were trailing by 3 at this point in the game.
3rd Period Thoughts: The Blackhawks were content to defend their lead, sitting back and letting Minnesota go on the attack. Matt Cullen would draw the Wild's first power play of the game, as he was tripped up by Hjalmarsson. On the power play Dany Heatley would wind up and unleash his slapper and Emery was just able to deflect it up into the net. Minnesota's power play looked jumbled and disorganized and the Blackhawks had little difficulty killing off the man advantage. The Wild tried to reorganize and go on the attack, as Mikko Koivu tried to dangle around the Chicago defense being hooked by David Bolland the whole way to no call. A few minutes later, the Wild's 2nd line tried to get something going as Matt Cullen let go a wrist shot that was gloved by Emery. Frustration started to build up a little as Michael Frolik would get into a bit of a shoving match with Justin Falk. Minnesota would get a little life as the 3rd line would light the lamp with some hard work as a faceoff win in their own zone turned into a rush led by Darroll Powe and he would fire a low-lying shot that was stopped by Emery but Brodziak was there to bury the rebound to cut the Chicago lead to two, 4-2. The Wild would try to build on these good feelings with some good pressure by its 2nd line as Cullen carried the puck to the crease and Minnesota tried to jam it in to no avail. Moments later, the Wild's 4th line had a good chance of their own from close range as Brad Staubitz whacked a shot on goal and Warren Peters was just out of reach of the rebound. Staubitz was trying to give his team a spark and he delivered a devastating check to Brent Seabrook. Minnesota kept scrapping and looking to cut the Chicago lead to one in the closing minutes. The Wild's defense was pinching and Justin Falk had a few opportunities to shoot the puck. With 2:21 left in the game, Minnesota pulled Hackett for an extra attacker. The Wild were able to create a little pressure in the Chicago zone, but not enough shots were going on goal and Chicago would seal the game with Bolland's empty netter to give the Blackhawks a 5-2 victory.
It simply was not Josh Harding's night, as he gave up a few goals he normally doesn't that allowed the game to get away from the Wild in the 2nd period. The last goal where he tried to push a puck to Stoner was an ok idea, but being a man short the smart play would've simply been to cover it up. Perhaps that was a side effect of some of the risky plays he made with the puck in Tuesday night's game against San Jose. Matt Hackett was rock solid in relief and I think you don't rush Niklas Backstrom's return to the lineup from illness when you have him available. With Harding himself a bit under the weather, maybe its the time to give Hackett another start. Defensively, it was another ugly night for Greg Zanon who looks slower and slower with each game.
Offensively the Wild had some flashes of offense, but they were too few and far between. Minnesota was at its best when it was creating time, space off the rush and I was surprised they didn't try to create more chances that way since Emery did seem to have some rebound issues this evening. Too often, Wild forwards were unable to get to those rebounds and while that may be a testament to good defense by Chicago it is also example of will power. Remember all of those goals earlier in the season that the Wild seemed to create through sheer determination? Where did they go?
The Blackhawks are a very good team, without question. They have a lot of weapons and can attack you in a variety of ways but the Wild simply gave Chicago way too many easy chances. Good teams capitalize on those kinds of opportunities more often than not. The Calgary Flames made a move by dealing Rene Bourque to Montreal for Mike Cammalleri. Maybe its time the Wild make a move of their own, ESPN certainly seems to think so.
Wild Notes:
~ The Wild roster tonight was as follows: Mikko Koivu, Dany Heatley, Devin Setoguchi, Brad Staubitz, David McIntyre, Warren Peters, Matt Cullen, Casey Wellman, Cal Clutterbuck, Daroll Powe, Kyle Brodziak, Nick Johnson, Nick Schultz, Greg Zanon, Marek Zidlicky, Clayton Stoner, Justin Falk and Jared Spurgeon. Matt Hackett shared the duties between the pipes with Josh Harding. Mike Lundin, Niklas Backstrom and Colton Gillies were the healthy scratches.
~ The 3 Stars of the Game were: 1st Star David Bolland, 2nd Star Jimmy Hayes, 3rd Star Andrew Shaw
~ Attendance was 21,490 at United Center.
~ The State of Hockey News would like to congratulate Mikko Koivu on the news of his selection into the 2012 All Star game, the first time he has been selected for this honor in his career.
Wild Prospect Report:
Johan Larsson (the player with the captain's 'C') celebrates WJC's gold!
Now that the drama of the Men's U-20 World Junior Championships are behind us, Wild fans have a lot of reason to be excited as Minnesota prospects had a strong showing. Here are how some of our prospects fared. The number included is the overall rank in scoring the player achieved in the tournament as well as their team rank in parentheses.
3. Mikael Granlund (FIN, 1st) ~ 2G 9A = 11pts
14. Jason Zucker (USA, 2nd) ~ 3G 4A = 7pts
31. Johan Larsson (SWE, 5th) ~ 0G 6A = 6pts
63. Charlie Coyle (USA, 6th) ~ 4G 1A = 5pts
102. Jonas Brodin (SWE, 11th) ~ 0G 4A = 4pts
Goaltending:
8. Johan Gustafsson (SWE, 1st) ~ 5-0 2.20GAA .887%SP
Other Notables (with the high school they played for in parentheses)
Nick Bjugstad (Blaine, USA) ~ 4G 2A = 6pts
Kyle Rau (Eden Prairie, USA) ~ 3G 2A = 5pts
Josh Archibald (Brainerd, USA) ~ 0G 2A = 2pts
Derek Forbort (Duluth East, USA) ~ 0G 2A = 2pts
High School Boys Hockey Report:
Grand Rapids' Jake Bischoff
The NHL's Central Scouting Department released its Mid-Term rankings and there are 13 Minnesota High School players in their listing of the Top 210 North American Skaters. Here is their respective rank along with their High School. One could argue it should be 14, since Apple Valley's A.J. Michaelson (ranked #83 by CSS) left to play for Waterloo in the USHL rather than play through his senior season. The rankings will no doubt experience some significant changes once the final rankings are finished in the spring, but its a good barometer to see which high school players are on the NHL's radar nonetheless.
#44 Zachary Stepan (Shattuck-St. Mary's) – C – 6'0″, 166lbs
#69 Theodore Blueger (Shattuck-St. Mary's) – C – 6'0″, 171lbs
#71 John Draeger (Shattuck-St. Mary's) – D – 6'2″, 186lbs
#111 Samuel Fejes (Shattuck-St. Mary's) – LW – 6'1″, 190lbs
#132 Jake Bischoff (Grand Rapids) – D – 5'11", 178lbs
#139 Adam Johnson (Hibbing) – LW – 5'10", 150lbs
#155 Will Merchant (Eagan) – LW – 6'0″, 172lbs
#159 Eli May (Eagan) – D – 6'1″, 190lbs
#174 Charlie Sampair (Hill-Murray) – C – 6'0″, 180lbs
#178 Trevor Olson (Duluth East) – RW – 6'1″, 180lbs
#189 Jacob Montgomery (Shattuck-St.Mary's) – LW – 6'1″, 191lbs
#198 Dominic Toninato (Duluth East) – C – 6'0″, 165lbs
#199 Louis Nanne (Edina) – LW – 5'10", 162lbs