I'm quoting a smart man here:
But if there's anything to Syndergaard's season to marvel at, it's his consistency. There have only been two starts where he has given up more than three runs. First start of the year, and the start before Sunday against the Reds. 
Yup, that was me. Five days before Noah Syndergaard took the mound against the Phillies and gave up three runs in the first inning (and was hit hard) and four in his 5 and 2/3's innings of work. Immediately after I point out the consistency, he gets inconsistent on me. In Syndergaard's defense, and I know we're supposed to all be excuse free and I would never, ever expect Noah to use this as an excuse, but the northeast feels like a bowl of soup. I hate complaining about the weather because it is what it is and you can always dress for it. But I walked 20 minutes last night because there was no bus coming and when I got home I thought I was going to either drop dead or get hit with croutons. I can't imagine what Syndergaard was mucking through, especially with all that hair weighing him down.
Of course, that's no excuse for letting Jorge Alfaro, who statcast times at LOL, steal two bases off you, not to mention divvying up one each for Mikael Franco and Carlos Santana. This is not the team I associate with the '85 Cardinals, so this is weird. I feel like every time a runner steals a base off Syndergaard, Rene Rivera's ears start to twitch, and he's not sure why.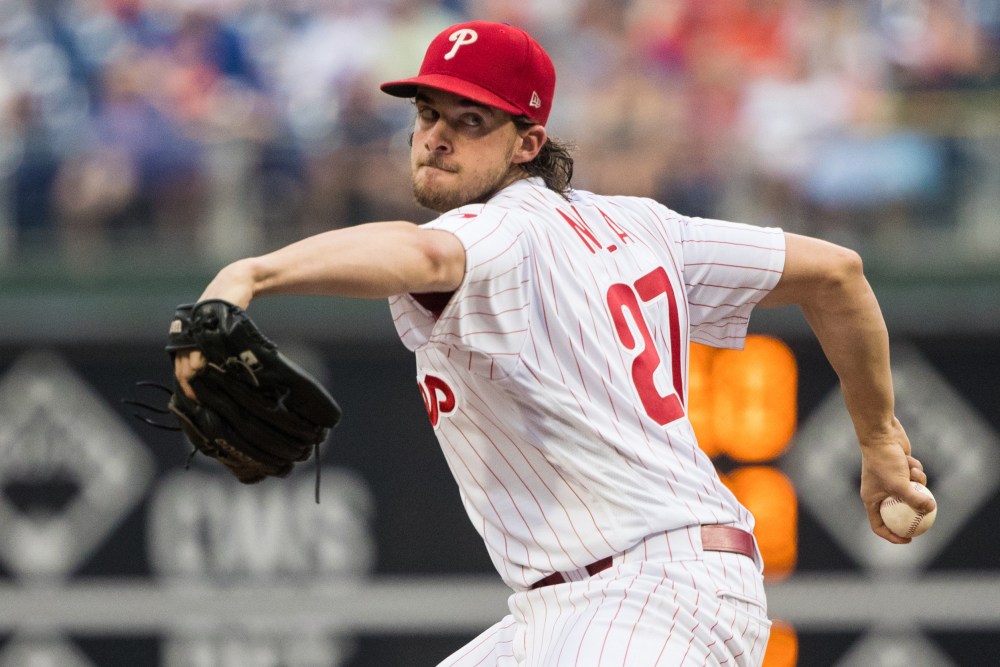 I realize that Aaron Nola had to pitch in the same conditions as Syndergaard on Friday night. But he was facing a Mets lineup that used up their entire allotment of runs for the season the last three days. Plus, Nola is pretty good too and he's sneaking into the Cy Young discussion. He faced Jack Reinheimer in the fifth inning during what qualified as a rally for the Mets. The way Nola pitched him wasn't fair. Curve, curve, curve, spots a 94 mph fastball on the outer half, then throws two changeups to welcome Reinheimer to the big leagues. (Nola is 311 days younger than Reinheimer, by the way.) I mean, for heaven's sake, dude, guy has been in the major leagues a week and that's how you treat him?
The Mets also, it should be noted, called Daniel Zamora out of the bullpen to pitch tonight. Daniel is the 28th actual pitcher the Mets have used this season. Twenty-eight!!! The booth talked aobut how many players the 1967 Mets used, and they only used 26 pitchers. By the way, it's August 18th. We still have six weeks to go. We could see Justin Dunn, Thomas Szapucki, Colin Holdenman, Trey Cobb, Gary Cornish, and Billy Wynne before this is all over.
But what stuck with me the most was Jose Bautista playing first base. In the second inning, Cesar Hernandez grounded one softly to him, and Bautista couldn't make the flip to Syndergaard covering. All I could think of is that somebody else could have bobbled that ball and it would have meant something. Would have been a teaching moment. Instead, it becomes just another play vaporized into dust because nobody is learning anything except that you can't have too many first baseman/corner outfielders on the roster. It's a winning strategy.
Today's Hate List
Aaron Nola
Rhys Hoskins
Nick Williams
Jorge Alfaro
Carlos Santana