Well, here we go again. Similar to where things stood around the launch of the Big Ten Network a decade ago, Comcast and the Big Ten Network are apparently at odds. The ones who will suffer the most will be any fan of a Big Ten school located outside of the Big Ten footprint. There was a lot of confusion about this news when it broke yesterday, so let's spend a few minutes breaking it down and figuring out who will and who will not be affected by the decision of Comcast to drop Big Ten Network.
Will you still get Big Ten Network?
If you live in Pennsylvania and use Comcast to watch Penn State on the Big Ten Network, you are fine. If you are a Comcast customer in another state with a Big Ten school, you will be fine as well. But if you live in a state outside of the Big Ten's main footprint, you should begin searching for other options if you really want to keep Big Ten Network.
The out-of-market Big Ten Network feed, which was carried on Sports & Entertainment pkg in non-Big Ten states, was dropped in some areas. Big Ten Network in-market feed, available to customers in Big Ten states in the regular channel line-up, will continue to be available.

— Xfinity Support (@XfinitySupport) April 12, 2018
Comcast XFinity has decided unilaterally to drop BTN in many markets. All of their competitors still carry BTN everywhere. We at BTN share your disappointment. Let Comcast know how you feel.

— Big Ten Network (@BigTenNetwork) April 12, 2018
Comcast will keep Big Ten Network available in the following states:
Pennsylvania
Ohio
New Jersey
Maryland
Illinois
Indiana
Michigan
Minnesota
Wisconsin
If you live in any other state and use Comcast, kiss Big Ten Network good-bye because it is leaving, if it has not been dropped in your region already. You can get a sense of how many Comcast customers will potentially be losing Big Ten Network with this coverage map of Comcast's Xfinity cable services:
And here is the nationwide coverage map of Xfinity so you get a sense of all the customers that will be losing Big Ten Network outside of Big Ten states. pic.twitter.com/Q56IyARb61

— Kevin McGuire (@KevinOnCFB) April 12, 2018
At this time, there is no indication any other providers of Big Ten Network will be dropping the conference-branded network. If anything, this news is well received by competitors such as Dish and Verizon.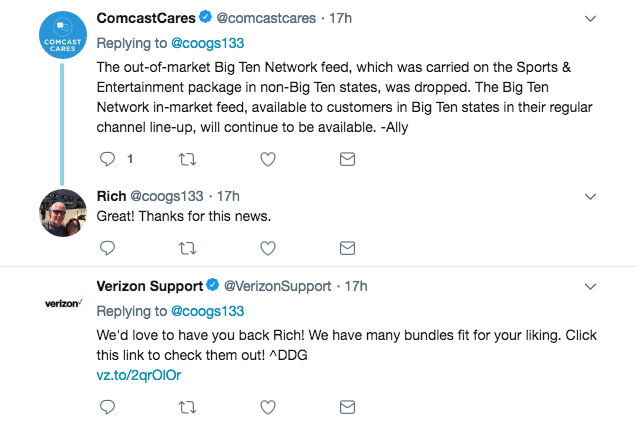 Why is Comcast dropping Big Ten Network?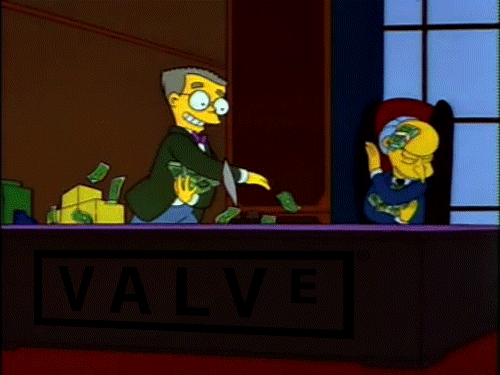 I cannot say for sure and I have no inside information (full disclosure: I'm employed by NBC Universal, which is owned by Comcast, but I have zero input or knowledge provided to me about such decision), but you can count on this all coming down to money, as most decisions tend to do.
BTN's out-of-market fee is ~0.45 per subscriber per month. Meaning this is still likely a multimillion $$ hit for the network depending on how this carriage battle is sorted out.

— Bryan Fischer (@BryanDFischer) April 12, 2018
Comcast pays the Big Ten to include the Big Ten Network on their platform, but it does not come at a cheap price for the cable giant. As noted by Bryan Fischer, the Big Ten charges $.45 per subscriber per month for out-of-market availability. This is a huge reason why the Big Ten Network has been such a financial asset in those annual conference revenue shares. That is about to take a big chunk of change out of the Big Ten's collective coffers, which should impact the revenue distributions for each Big Ten school.
But is there a chance Comcast could add BTN again for out-of-market consumption?
Absolutely, there is always a chance. But in order for that to be the case, the Big Ten Network is going to need overwhelming demand and pressure from consumers in the affected states to rally to pressure Comcast to bring BTN back to them. And that demand may not be is high in supply as the Big Ten will ultimately need in order to claim victory in this head-on battle of heavyweights.
If Comcast was dropping Big Ten Network from Pennsylvania and Michigan and Illinois and other Big Ten states, it would be a different story. But the demand outside of the Big Ten footprint may not be noticeable enough for Comcast to blink once in this stalemate.
I made a prediction that Big Ten Network will be added back for Xfinity customers in time for football season, but I don't think that should be considered a guarantee. The only way the Big Ten could manage to gain an edge in this battle is if it could manage to secure some of the biggest game sof the Big Ten football season for Big Ten Network, and that just is not going to be possible given the way games are split between media partners FOX and ESPN.
Aside from choosing a new provider for your sports and entertainment, which many are already saying they will do, your best move for now is to not panic. Unless you are dying to watch some of the Big Ten Network's spring and summer coverage, you don't need to make any rash decisions just yet. You have plenty of time before the fall to see if anything happens.
The Big Ten could get started with enhancing their BTN2Go service and make it available as a paid subscription service regardless of your cable provider, similar to ESPN's new digital platform, ESPN+. Keep your eyes out for any such possibility over the summer. If ever there was a time for the Big Ten to get that off the ground, now may be it.
What will you do?
Now that the news is out there, what will you do if you are currently a Comcast customer that will be impacted by the changes? Share your comments below.