By now you know the Celtics plan for defending Philly: single-cover Joel Embiid, stay home on the shooters, and contain Ben Simmons.
Coming into this series, most people thought there was no way the Celtics would be able to do all of those things. Generally speaking, though, most things have gone right for the Celtics defensively.
Part of this has been Ben Simmons' unwillingness to shoot. Part of it has been Joel Embiid's willingness to post up over and over again.
By way of comparison: Joel Embiid is averaging 8.2 post-ups per game (which is a WHOLE LOT) and 0.78 PPP on 37.5 percent shooting.

— Tom Westerholm (@Tom_NBA) May 7, 2018
EIGHT post ups a game… and I celebrate everyone of them because the Celtics are able to single guard him with either Aron Baynes…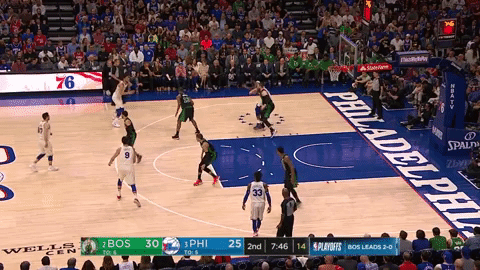 Or Al Horford…
Joel Embiid post-ups vs Boston, via @SecondSpectrum: 0.533 points per play when Embiid shots, or teammate one pass away does; 0.66 points per possession on all trips featuring an Embiid post-up. A lot of 3-0 lies there.

— Zach Lowe (@ZachLowe_NBA) May 6, 2018
Philly plays great when they're running. Simmons with a full head of steam can be terrifying.
This was off a Boston make, before the Celtics defense got set. Ojeleye had no chance and, maybe because it was so unexpected, the Celtics were too occupied with matchups to give help.
Philly trying to figure where to be on a post up while Embiid takes seven seconds to decide what he wants to do is not terrifying. The best they can do in that scenario is set picks for one another in case he decides to pass (he usually doesn't) or get Boston to miss someone crashing for an offensive rebound.
Philly isn't running a ton of pick and rolls to make the most of Simmons' passing ability. Even if Celtics defenders go under screens Simmons can at least get into the lane with defenders having to make decisions.
Instead, Embiid insists on getting the ball in the post and trying to take a defender 1-on-1, playing directly into a major facet of the Celtics defense.
Since there's no need to send help on Embiid, the Celtics are able to switch whatever screens are happening around him so shooters aren't getting any shots even though they seem to be working pretty hard. That's (a) tiring and (b) frustrating for them. This pays off not just in limiting their touches, it also rushes the shots they do get.
It also grinds the pace down to the Celtics speed. They want a slow, physical with the Sixers to cut down on those aggressive Simmons drives. They want half court basketball where people are banging and fouling. This is the only style of play that will work for Boston.
Embiid's conditioning is playing a role in this. He's just too tired sometimes to make quick moves off the post. If he just caught the ball, spun, and made quick shots then he'd be deadly. The fact that he holds the ball for so long, slowing the game's pace and forcing his teammates to work for nothing is the main reason he can be defended this way.
It might be too late to change for Philly. This is who they are right now. Maybe they try more pick and rolls and see if that helps but it's hard for a team to make such a departure from what they've been doing all this time. I don't think Embiid will accept something he swears should work.
Maybe it will for stretches, and maybe we want it to so he feels he can keep going to it. Maybe a little third quarter run through Embiid post moves is just enough to make him keep going to that well.
It won't work for a whole game, though. The Celtics know that… and they're going to keep inviting him on the block to prove it.