IN A NUTSHELL
Since Kyrie Irving is injured in both eyes, he's now officially Tiresias from Greek mythology, right? Like that's just something that happens; I think it's stipulated somewhere in the Collective Bargaining Agreement. (Not to mention he isn't injured in his third eye, but unfortunately he can't use that to help them on the court. Or can he…)
Moving right along: Terry Rozier started alongside the current usual starting suspects of Marcus Smart, Jayson Tatum, Marcus Morris and Al Horford. Midway through the second frame the Celtics had already brought the contest into blowout territory—60-42 in Boston's favor at the half—but a reinvigorated Minnesota squad came out on fire for the third frame and brought the margin to a mere six points behind the home team. But a monstrous 35-point bench performance from Gordon Hayward, looking at least for tonight in peak form, kept the Wolves at bay, and with plenty of help from Horford, Terry and strong work from the bench, he solidified the Celtics' 115-102 victory.
WHAT WENT RIGHT
Rozier took this opportunity as a starter to go full Scary, reaching double-digit points before the first frame was up. Many of his best moments came from serving a role not unlike Kyrie—ceding ball-handler duties to Smart so he could be ready to score at a moment's notice, indicative of the cooperative atmosphere that fueled the Celtics' overall strong performance. In many ways, despite the individual contribution I'm about to (and must) highlight, this was a team win, with notable input all up and down the roster.
So, what you've been waiting for: The whiteboy balled the hell OUT tonight. Maybe they finally remembered to include the John Tesh playlist in Gordon Hayward's headphones; I dunno. Jokes aside, he played outstanding offensive basketball, shooting 78 percent from the field and 57 percent from deep for 35 points, rounding that out with five assists. The defense isn't quite there yet—the effort is, just not quite the results he was once capable of. But if Hayward can be the 20-plus-points-per-game scorer he was not long ago, the Celtics are about to take a jump in the standings. If he becomes more of a 15-5-5 guy at an efficient clip, that's plenty valuable too.
Other notes:
Playing against Andrew Wiggins is extremely helpful when trying to score points in NBA basketball. Forgive the following tangent: While I consider Jimmy Butler an enormous asshole who equates "intensive competitive spirit" with "being a toxic, monomaniacal freak," last year's massive overpay of Wiggins motivating his rage and feeling of slight was always totally understandable to me. Wiggins may well be the NBA's worst value contract. (Butler said it wasn't about money to Rachel Nichols, and is a lying schmuck for doing so; anyone who believed him, I got nothin' for ya.)
Non-scoring stats arguably carried weight equivalent to Hayward's sharpshooting performance: Rozier's five steals were even more important than his 16 points, and while Smart just scored one field goal and attempted only two, he racked up eight assists, serving as the offense's engine rather than its pistons or spark plugs.
Horford's outstanding game (15-5-4 with two blocks, on 78 percent shooting) was a quietly deadly weapon, particularly his abilities as an auxiliary playmaker.
WHAT WENT WRONG
Playing against Andrew Wiggins when he's offensively humming is extremely not helpful, and his points were a big reason why things got close in the late third; Boston allowed him and Karl-Anthony Towns the bulk of their 31 and 28 points, respectively, during that ugly stretch.
Smart suffered an injured arm that didn't look good at all and sent him to the locker room, but it looked worse than it was and he returned to the parquet. His absence of the game, not surprisingly, coincided with numerous Celtics defensive lapses.
Jayson Tatum had what looked like a ho-hum game (8-3-4 with a block) but was also +22, so it clearly didn't hurt the team.
WHAT THE HELL
This year's tradition of Incredible Celtics Almost-Dunks continued with Uncle Al slaughtering an entire lane of Timberwolves defenders but then jamming the rock too hard so it flew out of bounds. CHRIST that would've been so goddamn cool. Its effort deserves to be honored: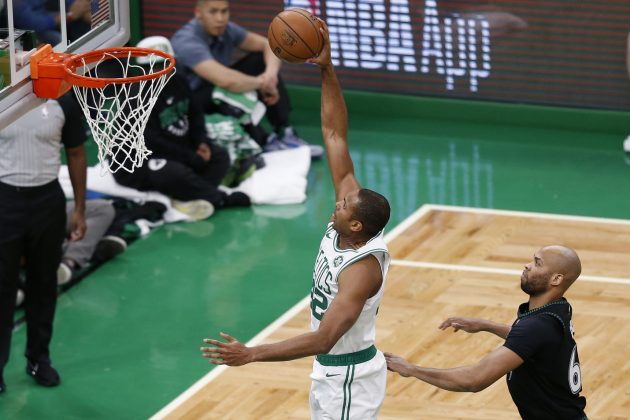 GREEN FIRE HIGHLIGHTS
Horford catching 'Sota asleep at the wheel to get Hayward the ball for an eaaaaazy layup:
Hayward gets the jam after Horford finds him cutting to the rim! https://t.co/rXuqqqg6QW

— Boston Celtics (@celtics) January 3, 2019
TERRY ATTAC, HE PROTECC:
Terry's making it happen on both ends 👍 https://t.co/XmeRfHO3r2

— Boston Celtics (@celtics) January 3, 2019
Approximate summary of the whiteboy sharpshooter's night:
Gordon Hayward can't miss! https://t.co/VNFsf3dbAE

— Boston Celtics (@celtics) January 3, 2019