There is a lot to talk about when it comes to Giancarlo Stanton, the New York Yankees' highest-profile new acquisition, between his swagger and the slump he had been in during the start of the season. And how about that wacky home run call John Sterling has for him? Or the way he played hardball with Derek Jeter when it came to the Marlins?
But there's something Stanton's doing off the field that particularly fascinates me, particularly given the theme of the Subway Squawkers blog — a Yankee fan and a Met fan arguing about their teams and each other. Stanton may have a $325 million contract that pays him $25 million for this season, but he still has a roommate this year in his New York apartment. What's more, as has been discussed in numerous press accounts, that roomie is longtime friend and Mets reliever AJ Ramos!
And, as Billy Witz reported in the New York Times this weekend, Stanton has been busy as of late ordering furniture and dealing with repairs and what-not with his new digs. Witz writes:
That meant that when Stanton was not at Yankee Stadium that week studying video, working on his swing in the batting cages and getting acclimated to his new surroundings, he was unpacking his belongings, working the phones to sort out furniture delivery and lighting upgrades, and making sure everything was all set for a visit from his father, uncle and aunt that week.

Stanton stayed some nights at a hotel.
First of all, I won't have a roommate now, haven't had one since freshman year of college, and I'm not exactly sleeping on a pile of money. I cherish the privacy and solitude that comes with living alone.
What's the point of making the sort of coin Stanton is if you have to share a refrigerator with somebody else like that? Does he have to share a bathroom, too? Do they argue over what to watch on TV that night? Who does the cooking? So many questions here!
So I can't understand Stanton having a roommate at all, let alone sharing living space with somebody who plays one of your team's big rivals. (Yes, I know that for most of its history, the Yankees-Mets rivalry has been more like the hammer and nail rivalry,  but work with me here!)
Not to mention that, according to the article I posted above, Stanton apparently had off-the-field distractions related to stuff he had to do regarding moving into the new place. Huh? Isn't that what flunkies are for? If I had the money, I'd hire people to do everything for me — buy my groceries, assemble my Ikea furniture, blah blah blah. Even now, I leaned on Squawker Jon to put my Ikea stuff together because it was such a hassle. (And I won't even call you a flunky, Jon!)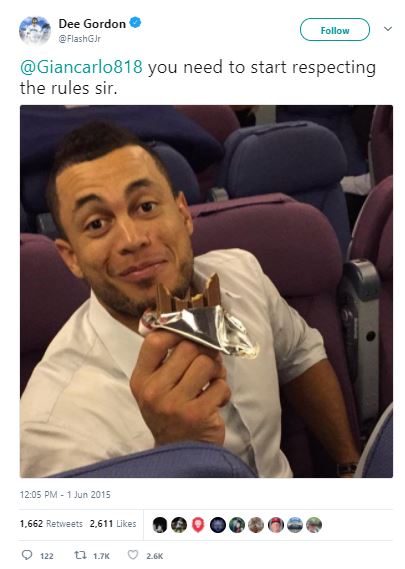 Yes, I know that the Yankees are often on the road when the Mets are at home, and vice versa, but I still think this Odd Couple partnership is wacky, even if the two are great friends. Maybe even wackier than the way Stanton eats Kit Kat bars!
Yes, Manhattan real estate is expensive, but having a roommate is just unimaginable to me.
Message to the slugger formerly known as Mike Stantion: Now that you are home again with the Yankees, let Ramos deal with getting things in order. Or pay somebody else to do it. We need you to focus on hitting, not getting the lights turned on!