When San Francisco Giants Chief Executive Officer Larry Baer announced on September 24th that the team's General Manager Bobby Evans had been removed from his executive position it was significant news.

In the Peter Magowan/Larry Baer era, the Giants rarely dump top management personnel, no matter how badly they perform. The spin from the owner's box at AT&T Park over the past twenty years has always been about company loyalty and valuing personnel consistency.
But this MLB franchise is micro-managed by one man– Larry Baer. And in attempting to run everything, Baer knows he also becomes inherently responsible for everything.
Which means that either keeping or firing poor performing GMs or field managers looks bad for Larry Baer, because he's the guy who hires them all in the first place.
After four terrible years of baseball under GM Bobby Evans and Executive Vice President of Baseball Operations Brian Sabean, during which the San Francisco Giants have gone 308-340 (.475), even Larry Baer has to skip his usual media fluffery strategy and face the walk-up music.
The fact that the past two seasons have trended downhill even faster (137-187, .423) forces the Giants, who normally manipulate the local media rather than problem-solve, to finally make a significant change.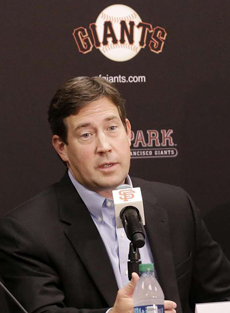 But the question remains: how much of the Bobby Evans removal is just the usual window-dressing, only at a higher level?
There are initial signs that this is merely another Larry Baer-produced dog-and-pony show, set up to distract the Giants' pliant fanbase from the current nightmare.
Which will no doubt be obediently promoted as the real thing by the San Francisco Chronicle's sports writers.
First, Bobby Evans wasn't "fired"; instead he will be reassigned to work in a different wing of the franchise. Perhaps we'll finally get a redesign of the stadium ticket-takers' uniforms.
Second, VP Brian Sabean is assisting Baer in the search for a new President of Baseball Operations to fix and oversee the failing product on the field.
But the first thing Sabean put out to Chron sportswriter Henry Schulman in an October 1st interview was hardly reassuring.
Sabean stated that Larry Baer will be looking to hire a great baseball mind. When asked how he would define "a great baseball mind," Sabean said, "I don't know that Larry can find it in one person, but if you're asking me, it would be a combination of my skill set and maybe Bobby Evans' skill set, somebody who's strong on both sides of the house."
Yikes. Cue the cliched pop culture reference: The Who's "Meet the new boss, same as the old boss" refrain.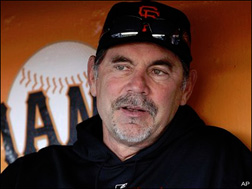 The real issue here, of course, is the Giants' historic resistance to sabermetrics and advanced analytics.
Add to that Manager Bruce Bochy, who may say the right things, but probably looks at the revolution in baseball analytics as either a passing fad or a threat to old school baseball.
And, of course, the ongoing tectonic shift in information and the application of new information in Major League Baseball is neither a fad or a threat. The sole purpose is to use the explosion of knowledge as a way to win more baseball games.
But can anyone see Bochy getting his line-ups handed to him by the team's new analytics department at the start of each series in 2019? Me either.
Another bad sign popped up on October 4th when Ken Rosenthal of The Athletic reported that the brilliant Ben Cherington (former World Series Boston Red Sox GM now with the Blue Jays) said he would not be interviewing for the Giants baseball ops job.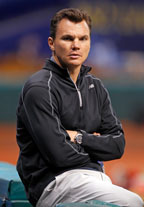 Cherington has made it clear he does not want to join an organizational situation where he wouldn't have a free hand rebuilding from the bottom up. In other words, exactly what the San Francisco Giants need—from the minor leagues to the 25-man roster.
The coming off-season will be a blur of front office turnovers around baseball. Among the many teams already looking for managers and/or general managers are: the LA Angels, Baltimore Orioles, Minnesota Twins, Texas Rangers, Toronto Blue Jays, New York Mets, and San Francisco Giants. So far.
This looks like a seller's market, which means the best baseball ops/general manager candidates will likely get scooped up quickly.
And it could be that CEO Larry Baer actually doesn't want one of the "top" candidates. He may prefer to grab an eager up-and-coming mid-level executive from another organization who would come with a lot less demands and a lot more flexibility.
Which is another negative indication of the Giants' process. Larry Baer is a brilliant marketing and business czar who has remade the Giants franchise into one of the wealthiest professional sports teams in the nation.
But is Baer really willing to turn the keys to AT&T Park over to an equally brilliant, cutting edge baseball executive?
Also put out to the media by Larry Baer and Brian Sabean is the "Madison Bumgarner question".
Apparently any candidate for the Giants baseball ops position will have to swear on a stack of garlic fries that he or she will not trade Mr. MadBum for a slew of promising young prospects.
Another thing that absolutely needs to happen to move this organization forward.
Forget no rebuild, partial rebuild, or complete rebuild. Fans get distracted by these limited descriptions of how a team's dynamic can be changed and redirected.
There are many paths to MLB nirvana, as illustrated by the very different, but successful, tracks taken by the Houston Astros, the New York Yankees, and the Oakland A's.
For the San Francisco Giants, what is required to alter the franchise's arch of mediocrity is the will and follow-through to replace its backward-looking culture.