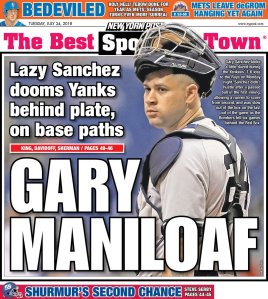 Sorry I haven't Squawked in ages. Between training for the Flying Pig Marathon 4-Way Challenge with Extra Cheese (a 1-miler, 5K, 10K, and marathon in one weekend) and doing two Olympic-distance triathlons this month (the NYC Triathlon and the New Jersey State Triathlon), I've been a little busy. Not to mention dealing with the aftermath of my mother passing away in December.
But now that I *only* have a marathon to train for (actually, it's two — the Maine Marathon at the end of September and the NYC Marathon in November, but I'm concentrating on the first one now), I have a little more time to watch Yankee games and Squawk about them.
I was all set to talk about Sunday's Subway Series game, but Mother Nature had other plans.
All of this is a long-winded way of getting to Monday night's Yankee loss to Tampa Bay. I was appalled as YES broadcasters Bob Lorenz and Jack Curry were in the Yankee post-game about catcher Gary Sanchez's lack of hustle after a passed ball and lack of hustle on the basepaths in the ninth inning. It's simply inexcusable. And let's not forget Sanchez and pitcher Luis Severino arguing in the dugout last night, too,
Sanchez's lackadaisical, lollygagging way of playing has been an issue for a while now. The way Joe Girardi handled him reportedly was one of the reasons he got fired. But at least last year, when Sanchez was batting .278/.345/.531 with 33 homers and 90 RBI, he was earning his spot on the team, despite not exactly being the second coming of Thurman Munson behind the plate. This year, not so much, with his .188 batting average!
What's the saying about booing your own players — that the only thing you should boo is not poor performance, but lack of effort? Well, can anybody defend Sanchez's effort these days? No wonder the New York Post is calling him Gary Maniloaf!
Squawker Jon will accuse me of navel-gazing for this, but here goes. To tie in what I referenced at the beginning of this Squawk, I have run over 225 road races over the last 5+ years in my fitness journey, but I am still pretty slow. I finally got below 35 minutes for a 5K recently, which should tell you something about my lack of speed. But as slow as I am, I am persistent and diligent at doing my best, even though my best is nothing special. I also never take for granted that I have my health and the ability to do these races in the first place.
To see Sanchez, who has so much talent, take his place as the starting catcher for the New York Yankees for granted enrages me. And this is after he was on the DL! You would think being injured and on the sidelines for nearly a month would make him more grateful to be back.
Yes, he mouthed the right words when talking to the media after the postgame, but will anything change?
Monday night seemed to bring the Kraken problem to a head. So what should the Yankees do now with Sanchez? Bench him? Send him to the minors?
If it were up to me, I would do the latter, if only to remind Sanchez what life is like when you're not in the big leagues. He shouldn't feel untouchable right now. Nobody is irreplaceable, after all.