Blitzburgh Blog: Last year both the Steelers and Titans had Super Bowl hopes and ended up not even making the playoffs. What were the expectations heading in to the 2010 season for the Titans? How are the fans feeling at this point?
Titans Tracker:
Heading into this year, I think the majority of Titan fans were taking a classic "wait and see approach" to the 2010 campaign. Sure, the team provided some positive momentum as a result of the 8-2 finish to 2009. However, with question marks surrounding Vince Young's ability to play at a high level over the course of a 16 game season and on the defensive side of the football due to losing some key veterans, the jury was still out on what this year's rendition of the Titans could accomplish.
Of course, last week's performance against Oakland certainly has everyone stoked, but we'll become more convinced if the Titans can get it done against a more formidable opponent such as the Steelers.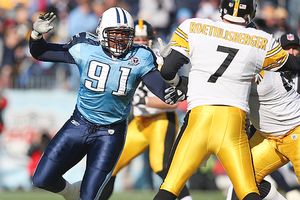 BB: Does Jason Jones only show up to play against the Steelers? He's been a big factor in the last two meetings between the teams and has half his career sacks against Pittsburgh. I don't get to watch many Titans games so what is it about Jones that makes him so dominant against the Steelers.
Titans Tracker:
Jones is an exciting player who has the potential to be a Pro-Bowl caliber player for years to come. Of course, the biggest obstacle in his development has been his inability to avoid the injury bug.
Against the Steelers, he often took advantage of a match-up against former Titan (and now former Steeler) Justin Hartwig. It's going to be interesting to see how he fares against your talented rookie center, Maurkice Pouncey.
BB: Do Titans fans view the Steelers as a rival opponent? I'd say a lot of Steelers fans look at Tennessee as possibly the biggest non-AFC North rival. A few incidents in the 2008 game at Nashville has helped to reignite the old AFC Central rivalry, I think.
Titans Tracker:
Even though it's been years since the old AFC Central was disbanded, there's still a lot of history between these two teams that hasn't been forgotten. Of course, the "Towel Incident" certainly served as a means or re-igniting the rivalry and it's unfortunate that the teams didn't get the opportunity to face-off for all the marbles in the AFC Title game that season.
Outside of the Baltimore Ravens (another former AFC Central nemesis), the Steelers are most likely the Titans' biggest non-AFC South rival and considering their storied history of battling each other stemming back to the days when the Titan franchise was known as the Oilers, that's the way it should be.
BB: What do you expect the Titans offensive game plan will be on Sunday? We all know how good Chris Johnson is but will Tennessee have to change up their attack against arguably the NFL's best run defense? Will more pressure fall on VY's shoulders?
Titans Tracker:
I expect the Titans to focus on getting Johnson the ball with the opportunity to make plays in space. As for Vince Young, his goal will be to manage the game by making smart decisions and when presented with the opportunity, using his legs to be successful.
I'd also like to see Young test the Steelers cornerbacks by taking a deep shot or two in the direction of speedy current Titan/ex-Steeler Nate Washington courtesy of some play-action passes.
BB: Give us one unexpected player from Tennessee who you think will play a big role in Sunday's game. And Jason Jones doesn't count because I'm expecting him to register at least 2 sacks.
Titans Tracker:
I mentioned him earlier: former Steeler Nate Washington. As you know, he's a bit inconsistent catching the football but he has the speed to get open: it's just a matter of whether or not he'll be able avoid his reoccurring case of the dropsies.
Coming off a solid performance against the Raiders, I think Nate will continue to play with confidence and make a big play or two against his former team this weekend.
BB: If you could take any three Steelers and add them to the Titans roster, who would you pick and why?
Troy Polamalu– He's a menacing presence who has an innate knack of being around the football virtually at all times. He plays the game with reckless abandon and to be honest, I have nothing but respect for what he brings to the table.
Hines Ward– The kind of guy you'd love to have on your team but would hate to face due to the intensity that he brings every Sunday. He's a lunch-pail player; someone who is going to make plays with his catching ability while also doing whatever it takes to succeed, even if it means de-cleating an opposing defender on a big running play.
Mike Wallace– A young, emerging playmaker with the speed to be a difference-maker in this league.