Minnesota Wild (17-16-3)  36pts  5th in the Central
2.92 Goals For Per Game (17th in the NHL)
2.86 Goals Against Per Game (13th in the NHL)
22.5% Power Play (10th in the NHL)
85.3% Penalty Kill (2nd in the NHL)
Top 5 Scorers:
1. #64 Mikael Granlund ~ 11G 25A = 36pts
2. #11 Zach Parise ~ 16G 14A = 30pts
3. #20 Ryan Suter ~ 4G 23A = 27pts
4. #12 Eric Staal ~ 13G 12A = 25pts
5. #9 Mikko Koivu ~ 4G 17A = 21pts
Top 3 PIM's:
1. #17 Marcus Foligno ~ 23PIMs
2. #36 Nick Seeler ~ 22PIMs
3. #21 Eric Fehr ~ 22PIMs
Top Goaltenders:
1. #40 Devan Dubnyk ~ (12-13-3)   2.66GAA   .911SV%
2. #32 Alex Stalock ~ (5-3-0)   2.60GAA   .903SV%
Vs.
Winnipeg Jets (24-11-2)  50pts  1st in the Central
3.46 Goals For Per Game (4th in the NHL)
2.81 Goals Against Per Game (9th in the NHL)
28.2% Power Play (3rd in the NHL)
82.1% Penalty Kill (10th in the NHL)
Top 5 Scorers:
1. #55 Mark Scheifele ~ 22G 27A = 49pts
2. #26 Blake Wheeler ~ 5G 43A = 48pts
3. #29 Patrik Laine ~ 23G 7A = 30pts
4. #81 Kyle Connor ~ 13G 15A = 28pts
5. #33 Dustin Byfuglien ~ 4G 24A = 28pts
Top 3 PIM's:
1. #33 Dustin Byfuglien ~ 52PIMs
2. #57 Tyler Myers ~ 39PIMs
3. #7 Ben Chiarot ~ 36PIMs
Top Goaltenders:
1. #37 Connor Hellebuyck ~ (16-10-1)   2.91GAA   .909SV%
2. #30 Laurent Brossoit ~ (8-1-1)   2.11GAA   .939SV%   1SO
Lines:
Winnipeg Jets
Ehlers~Scheifele~Wheeler
Connor~Little~Laine
Perreault~Lowry~Tanev
Copp~Petan~Appleton
Morrissey~Trouba
Chiarot~Byfuglien
Kulikov~Myers
Hellebuyck
Brossoit
Minnesota Wild
Zucker~Staal~Granlund
Parise~Koivu~Niederreiter
Greenway~Coyle~Kunin
Foligno~Fehr~Brown
Suter~Spurgeon
Brodin~Pateryn
Seeler~Prosser
Dubnyk
Stalock
As soon as I heard Devan Dubnyk was the starter for Minnesota's game against Chicago I had a feeling the team was in for a rough night.  In what has been a developing trend for the Wild, the team dominated Chicago as they peppered Connor Delia with shots but despite all the opportunities they had nothing to show for it.  Chicago gets its first shot on goal and it ends up in the back of the net.  The Wild do tie the game up late in the period, but it would all fall apart early in the 2nd as Dubnyk gave up two quick goals and was pulled in favor of Alex Stalock as Minnesota fell 5-2 to last-place Chicago.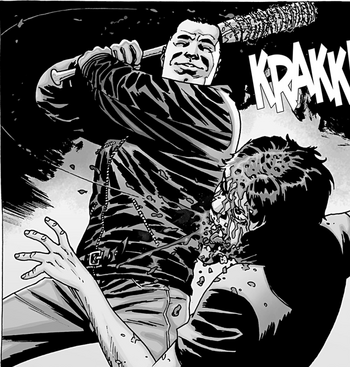 It was like watching the start of season #7 of the Walking Dead where Rick Grimes and his group are surrounded by Negan and the Saviors.  You knew one or more of the characters were going to meet their end, likely in brutal fashion.  And for Abraham and Glenn that happened.  That was the sense of dread I had watching Minnesota against Chicago.  While it may appear to be unfair to place the responsibility on Dubnyk, I just had a feeling the team's confidence could be shattered as they'd recognize that all too familiar pattern of failure once he gave up a goal.
So with that Walking Dead reference sitting there, the big question is whether the Wild use this latest defeat as a rallying point for a comeback.  Does this team have the resilience and the 'want to' in order to do what it takes to stem the free fall?  I am sure Wild Head Coach Bruce Boudreau is wondering when this team is going to recover because in his previous two seasons as head coach of Minnesota this team hasn't really suffered this kind of swoon.
The inability of this team to convert its offensive chances is reaching panic-level proportions as Mikko Koivu, Jason Zucker, Charlie Coyle, Nino Niederreiter, and Mikael Granlund seem to miss on open nets, ring shots off posts or just whiff and miss the puck altogether with alarming frequency.  To put it another way, its $25.2 million (32.4% of the team's invested salary) worth of your roster that has forgotten how to score goals.  Ouch.
I could toss in a few defenseman like Ryan Suter and Jared Spurgeon who haven't lit the lamp in a while too, but that's just piling on.  As it is, the defense is having some problems of its own as it tries to adjust to life without Matthew Dumba.  Ryan Suter looks a step slower and Jared Spurgeon looked small and weak as the Chicago defense outworked the Wild on Thursday night.  Greg Pateryn has done a reasonable job trying to fill in the void, but he's not a Top 4 calibre defenseman.  Will this prompt a call up from Iowa?  Possibly.  Brennan Mennel (no goals, 16 points), Louie Belpedio (3 goals, 10 points) and Ryan Murphy (3 goals, 13 points) are all right-shot defenseman but none of them are likely going to replace the offensive boost Dumba gives.
Between the pipes, will Boudreau finally end this painful therapy of Devan Dubnyk working out his struggles by continuing to start him over and over again?  Stalock did have a bad gaffe towards the end of the game, but there was no denying how the team did play harder once he entered the game.  Perhaps the team will give Stalock the goal support it wasn't able to give Dubnyk?  Dubnyk stated he was surprised he got pulled from the Chicago game which sounds a bit entitled if you ask me and perhaps that's part of the problem.  In a dramatic turnaround from a few post-game comments in Chicago that sounded like criticism of his starting goaltender, he announced Dubnyk is going to get the start with the 'bullet proof' logic by saying, "just because he has one bad game, doesn't mean he'll have another the next night."  So with backhanded criticism and veiled support I'm not even sure what to say.
The Jets are coming off a tough loss of their own after getting blitzed by the Flames 4-1 on Thursday.  In the game the Flames' Noah Hanifin kneed the Jets' top goaltender, Connor Hellebuyck in the head.  The Flames are still comfortably in 1st place in the Central but no doubt they will probably be a bit ornery for this mid-afternoon match up against the Wild.
The Jets have a ton of weapons, most notably sniping winger Patrik Laine and jack of all trades Mark Scheifele and stellar set up man Blake Wheeler.  This combination is particularly dangerous on the power play and the Wild would be well served in staying out of the box.  Oh and did I mention Kyle Connor and Nikolaj Ehlers too?  This team has that rare combination of size, speed and skill and is fairly youthful club in comparison to the old-ish Minnesota Wild.
On the back end, Josh Morrissey, Jacob Trouba and Wild nemesis Dustin Byfuglien lead the way.  The Wild must make a concerted effort to work their way in close which is difficult against such a big, physical blueline like the Jets have.  The only way that will happen if they move their feet and be willing to pay the physical price to do so, half measures will only to prolong the scoring drought that is currently plaguing the team.  I would imagine Hellebuyck gets an opportunity to redeem himself, but who knows.  Perhaps after seeing how nice the Wild were to Connor Delia in Chicago, maybe they'll give Laurent Brossoit a start.
What are the keys for a Wild victory?
1. Stay out of the Box – The Wild must do what they can to avoid taking penalties against the Jets.  Winnipeg is a fast club, so Minnesota must be prepared to move its feet.  We already mentioned the Jets impressive array of scoring talent and the Wild's best shot is to keep the game at even strength as much as possible.
2. Crash the Net – The Wild settled for shots from the perimeter far too often against Chicago.  Minnesota must not only crash the net frequently, but with a mentality that they will not be denied.  The Wild must try to generate traffic in front of Hellebuyck / Brossoit and make it difficult for him to get a clear view of the puck.  I would consider using Jordan Greenway or even Marcus Foligno as a screen on the power play.  Both of these players have almost as many goals as Coyle or Niederreiter so is it really that much of a difference?
3. Be ready to play – At times the Wild look like a team that's still just getting off the plane, especially in a game that is starting earlier than its normal game time.  A team that is still looking around for a sign that the game has started.  Minnesota must come out with a purpose right from the drop of the puck.  If the Wild can get an early lead and hold on and take away the crowd, the chances of their success goes up considerably.  If they start slow or sluggish and let the Jets build up momentum, get ready for another ugly loss folks.
What do you think are the keys to victory for the Minnesota Wild in this game?  Share your thoughts with us on Twitter @CreaseandAssist or in the comment section below!