The Pelican's Eye View is featuring a player a day on  the Pelican Player Profile. This series is introducing Pelicans or general basketball fans to the teams 2017 players & staff overall.
The Pelican Player Profile discusses player history, stats & current projections for the upcoming season while granting a familiarity with the pro. 
Here's tonight's PPP: Omer Asik AKA "Turkish Hammer" (#3) Height: 7-0 Weight: 255 lbs.
Omer Asik (31) is a 7 year pro center from Turkey who was drafted in the 2nd round by Portland (2008). Asik was then traded to Chicago as part of a 3 team deal according to Spotrac:
Traded to Chicago (CHI) from Portland (POR) as part of a 3-team trade; the Chicago Bulls traded Sonny Weems to the Denver Nuggets; the Chicago Bulls traded a 2009 2nd round draft pick and a 2010 2nd round draft pick to the Portland Trail Blazers; and the Denver Nuggets traded a 2009 2nd round draft pick to the Portland Trail Blazers.
Asik played two years with the Chicago Bulls averaging 2.9 ppg 4.4 reb & 13.2 mpg in 148 games. In the summer of 2012 free agency Asik got his pay day inking a 3 year deal with the Houston Rockets for $25 million. The Turkish Hammer had his best year to date averaging 10.1 ppg 11.7 reb in 82 games for the Rockets during the 2012-13 season.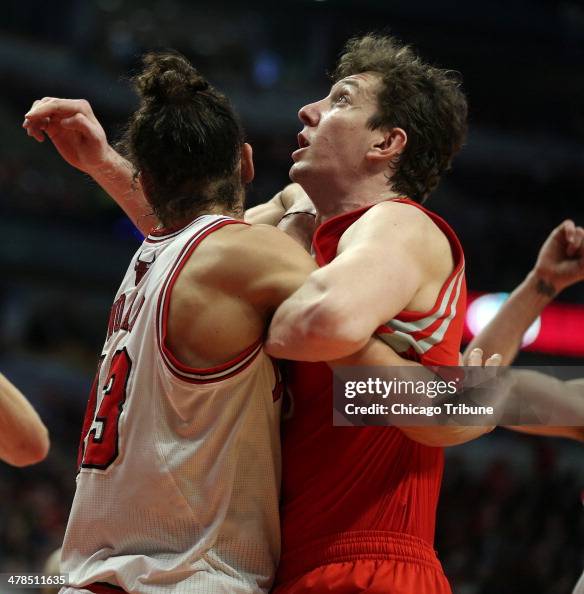 The following season with Houston was a lot less successful as former All-Star Dwight Howard came aboard. Asik's number dropped as he averaged 5.8 ppg 7.9 reb in 48 games starting 19 of those contests. Omer requested to be trade as he dealt with injury & decreasing minutes.
The Houston Rockets agreed to a trade with the New Orleans Pelicans: traded to New Orleans (NOP) from Houston (HOU) as part of a 3-team trade: New Orleans (NOP) traded Melvin Ely to Washington (WAS); Houston (HOU) traded Omri Casspi and $1.5 million to New Orleans (NOP); New Orleans (NOP) traded Trevor Ariza, Alonzo Gee, 2015 1st round pick and Scotty Hopson to Houston (HOU)
After the trade Asik averaged 2nd best season of his career with 7.3 ppg 9.8 reb & 26 mpg in 76 games (all starts). The following season Omer Asik signs a 5 year deal worth $58 million to remain with the Pells. In three season with The Pelicans Asik's averaged 5.2 ppg 7.6 reb & 20.8 mpg in 175 games starting 159 of them.
Asik's outlook is that he is currently 3rd on the depth chart at center buried by DeMarcus Cousins & Alexis Ajinca who are more productive players. He's taken a lot of criticism from fans & writers alike because of his inconsistent play. The Pelicans have 3 years left on his deal averaging $10 million plus a year.
The reality is that Omer Asik is owed over $30 million over the next three seasons & his production isn't even close to justify that kind of money. He has to re-establish himself, stay healthy & elevate his game to new levels if possible.
We'll keep an eye on the situation but we know if the Pells could trade him they would.
[protected-iframe id="b826404e54a862980a81f83cfeec0116-114320562-124441381″ info="https://www.podbean.com/media/player/gg48r-6eb85a?from=site&vjs=1&skin=1&fonts=Helvetica&auto=0&download=0″ width="100%" height="315″ frameborder="0″ scrolling="no"]