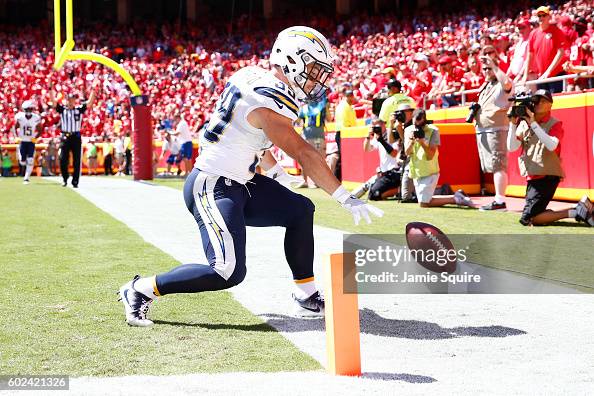 Notwithstanding the 27 missed starts, Danny Woodhead's tenure in San Diego was a prime example of the kind of impact a truly great third-down-back can have, given the opportunity. Woodhead's unique skillset make him ideally suited to the role, and he's been as effective as any at creating mismatches as a receiver out of the backfield. That is, of course, when he's been healthy enough to play. Durability issues will probably prevent Danny Woodhead from being counted among the best third-down specialists.  For at least two seasons, though, Woodhead carved out a niche as an indispensable safety-valve on offense for the Chargers.
In 2013, Rivers leaned on Woodhead for 76 catches, 6 touchdowns and over a 1000-yards from scrimmage. Not since Darren Sproles left town had fans in San Diego seen the likes of Woodhead. In fact, you have to go all the way back to 90's-era, fan favorite, Ronnie Harmon, to find similar production value. After injuries sidelined him for most of the 2014 season, Woodhead bounced back in 2015 with yet another 1000+ yards from scrimmage, solidifying his reputation as nearly unstoppable on third-down. But after appearing in only two games in 2016 the Chargers elected not to resign the oft-injured, specialist now on the wrong side of thirty. Statistically, no one was better in that role than legendary former Cardinal, Larry Centers. If Centers' long, productive career is the benchmark, Woodhead has spent too much time on IR to compete. But for at least two seasons in San Diego, Woodhead was just as productive, not to mention fun to watch.
He's simply too much for the average NFL linebacker to cover. Great hands, vision, speed and football IQ give him an unfair advantage, especially when playing out in space. Singling Woodhead up on a 240lb linebacker just isn't fair, hence the term "mismatch." Making Woodhead's game even more effective is the fact that he was not just a receiver masquerading as a running back. Woodhead was a legitimate threat as a ball carrier, helpful in keeping defenses honest.
So how do the Chargers replace a player of this caliber and production value? Maybe they don't need to. If you read between the lines of Coach Lynn's recent comments on the subject you might be inclined to think the team was intentionally moving away from using a third-down specialist altogether.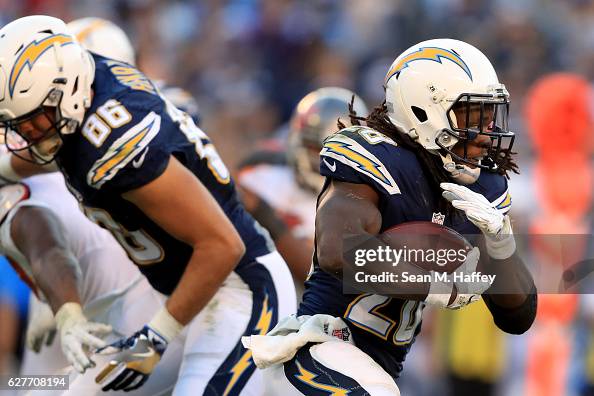 This great piece by Chargerwire's, Austin Gayle, sums it up pretty good. Despite being advertised as favoring a "running back by committee" approach coming in, Coach Lynn suggested Gordon could handle the load.
 "When you have a Danny Woodhead, you find a way to try to use those guys, but Melvin could have done a lot of that himself." Responded Lynn when asked directly about the plan to replace Woodhead's production.
In the event that no one else's unique talents warrant 'finding a way to use' them, it appears that Lynn is comfortable leaning on Gordon. Of those on the roster, hold-over UDFA Brandon Oliver, along with recent veteran acquisition, Kenjon Barner will get a good look.  UDFA, Austin Ekeler, brought in earlier this year, certainly fits the prototype and will also be given every chance to succeed.
If Gordon is indeed ready to take on the every-down-back role, there are inherent advantages in terms of the game day chess match. From the standpoint that substituting different personnel groups on offense can be limiting in terms of your ability to prevent defensive substitutions. As well, frequent substitutions can unintentionally telegraph what you want to do on offense and keeping Gordon in on third-down could make the offense less predictable. Finally, Gordon is a far bigger threat as a runner than your average third-down specialist. Though it remains to be seen, it seems the front-runner for replacing Woodhead's production in 2017 might just be 'more cowbell.'