Opening night of the 2018-19 NBA regular season is rapidly approaching and the start of the season unofficially begins with each team's media day. Hoop District was on the scene at the new Entertainment & Sports Arena, which will serve as the Washington Wizards' practice facility, to cover it all from press conferences to photograph shenanigans. Here are all of the nuggets you need to know:
https://twitter.com/HoopDistrictDC/status/1044372912592039936
Scott Brooks
The coach wants his small forward to be more aggressive: "I know you guys aren't trying to do me any favors here, but if you guys could do me one favor: Just yell at him [Otto Porter] every time he doesn't shoot the ball. Just scream at him. Ask him questions about that every time: 'Otto, why don't you shoot?' He needs to shoot the ball. He passes up three or four shots a game. He passes up 3s. I tell him, he is green. I can't make it any greener for him. It's green. Shoot. Shot the ball every time you get an open shot. Do not hesitate."
With all of the talent (and egos) in the locker room, Brooks knows some will need to make concessions for the team to be successful: "One you got to have to have everyone committed to sacrifice and if they're not committed to sacrificing, they're gonna complain about minutes, complain about shots, we're not going to have success. We're going to have to figure out how to change that, but right now everyone's committed to playing together and playing for one another and sacrificing."
Despite LeBron James vacating the East, Brooks wants his team's play to do the talking: "The thing that I'm going to make sure that we focus on is just focus on us and playing, stop talking. Enough talk. The players, the team that talk are the ones that usually don't have success."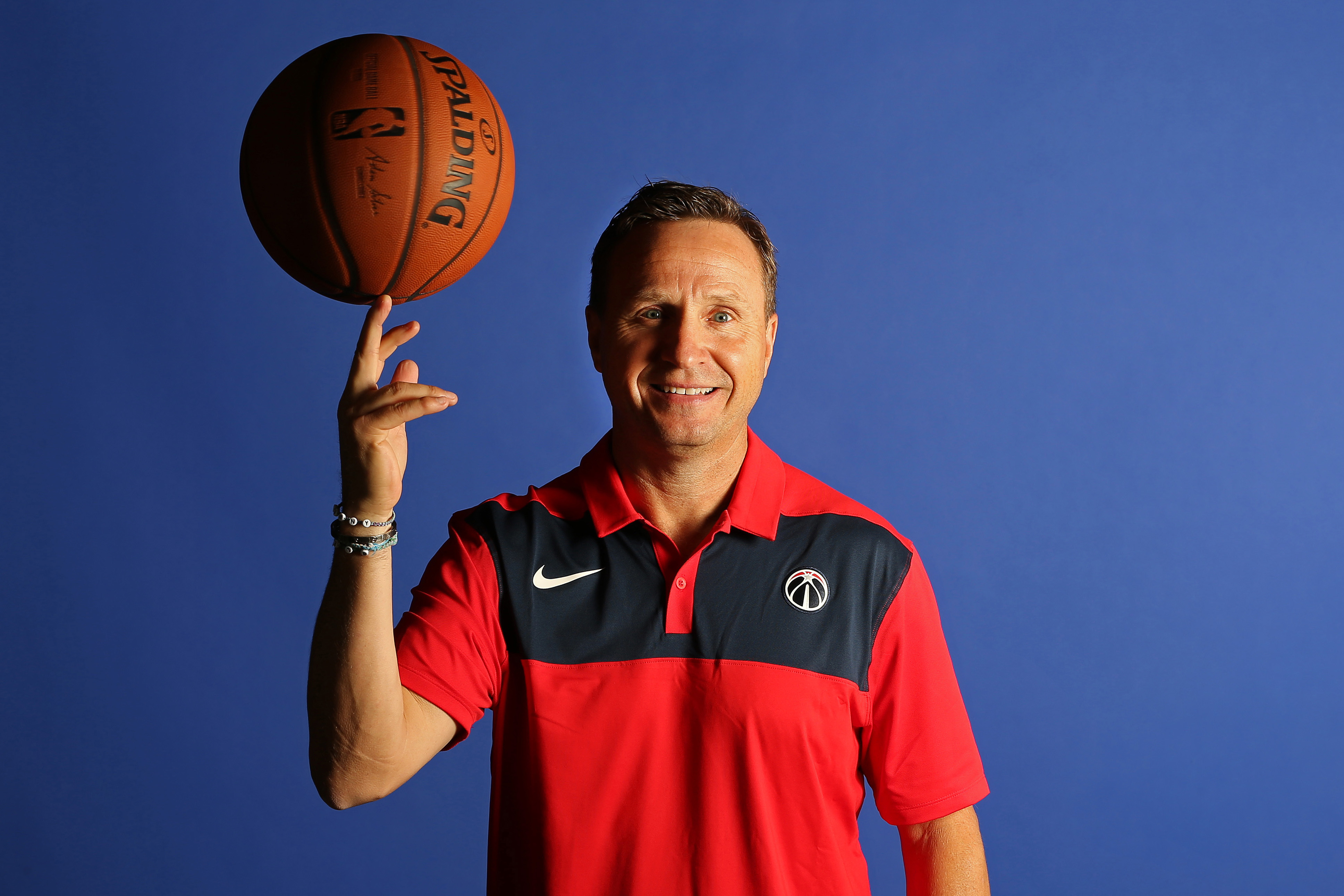 John Wall
The talent is there, but Wall is pumping the breaks on any boasting: "We just got to get everybody on the same page, we have a great bench. We have a lot of depth now. We just got to go out there and play. On paper we look great, but that doesn't mean anything until you go out there and prove it on the court."
On the ESPN player ranking that listed Wall at No. 32: "It's just funny. If there is 31 players better than me in the league, prove it. That's all I got to say."
Wall got a good kick out of the USA minicamp picture of him, but at the end of the day, "I worked hard this summer, I prepared myself to come back and have a great season. If I'm injury free, I know what type of player I am, what type of person I am so everybody just got to sit back and watch."
The point guard has a different method of making sure everyone is on the same page: "I think the most important thing is you try to get everybody the ball early on, get them into a rhythm."
Although he was an honorary captain at the Redskins game in their win over the Packers, Wall is a Cowboys fan (largely because his mom is and he's a self-admitted mama's boy), but still will "Rep the District" when he can.
https://twitter.com/HoopDistrictDC/status/1044268562267992064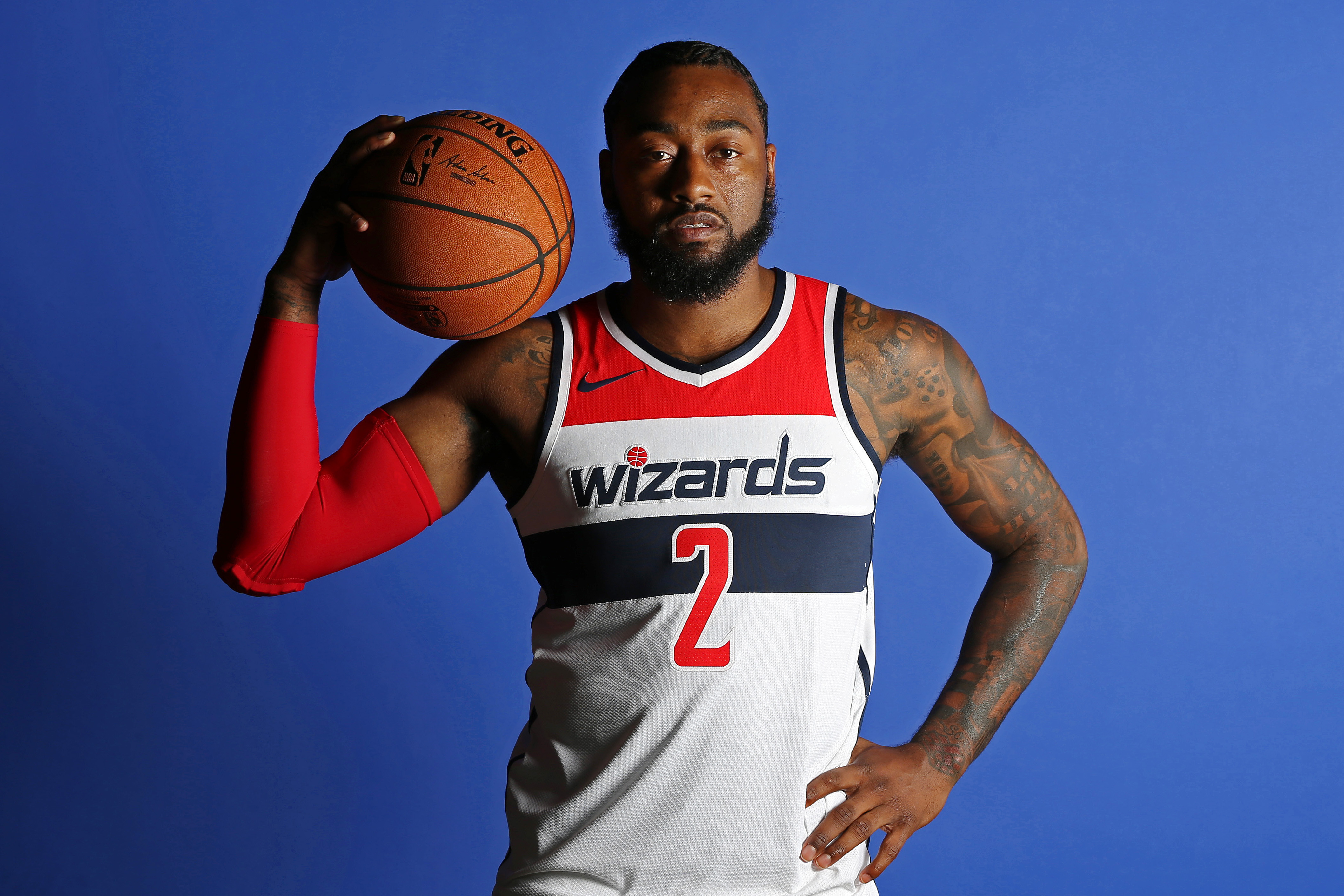 Bradley Beal
Beal spent part of his summer studying Dwight Howard's game to learn his tendencies and where he likes the ball: "Watching him, if you don't hit him, it's over. He's going to dunk on you. I love it because I just think that's going to get my hype to have a big that is just going to flush it on you every time."
When asked about the importance of voting, Beal reiterated his thoughts on the current state of politics: "We're still dealing with kneeling during the national anthem and it's like 'why? Why don't we still get the point of that?'"
The All-Star shooting guard seemed to think there was a chance that the Wizards would break up the core talent of the team: "We still managed to keep us together. I love that Ted, he didn't give up on us. We continue to come in every year and we continue to talk and dig ourselves holes night in and night out sometimes. But I'm always going to be optimistic and every media day is optimism. On paper, we look great. I will just say that. If you look at us on paper, we look absolutely amazing. But you have to put it together, put the system together and get the chemistry down for the new guys and work out all of the kinds."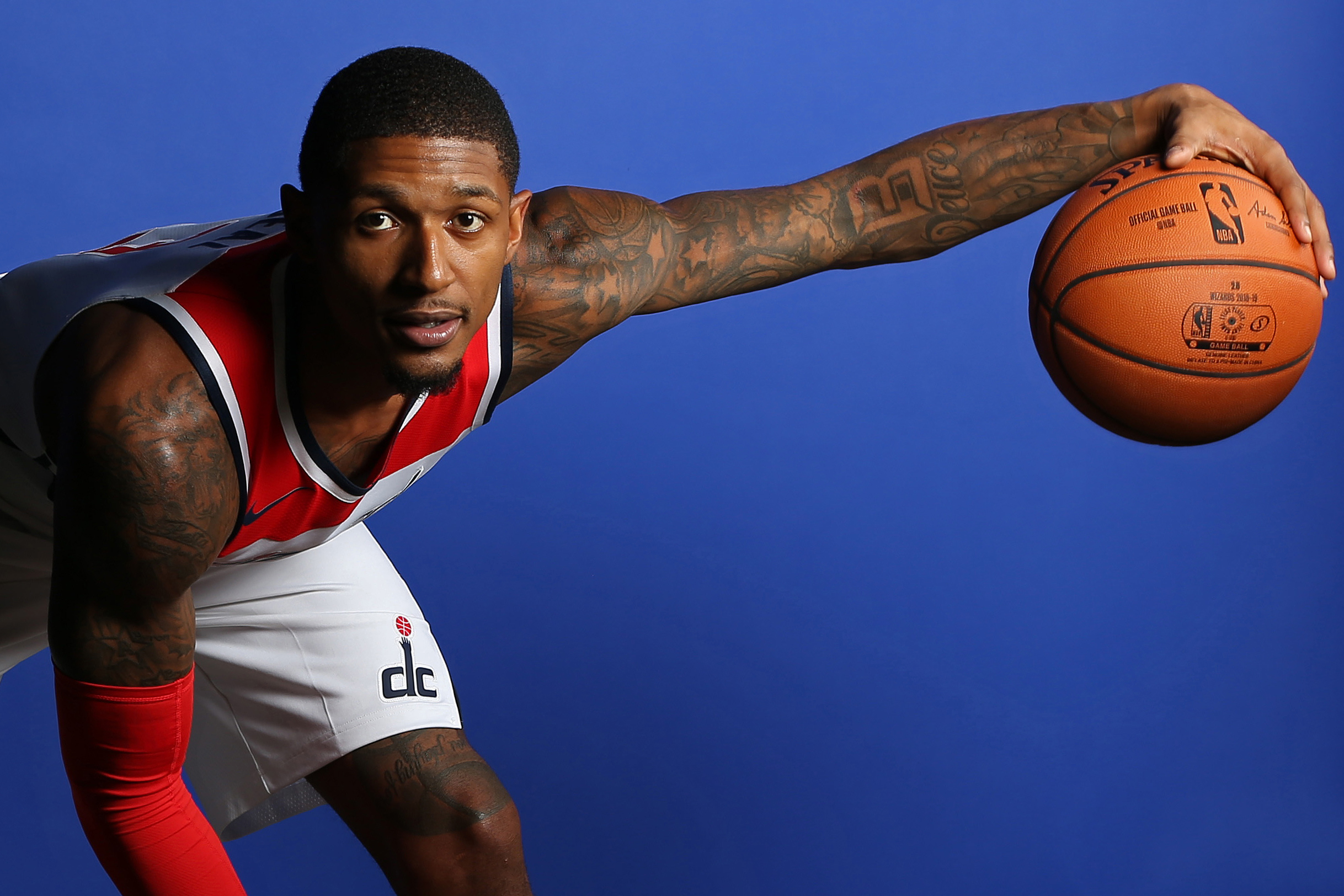 Dwight Howard
The center is dealing with a sore back, from flying so much, that might force him to miss the beginning of training camp starting on Tuesday. He is considered day-to-day, but Brooks said he would not be rushed back.
The future Hall of Famer continues to say all of the right things: "Our conversations [with Wall and Beal] have been about winning and how we can win together and how all of us have to really put our egos aside to accomplish what we want as a team. I think all of us have had great individual careers, but as a whole, we have to understand that it's all about winning as a team. We understand that and that's all our conversation have been between Keef, John, Brad, it's all about how we can win together and I think we have a great opportunity in front of us."
Shaq and Howard have been having a bit of a back and forth on Instagram so here is what the latter had to say about it: "I don't know. I woke up saw that he posted something about some roast they had against me so I decided to clap back. Obviously, I got a lot of … I guess he has some things he wants to get off his chest about me, but I don't have any issues, no personal issues with him but if you do want to get into a roast, I can roast with the best of them. So, I'm ready, I got some in the chamber, some jokes in the chamber, people think I'm tryna do anything crazy. It's all love, I don't have anything against him, he came before me. He's a pioneer of the game for myself and a lot of guys who played my position, but I'm not going to be quiet. … No, I can't tell you my big foot jokes."
https://twitter.com/HoopDistrictDC/status/1044289374517690369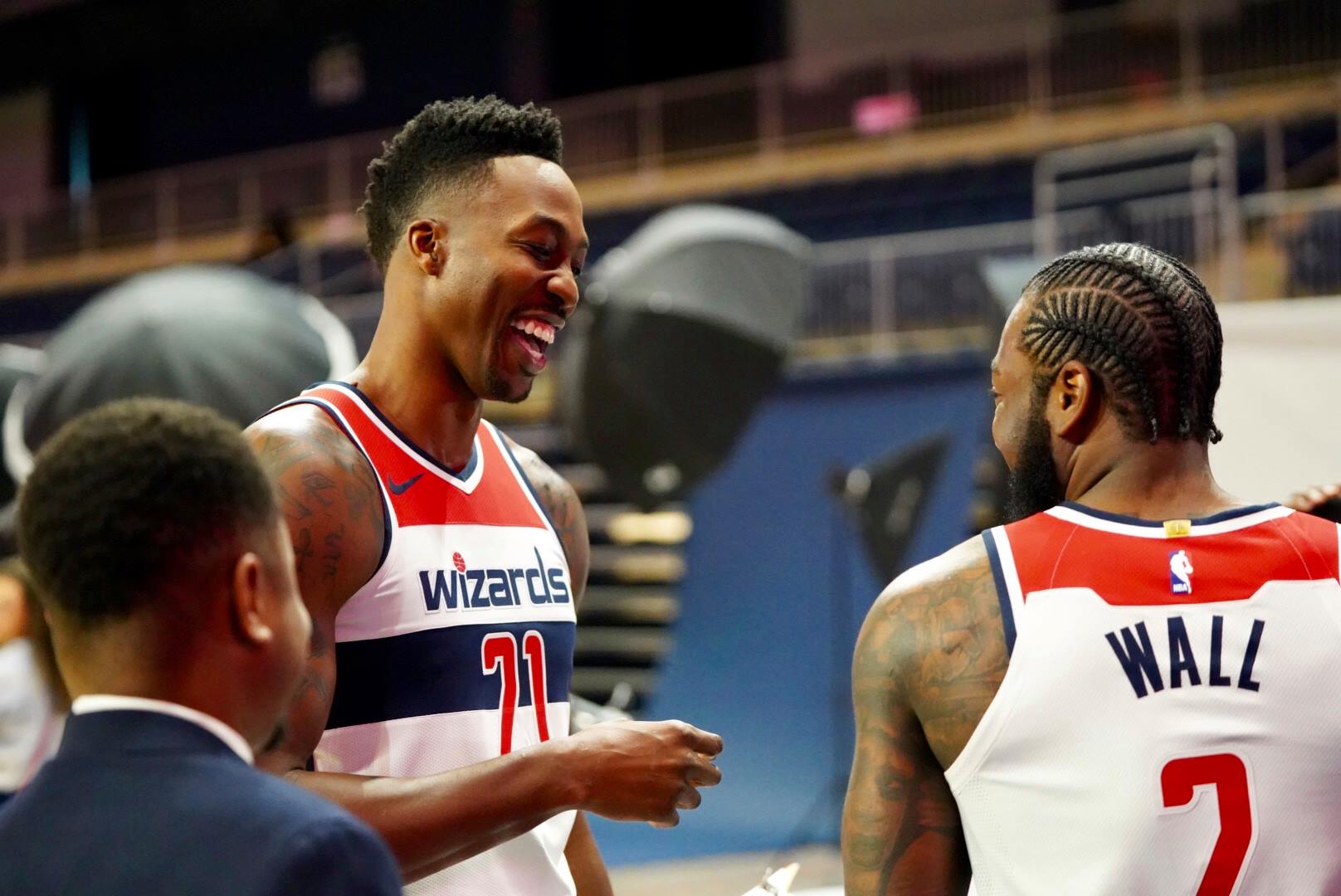 Otto Porter Jr.
The wing knows that his coaches and teammates want him to be more aggressive so one of his goals is to be "ultra-aggressive." He wants to resemble Klay Thompson and take the shots that are available for him. Relocating without the ball and coming off of screens cleaner are also areas he hopes to improve.
In his extensive film study over the summer, Porter tried to understand how Kawhi Leonard worked angles to his advantage on defense.
Markieff Morris
Straight to the point, Morris said playing center in small ball rotations is "all good" on his body.
Buying into the trickle-down effect, the big says that everyone being on the same page and not faltering into last season's locker room woes starts at the top with Wall and Beal leading by example.
Although he literally said earlier in his press conference that he is "tired of talking" about the Wizards roster, Morris could not hold his tongue when discussing the LeBron-less Eastern Conference and Washington being a self-confident bunch: "I think we're the No. 1 team. Raptors going through a little bit when they changed DeMar DeRozan but other than that, Boston has never been better than us. Record shows, but internally we don't think they were better than us last year. You know, we just got to play up to our ability and we're better than anybody in the East."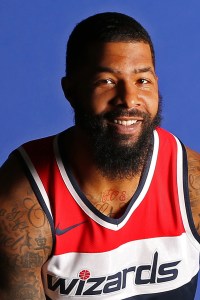 Kelly Oubre Jr.
Brooks wants Oubre to be one of the elite two-way players in the NBA or off the bench and notes his physical traits that "his arms go forever" should allow him to do so if he can become more consistent. Being consistent and staying disciplined throughout the entire season is Oubre's main focus.
Oubre went into the summer that each day he had to get better much like each game during the season he has to perform.
The young wing does not want to be known as a veteran because he still has room to improve but continued the theme that everyone is on the same page going into the season: "We're going to war with each other. The time is now and we got to do some big things so that's our expectation."
On entering the last year of his rookie contract: "Team first, honestly. We have to win like we have to win games, stay together as a team. It's not about me at all. It's about this team, it's about the name on the front of my jersey so, therefore, I'm not putting any weight on whatever contractual situations are going on right now with me because I'm just blessed to be here."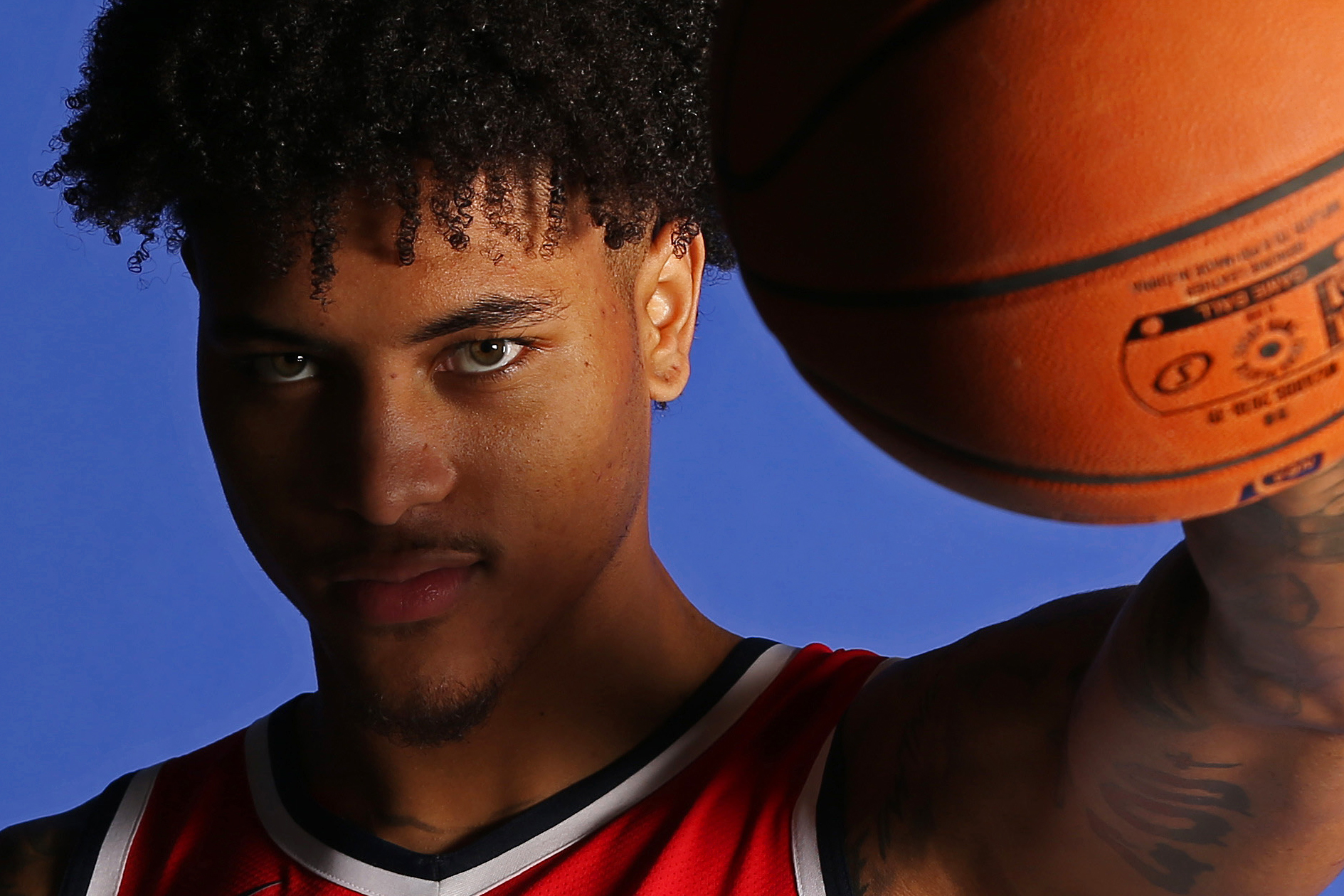 Jeff Green
The veteran forward has played in a handful of contract years in recent seasons and thinks the key is simply not to worry about it and just play basketball the right way.
Green is an ultimate professional so his take on how to avoid poor locker room dynamics is a good one: "Honestly I think we just have to be men about this. If we have a problem, we have to just voice it right away. I don't think it's something that needs to linger. But we also got to know the journey, the agenda that we're trying to accomplish is bigger than oneself. We got to put all individual pride aside and realize that we have to do things now for a team. For me, I'm not one to hold my tongue. If I have a problem I will voice it, but it will be for the betterment of what we're trying to do. I don't think anyone's here to try and cause problems, but if a problem does arise, we have to figure out a way to resolve it quickly and move on."
https://twitter.com/HoopDistrictDC/status/1044264612999426049
Austin Rivers
The guard's past has taken him through a lot of experiences and even though he was not on the team last year, he thinks this team is on the right track: "I know what dysfunction looks like and I know also what a team that is willing to win looks like. So what I've seen so far everybody just seems on the same page. I think everyone is at the point now, I think they're done with all the BS. I think last year they had a lot of that stuff, I think that's kind of worked its way out."
During his introductory press conference, Austin seemed sadder about no longer playing for his dad, Doc, but he is also now ready to move on and no longer be under the constant scrutiny: "I'm happy I don't have to play for him no more."
The other new dad in the building, on four hours of sleep, Rivers joked about how his son Kayden James prevents him from doing some of the fun social gatherings he would in the past because he is spending his time building three cribs. "He's spoiled as hell."
https://twitter.com/HoopDistrictDC/status/1044275144041074689
Troy Brown Jr.
Taking in the festivities of his first media day, Brown expressed that the team around him is locked in.
The rookie knows that minutes may be difficult to come by with the depth in front of him, but a personal goal of his is to become a knockdown shooter at Brooks' disposal.