The stakes were clear for the Washington Mystics as they entered George Washington's Smith Center on Sunday afternoon: win or stay home. The Atlanta Dream were up 2-1 in the best-of-5 semifinal series and one win away from the WNBA Finals. All-star forward Elena Delle Donne sat out Game 3 with a left knee bone bruise, but she was determined to fight alongside her teammates for their playoff lives just five days after her leg bent backward. The elite talent had a double-double and got plenty of help from her friends as the Mystics dominated the Dream by a final score of 97-76. Washington's 97 points are a new franchise playoff record.
Whether it was using a hyperbaric chamber, flow tanks, icing, or simply laying around not putting weight on her knee, you can bet that Delle Donne was partaking in all of the treatment possible to help her knee bone recover. The 6-foot-5 talent said she did watch her injury once, but does not plan to put herself through the ordeal of watching such a gruesome injury again. Delle Donne arrived at the arena three hours before tip-off to test out her cutting ability before going through her usual warmup routine, but the decision for her to play was made before the completion of those drills.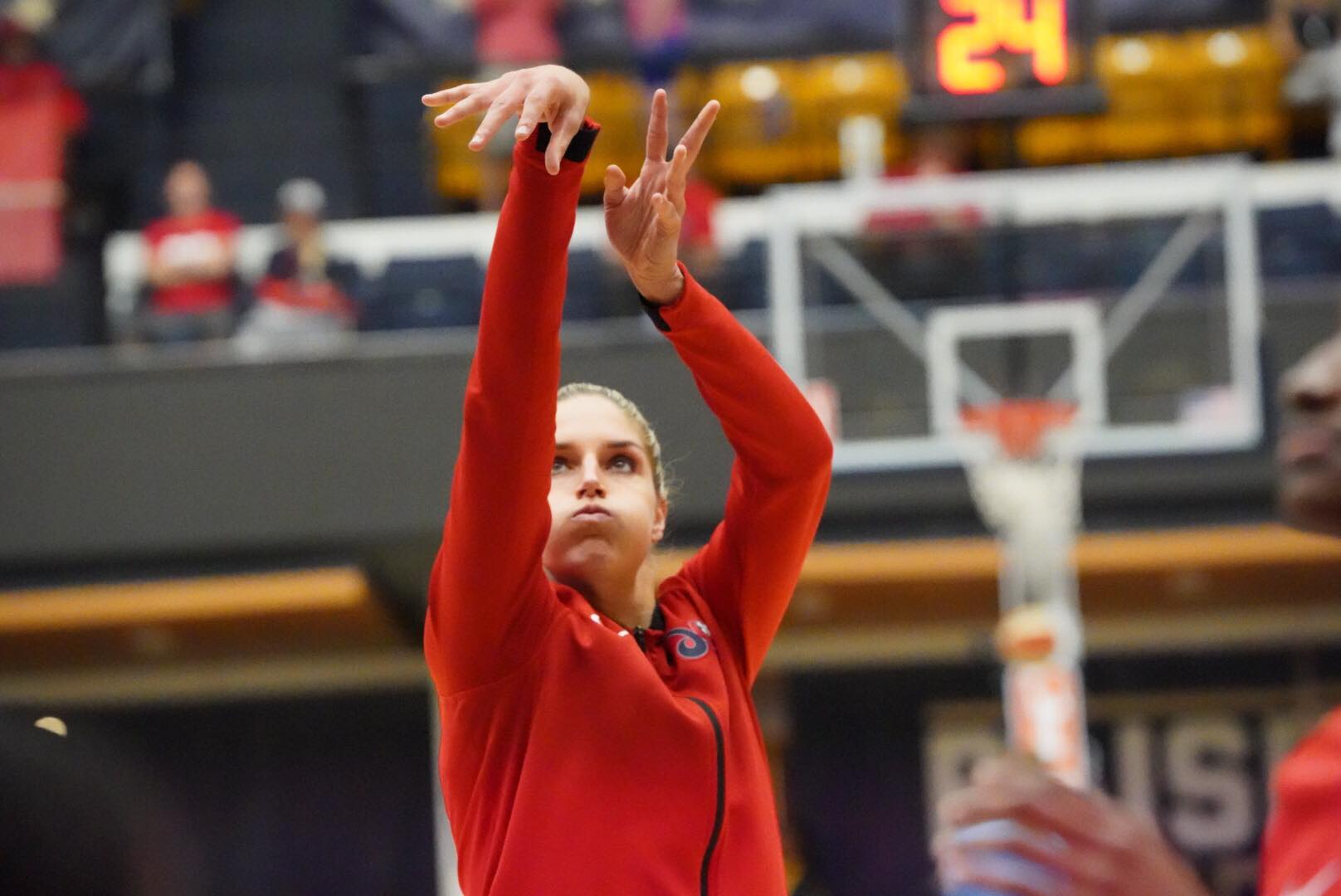 "I knew when I got here and she got here," head coach Mike Thibault said about when he knew that he would get his best player back at his disposal. That is a good thing because there may have been hell to pay otherwise, "I would have killed coach if he didn't let me play full out. … I gave him a look," Delle Donne recalled. The forward did sport a bulky knee brace during the game and hefty ice packs around her knee after when partaking in her postgame press conference. Thibault implored her to be careful sitting down at the wobbly podium and even asked if she would rather stand.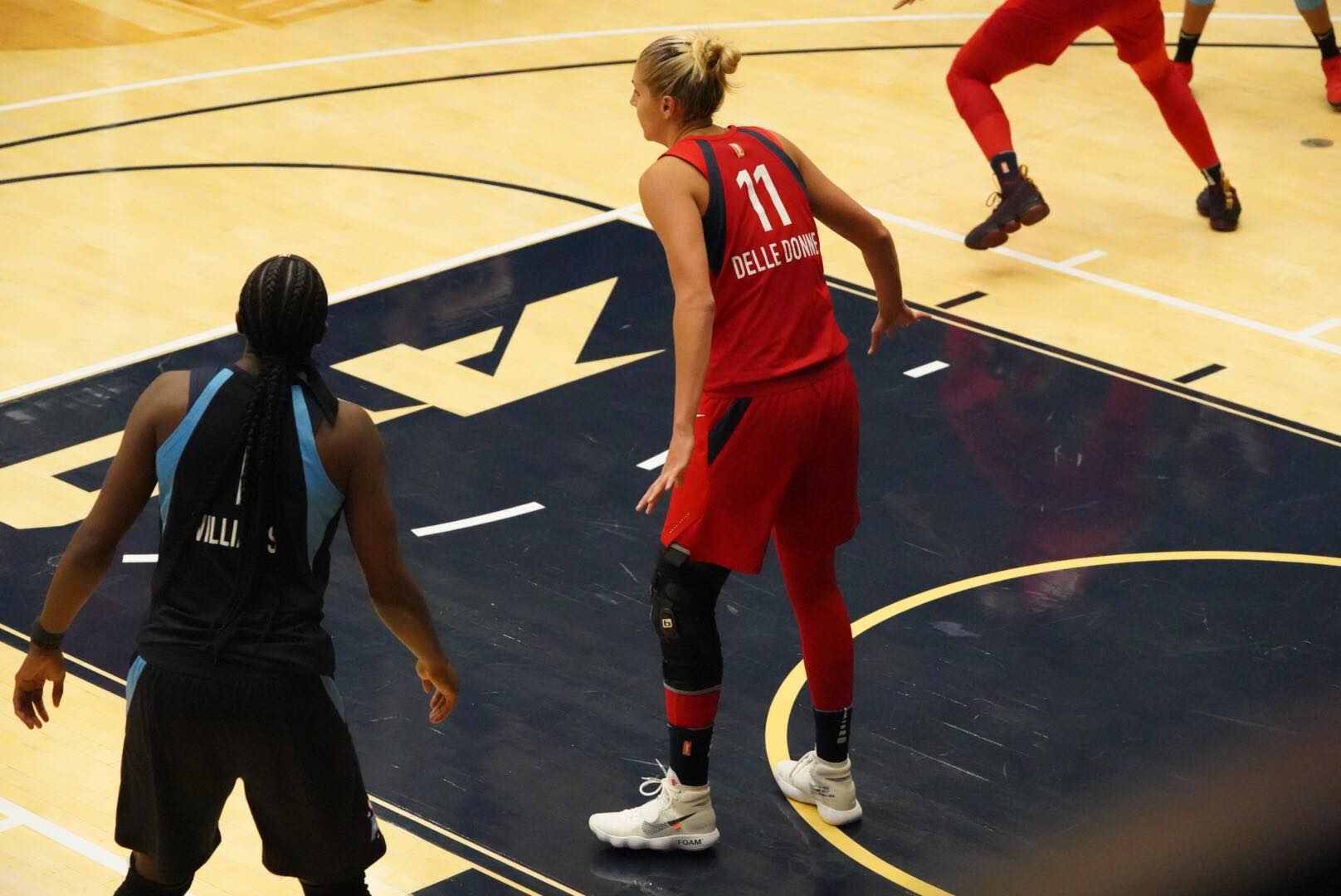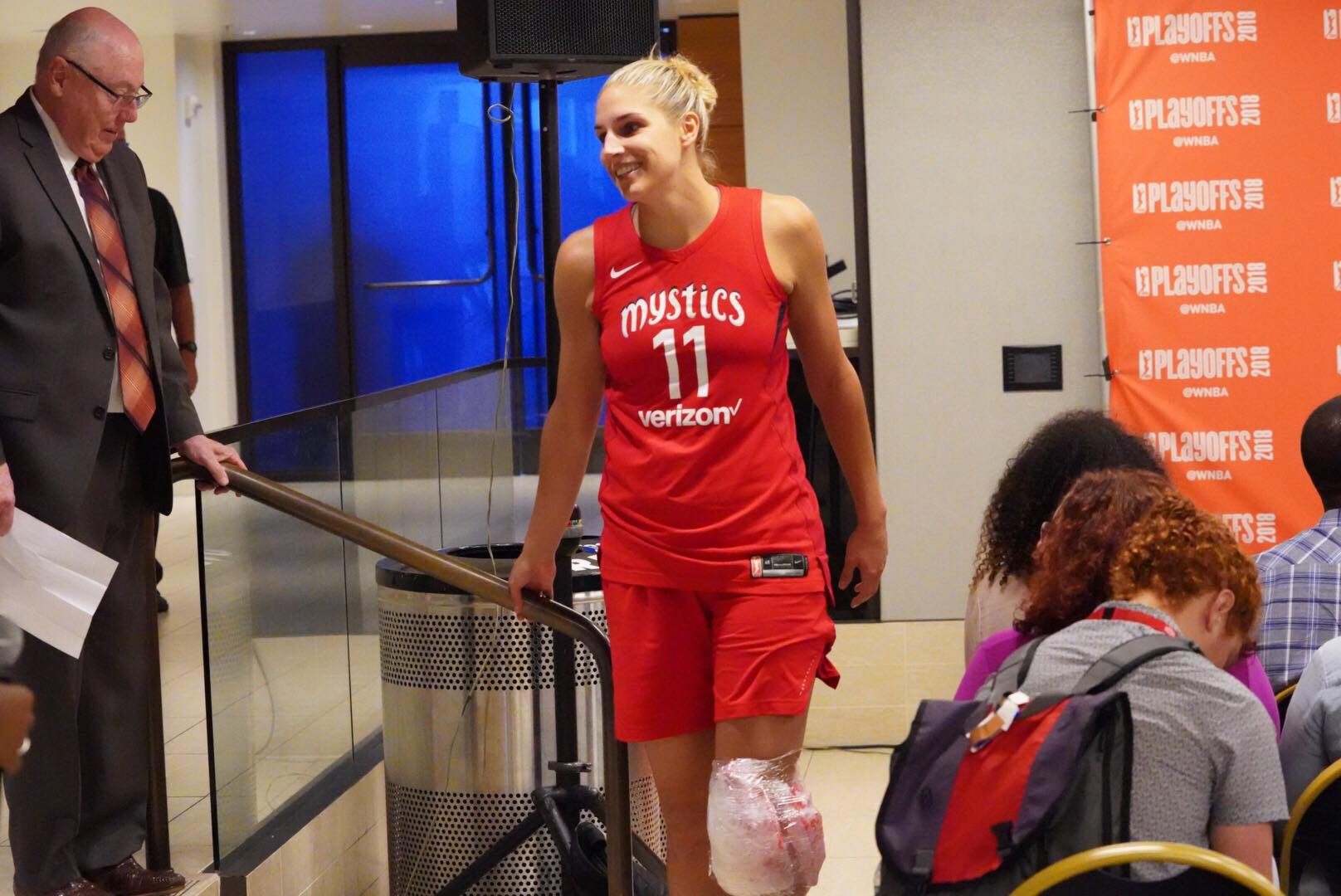 Despite being one of the best players in the WNBA, Delle Donne got off to a slow start. She missed her first three shots of the game and had just four points by intermission. She finished the game with 15 points on 6-of-15 shooting including 3-of-5 from deep to go along with 10 rebounds and three assists. Those may not be superstar numbers, but Delle Donne's presence on the court was certainly a factor in the benefit of those around her, which is exemplified by the game-high +24 plus-minus.
"Obviously, it was a nice present to see her in a uniform and ready to go," Thibault said about having a mindset that Delle Donne would not be able to play. "I just think more than anything else she just gives everybody else around her confidence that we kind of got this. That we have the best player in the game on the court and that helps a lot mentally."
"Elena Delle Donne – she kind of sucks you in," Dream guard Renee Montgomery simply put when asked what contributed to the loss.
"Whether Delle's on crutches, it doesn't matter," Kristi Toliver stated. "If she's on the floor, they have to respect her and honor her. That just changes everything for everyone. I'm happy that she was able to get going, especially in the second half. Feeling good. Legs were under her. I'm just really happy to have her back."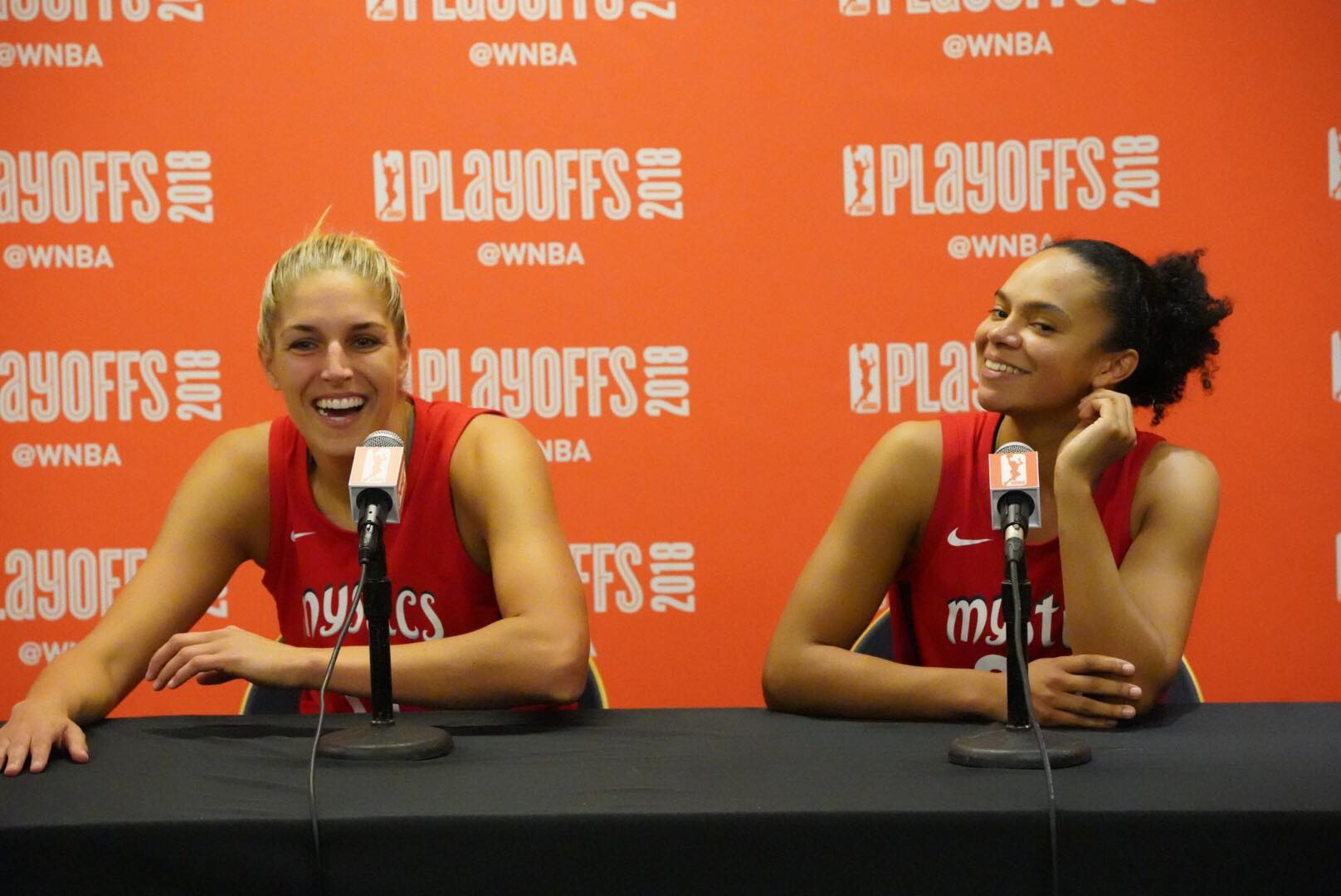 Toliver may have been the biggest benefactor of Delle Donne's presence as the veteran point guard broke out for her best game of the series. The Maryland product had a game-high 22 points on 8-of-16 shooting, including 4-of-9 from deep, and team-high seven assists. In the first three games of the series, Toliver was just 4-of-21, but her mentor's motto of 'you're hot or you're due' kept her from worrying. If it were not for the runaway nature of the game late in the fourth quarter, Toliver may have been on her way to playing all 40 minutes for a second straight game. "Miller Lite every once in a while [and] Jameson," she joked about her stamina's source. "I'm ready to go. I'll play 65 minutes if I have to. … Do or die."
As a veteran leader on the team, Toliver addressed the team on Saturday through their group text and shared the simple message that if everyone plays within themselves that they will be just fine. Delle Donne echoed that sentiment after the Game 4 victory by explaining "no one had to be Super Woman." To close the press conference session, Toliver chimed in "but we got our Super Woman back."
Both were correct in all accounts. Elena Delle Donne is capable of scoring 30 points and putting the team on her back, but she did not have to on Sunday afternoon with a balanced team attack. All five starts and Tierra Ruffin-Pratt off the bench scored in double figures. Rookie Ariel Atkins had a career-high (albeit a short one so far) 19 points on 6-of-11 shooting despite inconsistent playing time due to foul trouble. LaToya Sanders had a steady 10 points on four shot attempts and seven rebounds. Natasha Cloud finished with 13 points, five assists, and four steals. Myisha Hines-Allen had two points, five rebounds, and two assists in 13 minutes to the delight of her coach. Maybe 'Everybody Eats' applies to the Mystics, too.
"It was a great win," Thibault began by stating the obvious. "It's nice to see six people in double figures. I thought our bench, Myisha Hines-Allen, [Tierra] Ruffin-Pratt, and [Aerial] Powers gave us a big lift. Those two, [Kristi Toliver and Elena Delle Donne] that were just here are really stars but you look around and you see the other three that are out there in the starting lineup. Ariel Atkins during that little run hit two huge threes to kind of pull open the game. LaToya [Sanders] does what she does, she can be a lot of help on getting some calls. Natasha [Cloud] struggled in some areas but then she turns around and makes two big drives when the game got close to the end too."
Whether it was simply a matter of Delle Donne getting her teammates better looks, the team finally knocking down shots, or most likely a combination of both, it Mystics shot night and day better in Game 4 than Game 3. On Friday, Washington shot 36 percent from the field and 21.7 percent from deep, but on Sunday they shot 50 percent from the field and 46.2 percent from beyond the arc. The home team won the battle of the boards, 40-31, as well as points in the paint, 36-24.
Washington will travel to Atlanta on Monday before the deciding Game 5 on Tuesday for the right to play in the WNBA Finals, which would be the first appearance for the Mystics franchise.