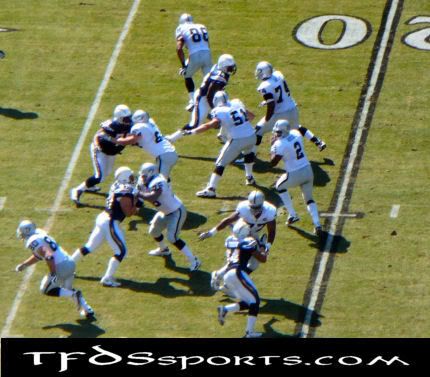 (Photo by Patrick A. Patterson)
Welcome to the premier edition of the regular season TFDS predicts for 2009. In this space I will be making predictions for each and every game this season. I don't recomend using this is a basis for yoru betting, as I could not hit even a five team ticket during my two years in Vegas. However, if you do use my predictions and win then I get a 15% cut. Its only fair.
This game has had the Raider Nation chomping at the bit since it was announced. The time for offseason drought is over, and the real games are starting. The question is whether this game will be a departure from the last six opening games for the Silver and Black. Without further ado, here is my predictions for the Raiders opening game.
This is going to be an ugly game for the Raider Nation to watch. The Raiders are going to get worked by their rivals from down south. The late arrival of Richard Seymour is going to limit his ability to be the piece of the puzzle the Raiders need, and their defense is going to continue to be a sieve.
Chargers 38 Raiders 14
LaDainian Tomlinson 160 + yards rushing, Darren Sproles 100+ on the ground.
Darren McFadden and Michael Bush each score one touchdown.
JaMarcus Russell gets sacked 4 times and throws one interception.
Raiders have double digit penalties
DHB has two catches for about 30 yards and no touchdowns.
The game will out of hand by halftime.