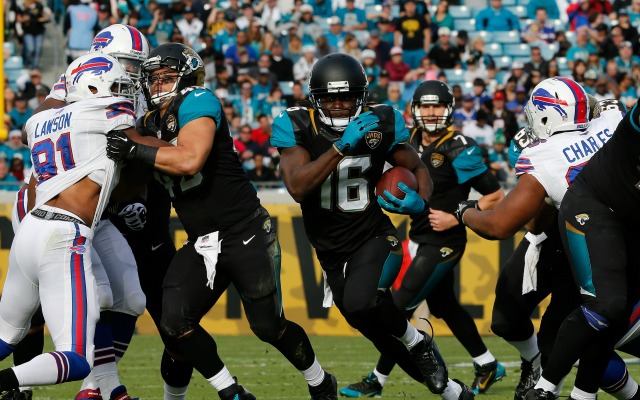 New team, new #BEL (I just made that a thing. Do you like it?) and this week it's the Jaguars. I pronounce it Jag-u-ares as opposed to Jag-wires. Is that a big thing like Gif vs "Jif"? I never have really asked…
ANYWAY.
I am pleased that Ryan Day took the time to chat with us and go over the goings on of Jacksonville's favorite team. Ryan Day is a managing editor at Big Cat Country. You can find him on Twitter at @ryaneatscake or working at www.seeryanwrite.com. Go there, #Duval's got great people.
1. What's happened with Blake Bortles? It seems like last year he was one of the ascendant young QBs to watch and this year he's regressed a bit?
I have absolutely zero idea what happened with Blake Bortles. Maybe his head's not really in it. Maybe his mechanics went to hell overnight. Maybe he needs to prepare, study, and keep his mind and body right a little better. Maybe Allen Robinson simultaneously regressed as well. Maybe it's a combination of all these things. The running game was bad to start, but it's gotten better. The offensive line is pass protecting well and given up an average of just one sack per game. Blake Bortles is an enigma of failure and I can't even begin to answer why. It's unexplainable at this point. Hopefully we'll  get some answers during the next offseason when our new coach brings in a veteran to actually compete with Blake. I think having some competition (and the fear of being benched) will help him reach his full potential.
Jalen Ramsey. Their sack numbers have been okay (not great, but okay) but their pressures have been awful and that's the problem. Really, the defense is overperforming at every area except its most important — edge rusher — and rookie Jalen Ramsey has been playing at a Pro Bowl level, which has allowed us to erase whichever receiver we want to. Paul Posluszny and Telvin Smith have also been playing out of their minds. Really, it's the defensive line that's been the weak link, specifically Dante Fowler and Yannick Ngakoue, not so much from a sack perspective but a pressures perspective. As @BeauxJaxson says, "Sacks force punts, but pressures force turnovers."
3. What players should Bills fans be wary of in-game?
Again, Jalen Ramsey. I don't know how much they've watched of him but he's been special. Paul Posluszny and Telvin Smith make a better-than-average linebacking duo. On offense, the running game has gotten going lately with newly promoted offensive coordinator Nathaniel Hackett in charge. He's adapted the offensive line well to the right kinds of rushing plays for this team and Chris Ivory is a force, especially in the short passing game.
4. I'm seeing a lot of rumors that Bradley is on the way out. What has finally broken the resolve of the Khans to stick by him?
Gus Bradley is 14-44 since coming here in 2013. The fact that Gus could (and very well may) reach 50 losses
in four years
is probably what broke his resolve.
5. How do you see the game going?
I see this game going much like every other Jaguars game goes: Blake Bortles throws an early interception, the running game does well but not well enough. Allen Robinson makes a few catches and drops one or two. The defense holds until it's a drive where they really need a stop and they don't get it. And Blake Bortles roars back to make the score look respectable but in reality isn't even close. Bills win 26-20.
6. How have Doug Marrone and Nathaniel Hackett been for you guys?
Doug Marrone has been great this year. The offensive line is protecting Blake Bortles well and the running lanes have opened in recent weeks. Nathaniel Hackett is getting more production out of this offense, but he's still not ultimately the answer. It's unlikely either of them is coaching here in 2017.