The other side of the ball for the Colts promises to be even more interesting as the summer plays out.  The number of familiar faces out the team's defensive depth is incredibly thin.  New players will have to step up to replace names like Freddie Keiaho, Tyjuan Hagler, Marlin Jackson, Tim Jennings, and Raheem Brock.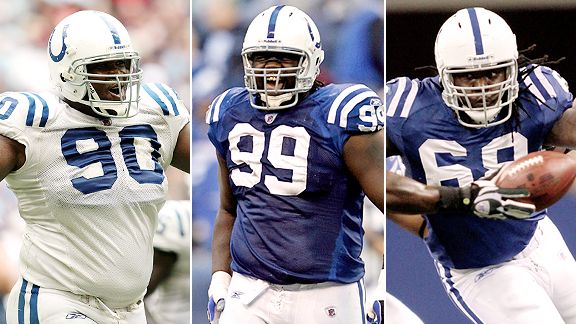 Defensive Tackle
Daniel Muir, Antonio Johnson, Eric Foster, Fili Moala, Mitch King
At the start of the 2009 season there was a great deal of uncertainty at defensive tackle.  How Daniel Muir or Antonio Johnson would develop in their first full seasons with the Colts was unclear.  I even thought Adrian Grady, an undrafted free agent a season ago, looked like the most promising prospect at defensive tackle, only to see him get cut.  Then, throughout the year Muir, Johnson, and Eric Foster held down the position more consistently than the Colts have previously experienced.
That makes this year even more promising as the core of the unit is still in tact and second round draft pick Fili Moala is entering his second season.  One could only imagine that Moala will develop this year and with prospects like Mitch King and Ricardo Mathews in the mix, it would seem the unit has more promising depth than it did last season.  At this point, I will put Mathews on the practice squad.
Defensive End
Dwight Freeney, Robert Mathis, Jerry Hughes, Ervin Baldwin
Although this is a short list at defensive end, a year ago the only true defensive ends on the team were Freeney, Mathis, Brock, and Dawson.  The other players who played defensive end were hybrid players who played inside and outside.  This year those players will include Eric Foster, Mitch King, and Ricardo Mathews.
In terms of pure pass rushing, the team will be better this year than it was last season, replacing Brock with a much faster Jerry Hughes.  Ervin Baldwin should also develop in his second season, and has showed the quickness to get into the backfield and looked better against the run than Keyunta Dawson.  It is possible another pass-rushing specialist could be retained, although Philip Wheeler has moved onto the line from time-to-time if needed, and that player could be John Chick or Trevor Anderson.  One of those two will either make the team or find a home on the practice squad.
Linebacker
Clint Session, Gary Brackett, Philip Wheeler, Pat Angerer, Cody Glenn, Ramon Humber
The biggest question-mark for the Colts linebacker position is on the strong-side with Philip Wheeler.  To this point in his career, Wheeler has not shown that he can hold down the position well enough that fans and coaches will enter the summer confident on the strong-side.  What this could mean is that Pat Angerer, despite the typical history for the Colts at linebacker, could have a legitimate fighting chance for immediate field time.
One would hope that Angerer replaces what the team lost when it let Freddie Keiaho and Tyjuan Hagler enter free agency.  There is a chance that either, or both, Keiaho and Hagler could be signed once the final eight rule expires on July 22nd.  That should give fans and coaches a sense of security while Angerer learns the system and shows the coaching staff what he can do.  There is also chance that undrafted free agent Vuna Tuihalamaka or seventh round draft pick Kavell Conner could win the competition with Humber or Glenn, or that the team could retain seven linebackers, but for now I will put Tuihalamaka and Conner on the practice squad.
Corner Back
Kelvin Hayden, Jerraud Powers, Jacob Lacey, Ray Fisher, Brandon King, Terrail Lambert
The Colts lost two proven players at corner when they cut Marlin Jackson and Tim Jennings at the start of the 2009 off-season.  The Jackson move seems to have made sense, given that he suffered a season-ending injury in practice (ruptured Achilles tendon) already.  Jennings is working with the Chicago Bears and could stick there but has been loathed for so long by the Colts fan base that many may argue that no replacement for Jennings would be addition by subtraction.
The players that make the most sense to fill three-deep depth at corner are Ray Fisher, Brandon King, and Terrail Lambert.  Lambert seems like a good fit because he has already been working in the Colts system for a year, and gives the unit at least some experience greater than if one of the true rookies took that spot.  Fisher is a dynamic player who will compete for return duties and will develop at corner similar to Kelvin Hayden, Hayden and Fisher converted from wide receiver late in their collegiate careers.  Of the undrafted free agents who seem most likely to make the final roster, King is a Purdue product who may have a inside track, particularly if he shows that he too can be dynamic as a potential returner should the need arise.
The players that seem most likely to make the roster outside of the ones listed above are Thad Turner, Pete Ittersagen, and Jordan Hemby.  The knock on Hemby is that he has been injury-prone and that is not the kind of reputation one should carry into a position that has been rife with recent health issues.  Ittersagen is often considered more of a return threat than a true corner, but could show enough as a corner that his added value makes him worth keeping around.  Turner is probably the player who is on the outside on my list that is most suited to be a true corner in the NFL, and he could have an inside track to a practice squad spot if he fails to make the final roster.
Safety
Bob Sanders, Melvin Bullitt, Antoine Bethea, Jamie Silva
There is a lot to like about the safety position for the Colts in 2010.  First, adding the 2007 Defensive Player of the year to the mix is a good start.  Second, the young talent at the position is encouraging and Mike Newton or David Caldwell could push very hard to take Silva's spot or replace a player like King or Lambert from the corner depth chart.  With Sanders, Bullitt, and Bethea, the Colts have the most talented, deepest group of safeties in the NFL.  The one thing that could make retaining another safety attractive, over one of the corners, is that Newton or Caldwell could likely fill in a nickel or dime role on defense in an emergency and could be superior special teams coverage players.  For now though, the roster decisions are tough without more information so I will keep this very solid group together.