Since 1999, heavy metal band Metallica has played Mariano Rivera on to the field at Yankee Stadium with their tune "Enter Sandman". Sunday…the Rock and Roll Hall of Famers were there in person to salute the game's all-time greatest closer on the eve of his retirement.
"People identify that (song) with myself. It's a good feeling. I won't tell you that it's not," Rivera told the New York Daily News back in 2011.
For Metallica, who, courtesy of the San Francisco Giants, was honored with their own special night back in May, being there for the New York Yankees legend wasn't enough. The band came equipped with some parting gifts.
Following the one-song tribute, the band presented Rivera with a speaker cabinet emblazoned with Yankees pinstripes, the number 42, the name Metallica and, naturally, "Sandman" on the face. It was also signed by each of the band's members.
But that wasn't all the band gave to Rivera. The rock icons partnered up with the Giants to give the closer a painting of him pitching at AT&T Park and a guitar designed for the band's lead guitarist Kirk Hammett and signed by, of all people, Willie Mays.
Random? Sure…but pretty freakin' sweet!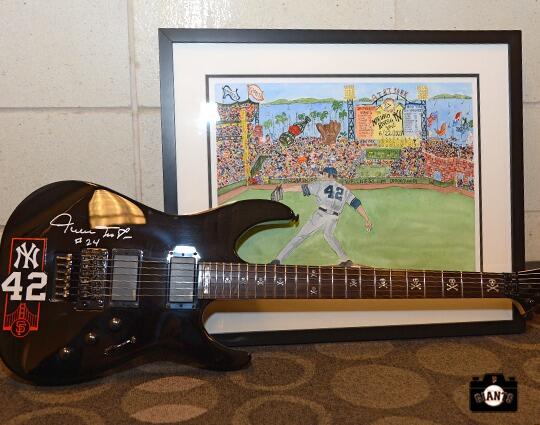 All in all…a pretty decent haul.
Which leads me to this. Did Andy Pettitte, who was also playing his last home game get anything for his troubles? If not, I've got a pretty worn out cassette tape of "Metallica" should he want it.