| | | | | | | | |
| --- | --- | --- | --- | --- | --- | --- | --- |
| | Record | Pts | Div. Rank | G/G | GA/G | PP% | PK% |
| Minnesota Wild | (20-7-3) | 43 | 1st NW | 2.50 (22) | 2.10 (3) | 17.0% (20) | 85.4% (9) |
| Winnipeg Jets | (13-12-4) | 30 | 3rd SE | 2.79 (11) | 3.14 (22) | 17.6% (14) | 81.8% (18) |
| | | | |
| --- | --- | --- | --- |
| Minnesota Wild | | | |
| Top 5 Scorers: | G | A | Pts |
| 1. #9 Mikko Koivu | 7 | 19 | 26 |
| 2. #15 Dany Heatley | 9 | 11 | 20 |
| 3. #96 Pierre-Marc Bouchard | 5 | 13 | 18 |
| 4. #21 Kyle Brodziak | 10 | 7 | 17 |
| 5. #7 Matt Cullen | 8 | 9 | 17 |
| | | | |
| Top 3 Penalty Minutes: | PIM | | |
| 1. #16 Brad Staubitz | 49 | | |
| 2. #22 Cal Clutterbuck | 38 | | |
| 3. #21 Kyle Brodziak | 31 | | |
| | | | |
| Goaltenders: | GAA | SV% | |
| 1. #32 Niklas Backstrom (11-5-2) | 2.08 | .932 | |
| 2. #37 Josh Harding (7-2-1) | 2.14 | .932 | |
| 3. #31 Matt Hackett (2-0-0) | 1.01 | .974 | |
| | | | |
| Winnipeg Jets | | | |
| Top 5 Scorers: | G | A | Pts |
| 1. #9 Evander Kane | 15 | 9 | 24 |
| 2. #33 Dustin Byfuglien | 6 | 14 | 20 |
| 3. #18 Bryan Little | 10 | 9 | 19 |
| 4. #26 Blake Wheeler | 2 | 17 | 19 |
| 5. #13 Kyle Wellwood | 7 | 11 | 18 |
| | | | |
| Top 3 Penalty Minutes: | PIM | | |
| 1. #33 Dustin Byfuglien | 38 | | |
| 2. #22 Chris Thorburn | 33 | | |
| 3. #4 Zach Bogosian | 30 | | |
| | | | |
| Goaltenders: | GAA | SV% | |
| 1. #31 Ondrej Pavelec (10-10-4) | 3.20 | .900 | |
| 2. #50 Chris Mason (3-2-0) | 2.08 | .911 | |
| 3. #34 Peter Mannino (0-0-0) | 0.00 | 1.000 | |
| | | | |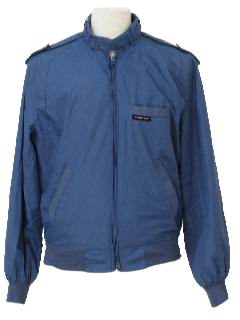 Will the Winnipeg Jets be a trendsetter of their own?
Every generation has their fads. In the 1920's, flappers and longue lizards were the "bee's knees" to use the lingo of the day. In the 1960's, hippies and their bell bottoms and lava lamps were the sign of the times. Being a child of the mid-1970's, my generation is not without its fads, good and bad. I know I was jealous of my classmates with their button-fly Girbaud or Guess jeans. In my family, good ol' Levi's were good enough. However, some of the more iconic trends of my childhood came in the form of the Members Only jacket and Minnesota-based Zubaz. The advertising motto for Members Only was "When you put it on, something happens." I don't know about you, but I never remember anything extraordinary or even mildly special happening to anyone wearing one. You clearly didn't need any sort of special membership to own or wear one, as proven with some of its questionable "members" wearing them. As for Zubaz, it was one of those fashions that I had seriously hoped had gone away. According to the history of this garment put forth at badfads.com, they got their start in 1988 by Dan Stock and Bob Truax. The two owned a weightlifting gym, and their clients needed pants and shorts that would accomodate their bulging leg muscles. Between the weightlifters and the professional wrestling ties in Minnesota, the pants took off. They took off so much, that they had to have female inmates at the Minnesota Corrections Institute in Shakopee sew the pants. Zubaz unfortunately came back in 2007, although they're probably made in China now instead of by female prisoners.
Trends happen in sports as well. In the 1990's, the sudden trend in the National Hockey League was to expand and expand quickly into non-traditional markets. During this decade, we saw the birth of the San Jose Sharks (1991), Tampa Bay Lightning (1992), Anaheim Ducks (1993), Florida Panthers (1993), and Atlanta Thrashers (1998). For hockey purists, it was an absolute heresy to expand into areas where rivers, ponds and lakes don't freeze over in the winter. Those same hockey purists, also claim this era of quick expansion diluted the talent available. In many of these new markets, early attendance was based on the fact that the game was a novelty in these locations. Of the 1990's expansion team, it has probably been the Sharks that have fared the best, based on overall attendence. Only Tampa Bay and Anaheim have managed to take home the ultimate prize. It will be interesting to see how the Panthers and Lightning will fare in their new conference once the league realigns.
It was also the 1990's that saw the move of the Minnesota North Stars to Dallas (1993), Quebec Nordiques to Colorado (1995), Winnipeg Jets to Phoenix (1996), and the Hartford Whalers to Carolina (1997). Like expansion into non-traditional markets has been hit or miss, the same can be said about relocation. The 1990's was a busy decade for the NHL. Now there are many who will argue that the league cannot fully support the thirty teams it has now. I don't know if I fully buy that argument, but I will agree that the league would be foolish to add any more teams. However, that doesn't stop the league from moving teams around again. The relocation trend has started again. If you think that the relocation of Atlanta to Winnipeg as a one and done event, I think you're fooling yourself. Considering the league currently owns and operates the Phoenix Coyotes, look to see them to be the next team finding a new home. There had been a push ever since the original Winnipeg Jets went to Phoenix to bring the NHL back to the Manitoba capitol. With the initial success at the gates in Winnipeg, there is another Canadian city looking to regain their NHL pedigree. Quebec City is pretty much ready to break ground on a new arena the minute they hear they're going to be awarded an NHL franchise. I don't care who you are, and this pains me to say it sometimes, but a strong NHL needs more rather than less Canadian teams. With Winnipeg back in the NHL family, it won't be long until we see Quebec City as well. Of course there are Canadian cities like Hamilton that would like their time in the spotlight as well, but expect Quebec City first. Although, the hockey logo fan that I, I would love to see the return of the Whalers logo in Hartford eventually as well.
I would like to see the NHL be a little more cautious in their relocation plan this time around. Let's go to places where we have a much better chance of success. Success at the gate in the long run in a traditional market is more important than trying to build a market in a non-traditional one. We've gone the non-traditional route already, and probably have made more mistakes than successes. Time to go back to basics, and go back to what will work.
Injury Report:
Minnesota: Devin Setoguchi (leg)

Winnipeg: Aaron Gagnon (undisclosed), Derek Meech (lower body), Tobias Enstrom (broken collarbone), Ron Hainsey (lower body), Eric Fehr (shoulder)
Copyright © 2011 http://www.StateofHockeyNews.com – All Rights Reserved – Trademarks used herein are property of their respective owners.