In the movie Cool Hand Luke, perhaps one of the most memorable lines in film was spoken when Strother Martin's character Captain said, "What we have here gentleman, is a failure to communicate." As he tried to work with the restless and rebellious prisoner played by Paul Newman. I wonder if that is the underlying theme from what we saw last night from the Wild.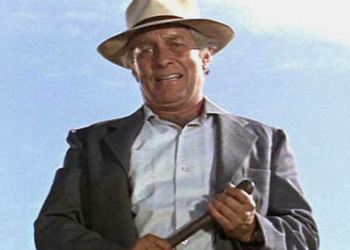 I have to admit, last night's post game interview said it all, "We weren't ready to play, right from the drop for the puck, you get what you deserve and we got what we deserved. They should be embarrassed, I'm embarrassed, I shouldn't have to say anything to motivate them, after a game like that you better want to come to the rink the next day ready to work." Those were the words of Wild Head Coach Mike Yeo after Minnesota lost 5-2 last night at Staples Center. You can see the rest of the post-game interview here. The club believed its own hype after winning 5-straight; including a few of those games where it really didn't deserve to win and the complacency has been evident through the team's last 3 games. You must understand something about Mike Yeo the person to see why such an effort bothers him so much. Apart from being incredibly competitive, Mike Yeo spent his junior and professional career working his tail off as a 3rd line grinder who was the player that was willing to do anything to help his team win games. If that meant dropping down to block a shot, dropping the gloves, scoring a goal, delivering a big hit he'd do it. He was a heart and soul type and its what makes Yeo the coach that he is and is precisely why he is so irritated and annoyed with the poor effort he saw last night.
The Ducks have always been a tricky opponent for the Wild but they've had their woes this season too. For the most part, their top scorers Ryan Getzlaf, Corey Perry, and Bobby Ryan have had a muted start thus far. Its only a matter of time before that group starts to heat up and they've traditionally done very well against Minnesota. Last season, Bobby Ryan even picked up the dropped stick of Mikko Koivu and scored a goal with it in one of the more bizarre goals of 2010-11.
Going back to last night's loss, every Wild player that was interviewed fessed up and admitted it was a terrible effort, well except one. Team Captain Mikko Koivu didn't like being asked if it was a terrible effort last night. He refused to admit the team played poorly, which is something we've sadly become used to as Wild fans and is a big reason why many are questioning whether he has the credentials to wear the "C". Its pretty tough to have respect as a leader when you don't ever accept blame. So will the Wild respond as Mike Yeo hopes they will or will they put up another lackluster effort?
Click on "Read More" for the rest of the article…
1st Period Thoughts: An error with the puck by Jared Spurgeon right off the opening faceoff led to a rush for the Ducks where Saku Koivu fired a shot that forced a save by Niklas Backstrom. Minnesota would counter punch and Darroll Powe skated in the Ducks' zone and he let loose a wrist shot that would partially deflect off the leg of Francois Beauchemin and this forced Jonas Hiller to make his first save of the game. The Ducks' top line would create some trouble for the Wild as Getzlaf set up Corey Perry for a close-range chance that somehow a sprawling Backstrom was able to deny. The pressure drew the first power play of the game for Anaheim; as Nick Johnson earned a penalty for tripping. The Ducks had impressive puck movement on the power play, that had Minnesota's penalty killers scrambling about its own zone. Backstrom would be stretched in his own crease as the Ducks tried to work plays to get him moving side-to-side but Minnesota would sweep away the rebounds and through determination and desperation they were able to get the big kill. Minnesota would go back on the attack and Nick Johnson got the puck down low and he'd put his shoulder down and power his way to the Ducks' crease where he tried to jam it through Hiller who made 2-3 saves, but he gave up one more rebound and Kyle Brodziak jammed it home to put the Wild up 1-0. The Wild had a lot more jump in its skates, and they were being aggressive to get loose pucks and taking every opportunity to put shots on goal. Andrew Cogliano tried to turn on the jets to fly around Justin Falk but the big Wild defenseman demonstrated his mobility by riding him off the play and then narrowly avoiding running into his own goal. The 3rd line of Brodziak, Johnson and Powe were causing all kinds of problems for the Ducks. The 4th line of Colton Gillies, Brad Staubitz and Warren Peters was also moving well and Warren Peters fired a shot that was stopped by Hiller and Staubitz pushed a rebound chance just wide of the Ducks' goal. Gillies' hustle would draw a holding penalty on rookie Peter Holland giving Minnesota its first power play of the game. Minnesota's power play was keeping it simple, not as much passing and simply taking its chances to shoot the puck and forcing Hiller to make some saves with traffic near his crease. The Wild would come up empty on the man advantage but they continued to hustle. Brad Staubitz would staple Luca Sbisa into the boards with a big check that sent his helmet flying and the home crowd gasping in shock after a nice clean hit. A few minutes later the Wild would break up a play near the Wild crease and Matt Cullen and Cal Clutterbuck would race up the ice and Clutterbuck would veer to the right before making a beautiful no-look behind the back pass to Cullen who lifted a shot over the shoulder of Hiller to give Minnesota a 2-0 lead. Minnesota continued to outwork and out hustle the Ducks and Gillies tried to connect on a cross-ice pass with a crashing Staubitz that was just out of his reach. The Wild would strike one more time, on a delayed penalty where Pierre-Marc Bouchard passed it out to the point where Jared Spurgeon ripped a bullet from the point that beat Hiller to give Minnesota a 3-0 advantage. The Ducks tried to answer back in the closing seconds with its top line as Corey Perry attempted to jam a puck through Backstrom but Minnesota would scramble and try to work the puck out of the zone and at the last moment Getzlaf fired a shot that ended up ramping up the stick of Dany Heatley and right into the face of Devin Setoguchi which left him reeling a bit. Wild athletic trainer Don Fuller would go out there to check on him but Setoguchi would get up and didn't seem to be wounded too significantly. A great first period for Minnesota; I guess they decided to show up today.
2nd Period Thoughts: The Ducks had seen enough of Jonas Hiller, and so Dan Ellis was going to try to stabilize things in the Anaheim crease. Minnesota would give the Ducks a power play almost immediately as Mikko Koivu was tagged for interference. The Wild's penalty kill was a bit passive, but the Ducks were not moving the puck all that quickly and Niklas Backstrom would make a nice poke check to deny a chance for Teemu Selanne, and a few seconds after that Corey Perry would trip up Justin Falk to make it a 4-on-4. With the ice a bit more open, the Ducks were patient and former Kelowna Rocket Brandon McMillan got behind the Wild's defense and he moved in on a break away but he fanned on a shot and it never went on goal. Yet the Ducks were persistent as Beauchemin set up Cam Fowler who moved in and fired a wrist shot over the shoulder of Backstrom to cut the Minnesota lead to two, 3-1. Minnesota would have a short power play and Dany Heatley would feed a pass to Mikko Koivu who fired a wrist shot into the crest on Dan Ellis' jersey but unfortunately Cal Clutterbuck wasn't able to get a stick on the rebound that was sitting near his skates. The Ducks were moving the puck well and Saku Koivu set up Selanne for a quick shot that was absorbed by fellow Finn Niklas Backstrom. You could see the confidence of the Ducks building as Bobby Ryan dangled around Nate Prosser and then spun and passed a puck near the crease that tipped up into the air and harmlessly in front of the crease in what was a dangerous play. Minnesota was counter punching and they were able to create some quality scoring chances of their own as a blocked pass by Devin Setoguchi became a 2-on-0 as he hammered a slap shot that was stopped by Ellis and the rebound was just out of the reach of Heatley. The scoring chances were plentiful early as Saku Koivu stepped into a slap shot that was snagged out of the air by the glove of Backstrom. The Ducks would get its forecheck going, hemming Minnesota in its own zone as Cogliano was buzzing around and he'd take a sharp angle shot that Backstrom snow angled on and luckily for Minnesota the Wild got a whistle. After the stop there was some pushing and shoving and Saku Koivu would go to the box along with Brad Staubitz. Minnesota would get a slashing penalty as Kyle Brodziak chopped the stick of Brandon McMillan and he'd go sit in the box for 2 minutes and a rare 4-on-3 power play. Ryan Getzlaf, working the point would rifle a shot that would miss wide and carom around the boards and out of the offensive zone. The Ducks were moving the puck very well and Perry set up Selanne for a one timer that he rang off the post. Minnesota was more or less resigned to the shooting gallery that was their zone, but after some scrambling plays near their crease they were able to poke the puck free and clear the zone and get a huge penalty kill. The Wild would then go on the attack; not as much with skill as it was hustle and the 3rd and 4th lines would keep the Ducks occupied with some good work on the forecheck, funneling shots on goal to keep Anaheim honest. Teemu Selanne must wonder if the puck has a magnet as he wound up and blasted another slapper that struck the left post, his 2nd one of the period. The Ducks would start swarm a bit more and Backstrom was seeing more shots coming his way as Minnesota was content to just chip the puck out of the zone. Cal Clutterbuck would obliterate Francois Beauchemin with a big hit along the boards but at the end of the sequence Perry would trip up Backstrom for a goaltender interference penalty that the Art Ross trophy winner vehemently protested. On the power play Minnesota worked the puck into the slot where Heatley put a wrist shot on goal that was steered aside by Ellis, and the Wild would hold a 3-1 lead going into the 3rd period. Not a terrible period, but the Ducks had control for at least half of it. They must play better if they expect to win, because you can't depend on Selanne ringing shots off the pipe.
3rd Period Thoughts: Minnesota was keeping things simple to start the 3rd; short shifts and working the puck deep so the Ducks had the whole length of the ice to work against. The Wild would flip the puck into the air and chase, and you could sense the frustration building for the Ducks as former Minnesota defenseman Kurtis Foster held up a forechecking Brad Staubitz for an interference penalty. Minnesota's power play moved the puck well from the half wall and back out to the point but when the time came to fire the big shot they'd fan on the opportunity. Andrew Cogliano would use his speed and quickness to kill off the last 30 seconds of the Wild's man advantage and Minnesota failed to even register a shot on the power play. Minnesota was still hustling enough to make the Ducks' life miserable as Clutterbuck just willed the puck into the Anaheim end even as he was tackled by Luca Sbisa to no penalty. The Ducks' 4th line would get its forecheck going and Andrew Gordon nearly cashed in as he one-timed a quick pass from down low by Maxime Macenauer was stopped by Backstrom. Anaheim was again starting to press as their top line crashed the crease for a few scoring chances from close-range that Backstrom was up to the task against and Minnesota would chip the puck out of the zone and Darroll Powe won the race to the loose puck and he'd move in on Ellis and then slide a forehand shot that went behind the Ducks' backup but the the puck slid harmlessly through the crease. Minnesota's top line had their best possession time in 3 games as they worked the puck down low, killing valuable seconds while creating a few scoring chances as well but despite all of their time with the puck their shots were not going on goal. The Wild would have a good shift from its 3rd line to kill more valuable time plus create a scoring chance as a cross-ice pass from Nick Johnson towards Kyle Brodziak just failed to connect. Anaheim's top line would go on the attack again and quick shot by Selanne was stopped by Backstrom and the rebound was pounced upon by a pinching Beauchemin who put a shot on the outside of the right post. The Ducks would pull Ellis with nearly 2 minutes left, and Beauchemin had a few great chances as his shot would just curl wide of the goal twice. After a timeout, the Ducks plan worked as they scored just 4 seconds later as a point shot from Fowler and his wrist shot from the point beat a well-screened Backstrom to cut the lead to one, 3-2. Anaheim would put the pressure on in the closing 30 seconds and Backstrom made a great save with a ton of traffic by him on another wrist shot by Fowler and Minnesota would gut out a 3-2 win.
Niklas Backstrom was solid, making 32 saves in the victory. He had lots of traffic near his crease and was able to come up with the initial stops. He did have some help, the Ducks caught 3-4 goal posts during the game. Minnesota's defense was able to sweep away the rebounds and prevent the Ducks from having the 2nd chance opportunities. I thought Justin Falk, Nate Prosser and Jared Spurgeon had strong games. Clayton Stoner was reasonable in his first game back in quite a while. Minnesota's penalty kill stepped up but they were helped by a few lucky pipes on some great chances for Selanne.
Offensively the Wild got all that they needed in the first period. They were funneling pucks on goal and putting constant pressure on the Ducks. Yet after that, they relaxed a bit and the Ducks crawled back into the game and in many ways they were lucky to have come away with a victory. The top line of Koivu, Heatley and Setoguchi look like a group of 3 guys that are desperate to light the lamp. They had one of their best shifts in quite a while but you saw the same thing from all three, lifting shots high and wide of the goal. The Wild had great work from its 3rd and 4th lines who created opportunities and even chipped in with some points this evening. Cal Clutterbuck's beautiful backhand pass demonstrates you can put him on the 2nd line and he won't look too much out of place.
While winning always makes one feel better this was not a perfect effort for the team. The effort was better than it was at Los Angeles but it could've and should've been more dominant than it was. The first period was outstanding, the 2nd and 3rd periods not so much. Yes we can be happy the Wild find themselves atop the Northwest Division for the first time since 2008, but there is a ton of a season left and pardon me if I don't start planning a Stanley Cup parade just yet. Wild Head Coach Mike Yeo was buying the effort, "Absolutely, really impressed, I saw an awful lot of pride on the ice and guys were paying the price for each other and winning battles. The first goal was a perfect example of that." Minnesota will be facing a very desperate Columbus squad on Tuesday. They may be 3-12, they always play Minnesota tough at Nationnwide Arena. Minnesota must be prepared to work even harder than it did this evening. The win will certainly make the long flight feel a bit better but the road trip isn't over yet.
Wild Notes:
~ Wild roster tonight is as follows: Mikko Koivu, Dany Heatley, Devin Setoguchi, Pierre-Marc Bouchard, Matt Cullen, Cal Clutterbuck, Darroll Powe, Kyle Brodziak, Warren Peters, Colton Gillies, Brad Staubitz, Nick Johnson, Nick Schultz, Marek Zidlicky, Justin Falk, Jared Spurgeon, Clayton Stoner and Nate Prosser. Josh Harding backed up Niklas Backstrom. Guillaume Latendresse, Marco Scandella and Darcy Kuemper were the healthy scratches.
~ The 3 Stars of the Game were: 1st Star Niklas Backstrom, 2nd Star Cam Fowler, 3rd Star Matt Cullen
~ Attendance was 13,803 at Honda Center.
~ The State of Hockey News would like to congratulate the the U.S. Women's hockey team on winning the Four Nation's Cup last night with a 4-3 shootout win over Canada.
Wild Prospect Report:
G – Darcy Kuemper (Ontario, ECHL) ~ Last year's WHL goaltender of the year is having another season where he's putting up incredible numbers, this time for the ECHL's Ontario Reign. Kuemper is a perfect 4-0, with a 1.47 goals against average and a stellar .947% save percentage. No shutouts yet though.
C – Zack Phillips (Saint John, QMJHL) ~ Phillips continues to put his name on the score sheet, as he extends his point-scoring streak to a league-high 13-games as he registered an assist in a 5-3 victory for the Sea Dogs. The Sea Dogs captain was 13-of-24 in faceoffs (54%).
D – Nick Seeler (Muskegon, USHL) ~ Perhaps its a sign the former Eden Prarie star is starting to heat up as Seeler had the best night of his Jr.A career as he tallied a goal and 2 assists in the Lumberjacks' 5-4 win over the Indiana Ice. Seeler was a +2 with 3 shots on goal. So far Seeler has 2 goals, 4 assists and 2 penalty minutes in 12 games.
F – Anthony Hamburg (Omaha, USHL) ~ Last year I got flak for mentioning this, but I will say this again. Anthony Hamburg's pro hockey aspirations are in trouble. After injuries derailed his freshman season at Colgate University, Hamburg returned to the USHL where he worked as a role player for the Lancers. This season he returns to Omaha as an overage player, but the offensive production that one would expect from a player with legitimate pro potential still eludes him as he has just a goal, 2 assists, and 25 penalty minutes in 11 games.
Houston Aeros Report:
Houston 5, Charlotte 2
Even though these teams do not play each other that often, they definitely do not like each other. This would lead to one of the most interesting mismatches in recent memory as 5'8″ Chay Genoway dropped the gloves with 6'4″ Jared Staal. Genoway did his best to keep out of the way of a series of big punches from the much taller brother of Carolina Hurricanes star Eric Staal. Houston would get out to a 1-0 lead on an odd-man rush between Casey Wellman and Jon DiSalvatore and the Wild prospect set up the Aeros captain for a shot that beat the Checkers' Mike Murphy. Houston would score late in the period as Drew Bagnall surprised just about everyone when he danced around a defenseman and drove the puck to the net to beat Murphy for his first goal as an Aero (that includes last year) to put Houston up 2-0 going into the 2nd. The Checkers would cut the Aeros' lead to one, as a long range shot by Matthew Pistilli surprised a well-screened Matthew Hackett. Houston would answer right back on a 2-on-0 between Wellman and DiSalvatore who moved in and snapped a shot over the shoulder of Murphy to put the Aeros back up 3-1. A few minutes later, the Aeros would strike again as Jed Ortmeyer fired a laser of a wrist shot that snuck right underneath the crossbar on a shot from the right faceoff circle to give Houston a 4-1 lead going into the 3rd period. Charlotte would try to pour it on in the 3rd period, and the Aeros would play rope-a-dope. The Checkers would cut the lead to two when former Bowling Green stud Jonathan Matsumoto found the back of the net as he slid a shot 5-hole on Hackett. The Aeros defense was able to keep Charlotte to the perimeter and Jarod Palmer would show great unselfishness as he gave Wellman an easy empty netter to seal a 5-2 win. Hackett had 31 saves in the win victory which puts Houston into a tie for 1st place in the Western Conference.
World Jr. A Challenge Report:
Team USA advanced to the semifinals after defeating Russia 6-3. With the game tied at 1-1 in the 2nd period, Wild prospect Mario Lucia continued to thrill as he dangled the puck through 3 Russian defenders to light the lamp to give Team USA the lead. It was Lucia's 3rd goal of the tournament. Just moments later, two more Minnesotans found the back of the Russian net as Austyn Young (South St. Paul) and Ethan Prow (Sauk Rapids) score to put Team USA up 4-1. The Russians would answer back with two goals early in the 3rd, but Sean Kuraly continues his strong tournament with two goals of his own later in the 3rd to seal a 6-3 victory. Ryan McKay had 26 saves in the win.
In the semi-final game against Canada East, the Americans never really got things going and the slow start would cost them as the Canadians jumped out to a 2-0 lead. Ray Pigozzi cut Canada East's lead to one midway through the 2nd period but Canada would answer back to make it 3-1. Duluth's Andy Welinski's blast from the point found the twine to cut the lead back to one but hope was short-lived as Canada East scored just 3 minutes later as they defeated Team USA 4-2. This meant Team USA was going to play for 3rd place against Sweden.
Mario Lucia put the Americans on the board first with his 4th goal of the tournament. Minnesota followed that effort up with goals from Austin Cangelosi, and Maple Grove's Tony Cameranesi and Sean Kuraly added the fourth goal of the evening in what was a very strong tournament for the Dublin, Ohio-native. Thief River Falls-native Zane Gothberg shut the door on the Swedes, stopping all 23 shots he faced to give Team USA 3rd place with a 4-0 victory. Elk River-native and Team USA Head Coach Regg Simon was pleased with their effort saying, "I'm happy with the way our guys responded after a tough game last night, we concentrated on our offensive zone possession and really pushed the tempo tonight."